Comics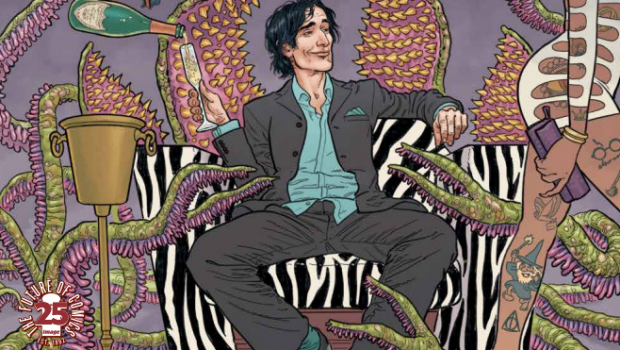 Published on October 19th, 2017 | by Dana Folkard
MAESTROS #1 REVIEW
Summary: An exciting and compelling story with wonderful art.
The unthinkable has happened, the Maestro and the entire royal family has been brutally murdered by an evil wizard called Mardok. With the fate of the world hanging in the balance, it's up to the Kings only surviving son and heir to become the Wizard King, and defeat this unstoppable evil.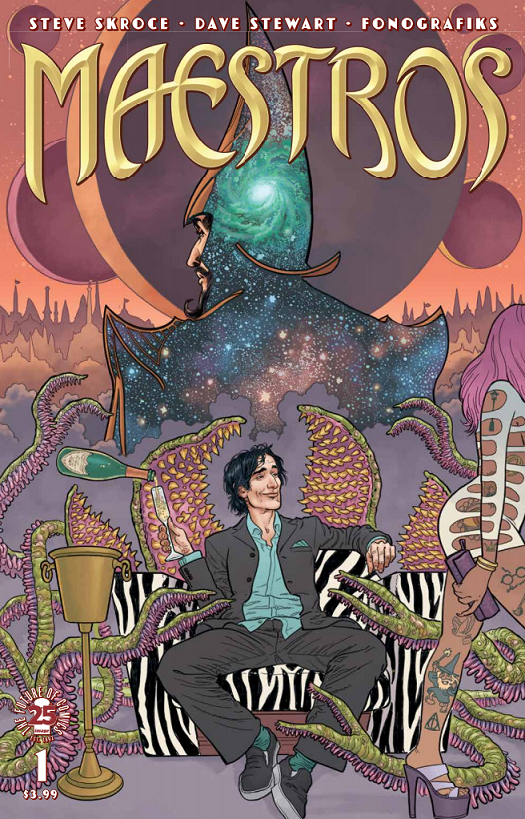 This issue begins with the vicious and brutal slaughter of the Wizard King Maestro, and the entire royal family who were gathered for a festival. The usurper is Mardok, a despicable and dangerous wizard, who escaped from prison, stormed the feast with his minions, betraying the king and violently murdering him and his entire family. It was a massacre! The Maestros ex-wife and banished son, Willy, are the only survivours, and in him the blood of the Kahzar runs, making him the only living heir to the throne. With his father's death, his banishment is over, as Zainon now relies on Willy to come back and take his place as the Wizard King, however, it takes his mother, Margaret, to travel to Earth to retrieve her son and bring him back. The only problem is, that Willy doesn't really want to come back, instead preferring to make a living selling cheap potions that give his male customers nine and three quarter-inches of positive change…if you get my meaning. However, with Mardok and a whole horde of seething monsters hot on his tail, Willy has no choice but to listen to his mother and head back to Zainon.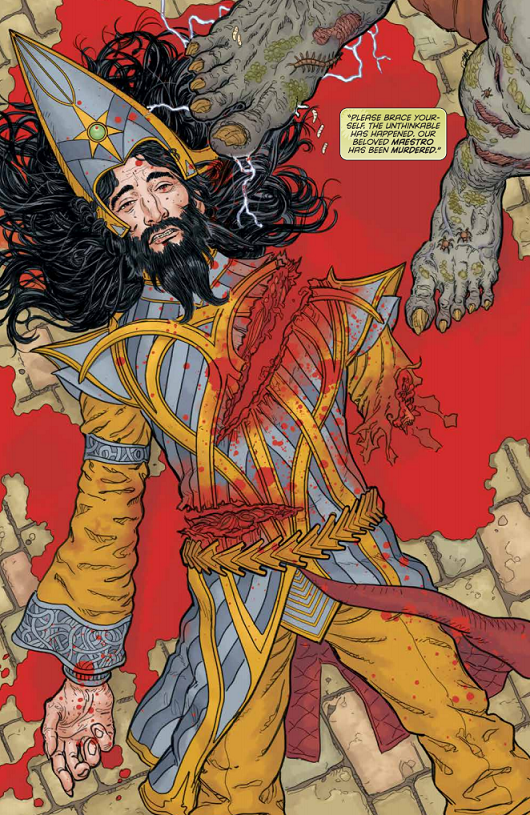 Wow, what a fantastic opening issue! This is a story that has guts, and plenty of them. There is a lot going on here, and we are thrown headfirst into a fast-paced story, where we see the end result of a cataclysmic overthrow. We are quickly introduced to Willy, a wise-cracking wizard who is the only surviving son of the late Maestros, and heir to the throne. Immediately, I can tell that this is a character that I'm going to like. He's smart, witty and massively flawed, and these are all qualities I like to see in a leading protagonist. We also get to see a flashback to Willy's past, where he discovers for the first time that he has ancient and magic blood running through his veins. It is through this flashback that we get to see a compelling creation story, that explains the origins of life and magic and how they are interconnected and one of the same thing. Steve Skroce has created a rich and detailed history, filling it with fascinating lore and a sense of culture. We also get introduced to Mardok, the evil wizard who killed the Maestro and his family. This guy is formidable, terrifying and unrelenting, and will no doubt prove to be a formidable foe for Willy. I'm looking forward to seeing these two go head-to-head in an epic wizard battle.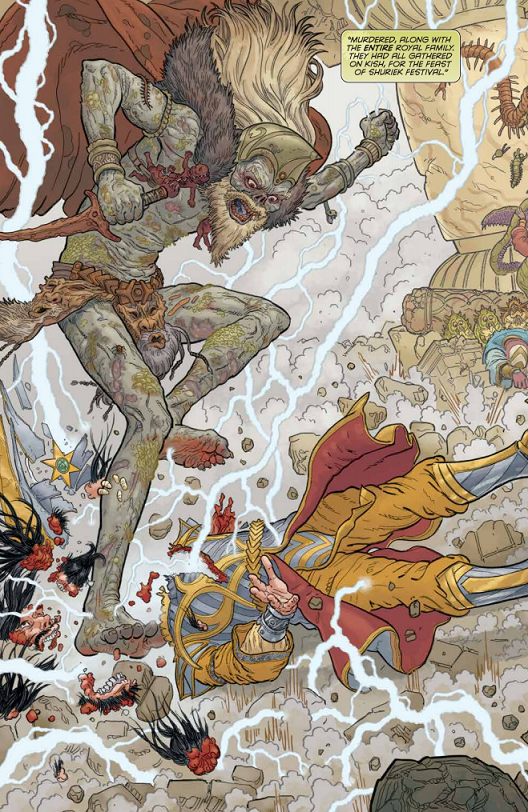 Steve Skroce not only pens but illustrates this comic, bringing with him, his detailed and intricate art. Oh, how I do love his art! Skroce is a meticulous artist, who fills each page with an array of wonderful details that are bizarre, crazy and downright intense. I absolutely loved seeing the massacre of the entire royal family, looking like a hideous orgy of death and destruction. I spent a long time on these panels, taking in all the horrific details and brutal deaths, as bodies are torn apart and eaten. Mardok is also a sight to behold, a hulking worm-infested behemoth, who looks more like a corpse than a living man. I particularly loved his loincloth, which is made of a flayed man's face…hectic! The colouring, by Dave Stewart, heightens the overall tone of the story, making these scenes of mass murder so much more grotesque and graphic. Stewart also creates a wonderful sense of magic, especially during the creation scenes, where we see a kaleidoscope of vibrant colours.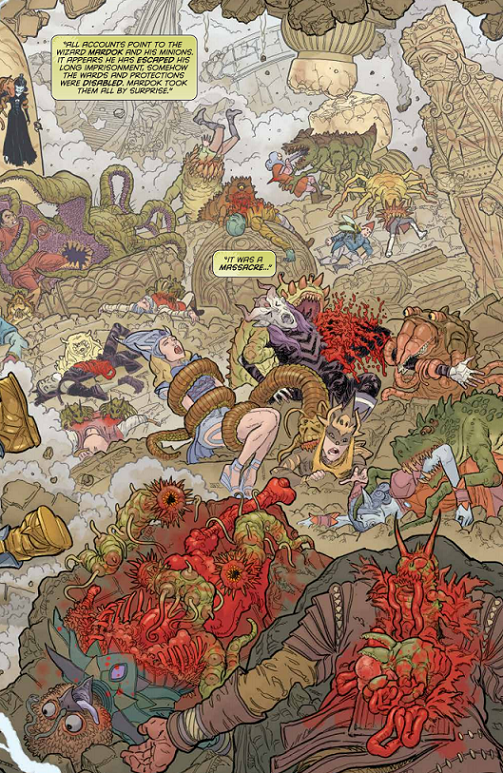 It goes without saying, that I loved this first issue. I found it to be an exciting and compelling introduction. It has a strong story, rich lore, interesting characters and stunning art. I highly recommend this to anyone who is looking for a fantasy story with a huge and disturbing twist.
I'm giving this issue 5 out of 5 stars!
---
COMIC DETAILS
CREATIVE TEAM: Steve Skroce and Dave Stewart
PUBLISHER: Image Comics
PUBLICATION DATE: October 18, 2017
REVIEWER: Dana Folkard