Comics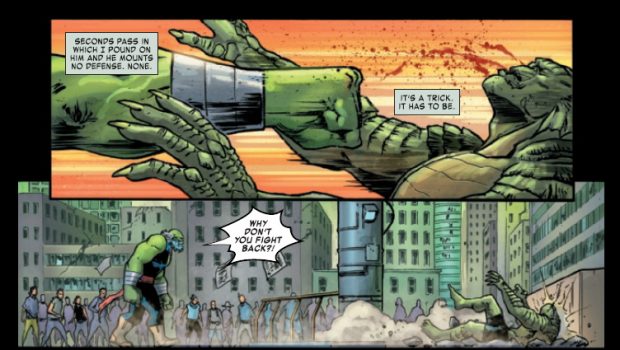 Published on May 8th, 2022 | by Tim Chuma
Maestro: World War M #3 Review (2022)
Summary: A bit too far into the story to pick it up now. A lot of drinking and not much fighting in this one but it is setting up for the next instalment.
After having been rescued by Dr Doom, Abomination and Prince Namor are hiding out in his castle waiting for Maestro to eventually find them. Namor has been passing time by attacking the stock in Dr Doom's wine cellar. After some discussion Abomination decides to join him but with vodka.
After being woken up at an empty table Abomination says Namor had to go somewhere and he also eventually decides just to get it over with and go fight Maestro as there seems little point in delaying the inevitable. Neither of them were expecting what Namor decided to bring to the fight.
This storyline has advanced quite a bit since I last checked in so it is was more difficult to work out what was going on even with the recap. If you have already been following the story it would be much easier to pick up but otherwise go back and read the previous entries in the series.
It is a bit more light on with action than the previous entry in the series I have read so if you are fine with reading more exposition rather than action you will enjoy it more.
Comic details:
Writer: Peter David
Penciler: German Peralta
Cover Artist: Carlos Pacheco
Publisher: Marvel
Published: May 04, 2022