Comics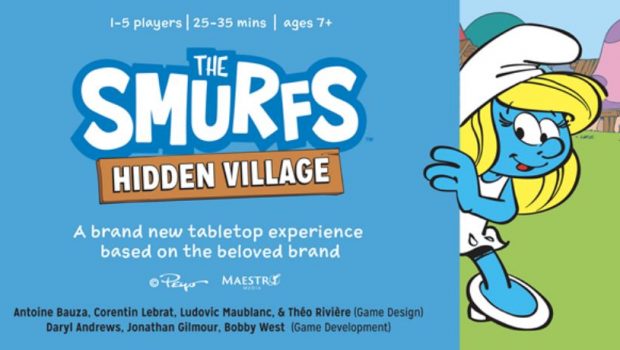 Published on June 7th, 2023 | by Adrian Gunning
Maestro Media to Launch New Tabletop Game Based on The Smurfs, In Partnership with IP Owner IMPS/LAFIG
Today, Maestro Media, a leader in innovative tabletop games and community-driven campaigns, officially announced a multi-year partnership with IMPS/LAFIG, the world license holders for the internationally beloved brand The Smurfs, to launch an original tabletop gaming experience based on the iconic Smurfs characters timed with the brand's 65th anniversary.
As part of the partnership, Maestro Media will launch a crowdfunding campaign in October 2023 to incorporate fan involvement and feedback, ensuring a fun, engaging and quality final product that is faithful to The Smurfs universe and its millions of loyal fans across the globe. The game will be delivered to backers, and later will be available for retail, in 2024.
"We are thrilled to be working with Javon and his team at Maestro Media on our latest board game. We love their passionate and participatory approach!  Boardgamers and Smurfs lovers fans can expect a lot of Smurf-fun ahead for the whole family, " said Fabienne Gilles, CCO and Head of Consumer Products and Family Entertainment  with LAFIG. "They have an astounding track record for community-driven games, which is perfect for our Smurfs fans."
The game, tentatively titled Smurfs' Hidden Village, is being designed by renowned game designers Antoine Bauza (Ghost Stories, 7 Wonders), Corentin Lebrat (Draftsaurus, Flying Goblins), Ludovic Maublanc (Dice Town, Cash' N Guns) and Théo Rivière (Sea of Clouds, Sticky Chameleons) and has you and your friends play as Smurfs who are tasked with rebuilding the mushroom village from scratch following the evil sorcerer Gargamel's latest scheme. To succeed, you'll need to work together as a team, collecting resources, building inventions, and locating missing Smurfs to help rebuild mushroom houses. Each Smurf has a unique set of skills that you must use strategically to outsmart Gargamel and his cat Azrael.
"The Smurfs are one of the most recognizable characters in the world with a long history of licensed products, iconic TV shows, films and more," said Javon Frazier, Founder and CEO of Maestro Media. "To be able to work on a project, especially one as beloved as The Smurfs, and bring a new gaming experience to fruition, is an absolute delight. We cannot wait to work directly with the beloved brand's millions of fans all over the world, incorporating their ideas and feedback, to create a one-of-a-kind experience the community will love."
With a history of creating multiple record-breaking campaigns and surpassing over $15 million with previous crowdfunding projects, Maestro Media has become a leader in the tabletop crowdfunding community, and is set to design and execute a fun and interactive campaign that will engage and delight the The Smurfs community worldwide.
More information on the game and the crowdfunding campaign will be made available later this year. For more information and to stay up to date on the project, please visit smurfshiddenvillage.com.