News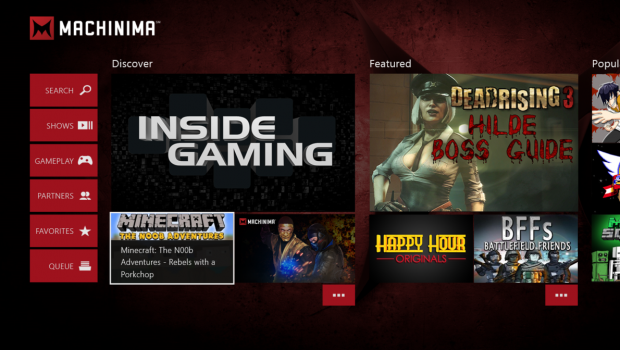 Published on October 17th, 2013 | by Admin
MACHINIMA TO LAUNCH EXCLUSIVE XBOX ONE EXPERIENCE
Machinima on Xbox One Will Provide Exclusive, Unprecedented Entertainment Experience for Gamers, Leveraging Key Xbox One Platform Differentiators 
Just six months after launching its Xbox 360 app, Machinima, the No. 1 global video entertainment network for young males, announced today that it will launch a one-of-a-kind app exclusively for Xbox One, launching on Nov. 22.  Machinima on Xbox One will offer a new and best-in-breed companion experience for gamers around the world: rich, custom-created, and exclusive videos that accompany and complement the next-gen gameplay of a select group of Xbox One launch titles. In addition, the Machinima app on Xbox One will provide exclusive entertainment experiences, with tent-pole series, weekly shows and other fan-focused content, alongside all of the variety of network and partner content Machinima is known for.
This exclusive entertainment experience will leverage key Xbox One platform differentiators, including the integrated Snap mode, which offers users the ability to do two things at once. This function provided Machinima with the tools to create "Machinima Wingman," a rich, contextual game companion. It's almost as if a buddy is sitting right next to you, providing tips and tricks, as well as helping players through the toughest parts in the game. An Xbox One-exclusive companion experience, "Machinima Wingman" is initiated by users through a verbal command "Xbox, Snap Machinima" and will automatically open and snap the Machinima app into view, immediately sensing the game being played and serving up a relevant playlist of video. Available in Standard and Enhanced forms, "Machinima Wingman" features a rich library of curated videos based on the game title being played and providing anything from walk-throughs, to game reviews, to help videos, and so much more. For Enhanced games, "Machinima Wingman" becomes even more keyed to best accompany gameplay.
Other key differentiators for the Xbox One app from Machinima are integration with Xbox OneGuide and Xbox One SmartGlass. Later in 2014, Machinima on Xbox One will begin to bring enhanced telemetry data to support a richer companion experience overall for users.
Check out this video that highlights how "Machinima Wingman" works on Xbox One, featuring Dead Rising 3 (an Xbox One exclusive launch title):
"The first Xbox Live app we launched was the fastest downloaded Xbox app in the prior 12 months, and we're excited to deliver yet another breakthrough experience for our fans," said Machinima's Co-Founder and CEO Allen DeBevoise. "This is another step toward making sure we're wherever our fans are, and delivering them unique experiences that no other network can provide. We can't wait to unveil all the intricacies and abilities of the new app."
"We're thrilled to welcome Machinima as one of the first global partners of Xbox One bringing its highly integrated experience exclusively to the platform when we launch on Nov. 22," said Kathy Styponias, General Manager, Interactive Entertainment Business at Microsoft. "Machinima is one of the first partners to take advantage of the capabilities of our platform architecture and technology that will result in a cutting-edge, innovative app experience for all users."
About Machinima
Machinima is the dominant video entertainment network for young males around the world. The number one entertainment channel on YouTube, Machinima serves over 2.4 billion video views per month, and reaches over 203 million viewers monthly. The network features scripted series, original content, weekly and daily shows, official publisher content, and gameplay videos, all aimed at the coveted 18-34 year old male demographic. The company is backed by MK Capital, and Redpoint Ventures, and is headquartered in Los Angeles, California.