Movies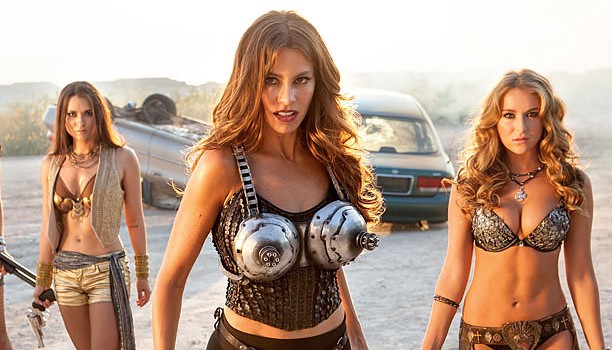 Published on December 16th, 2013 | by admin
MACHETE KILLS – Available on Blu-Ray, DVD and Digital March 12
Machete (Danny Trejo) is back in Robert Rodriguez's (Sin City, Planet Terror)
MACHETE KILLS, the thrilling sequel to MACHETE, and this time he's on the right side of the law. After losing his partner in a violent sting operation gone awry, Machete is enlisted by the President of the United States to complete a deadly mission that would be impossible for any mortal man.
"Rowdy. Outrageously bloody. Extravagantly violent. It's a wild ride " Huffington Post
"A crazy good time"
Entertainment Weekly
His mission takes him to Mexico, where he must take down Mendez (Demian Bichir), a notorious billionaire arms dealer, and halt his plans to unleash war and anarchy across the planet. This wild ride will pit him against a barrage of ruthless hit men, mercenaries and Voz (Mel Gibson), Mendez's co-conspirator, who has suspicious plans of his own. Joining his sisters in arms, Luz (Michele Rodriguez) and beauty queen come fatal assassin, Miss San Antonio (Amber Heard), Machete will battle his way through Mexico in a film that is, as FilmInk asserted, "pure, unadulterated fun."
As director, Robert Rodriguez comments; "MACHETE KILLS is the movie that shows Machete is truly a super hero."
Featuring a star-studded cast with the likes of Sofia Vergara, Charlie Sheen Antonio Banderas, Cuba Gooding Jr., Vanessa Hudgens and Lady Gaga, get ready to grip your arm-rests for dear life in this non-stop, action-packed Mexican thriller.
"A truly unique viewing experience"
IGN
"Loud, fun and ultraviolent"
Jim Schembri, 3AW
"A ludicrous and awesome camp classic"
Examiner
Starring:
Danny Trejo (Machete, Planet Terror, From Dusk Til Dawn)
Michelle Rodriguez (Fast & Furious 6, Machete, Avatar)
Jessica Alba (Machete, Sin City)
Charlie Sheen (TV's Two and a Half Men)
Mel Gibson (Get the Gringo, Edge of Darkness)
Sofia Vergara (TV's Modern Family)
Amber Heard (Paranoia, Zombieland)
Vanessa Hudgens (Spring Breakers, Sucker Punch)
Antonio Banderas (Once Upon a Time in Mexico, The Skin I Live In)
Lady Gaga