Collectibles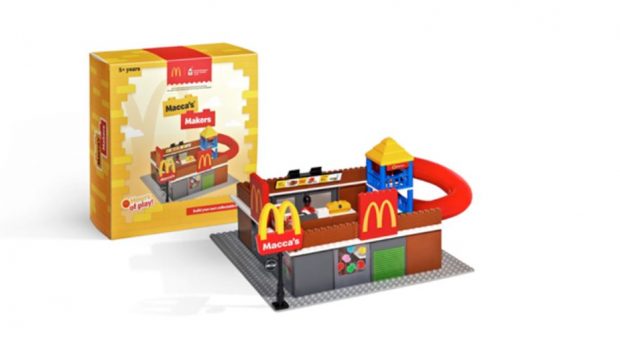 Published on November 2nd, 2023 | by Adrian Gunning
Macca's is dropping a limited-edition building set for McHappy Day
Build your own Macca's restaurant and support McHappy Day with the launch of Macca's Makers
Ahead of McHappy Day taking place on Saturday 18 November, Macca's is offering Aussie's another way to help raise funds for Ronald McDonald House Charities (RMHC) with the launch of its new and exclusive collector's item, Macca's Makers, a 56-piece limited-edition brick building set.
Launching on Wednesday, 8 November for a limited time only, Macca's Makers gives fans an exclusive, behind the scenes view into the world of the Golden Arches by allowing them to build their very own mini-Macca's restaurant.
The building set is a replica of a Macca's restaurant and features an iconic glow-in-the-dark Golden Arches pylon, crew and manager figurines, McCafé, Playland, front counter and drive-thru.
Aussies can purchase Macca's Makers for $36.95 from their nearest McDonald's restaurant or via McDelivery from Wednesday, 8 November, with 100% of profits being donated to Ronald McDonald House Charities in celebration of McHappy Day.
Amanda Nakad, Director of Marketing for McDonald's Australia said: "McHappy Day has been part of our customers' lives for the past 31 years and we continue to be blown away by their support for the fundraiser and Ronald McDonald House Charities.
"This year, we are excited to give fans, who love to express their passion for the brand, the opportunity to collect an iconic Macca's item while helping to raise funds for a cause very close to our hearts.
"So, get ready to build your own Macca's restaurant with Macca's Makers, but make sure you are quick, as they are sure to sell out fast!"
Organised by McDonald's, McHappy Day is the largest annual fundraiser for Ronald McDonald House Charities, which raises vital funds to help seriously ill and injured children and their families.
In addition to purchasing a Macca's Makers set, Aussies can support this year's McHappy Day fundraiser by:
During McHappy Time (from 18 October)– Picking up a pair of Silly Socks for $5.95, or Helping Hands for $2, $10 or $50, from their local Macca's or via McDelivery.
On McHappy Day (Saturday, 18 November)– Buying a Big Mac from their local Macca's or via McDelivery, with $2 from every Big Mac sold going directly to RMHC.
Making a donation online by visiting rmhc.org.au/give
Compatible with other brands of building bricks, Macca's Makers is available for $36.95 from Wednesday 8 November 2023 across McDonald's restaurants nationwide and via McDelivery, for a limited time only. All profits raised will go directly to Ronald McDonald House Charities, as part of McHappy Day 2023.
For more information visit: www.mcdonalds.com.au.