Interviews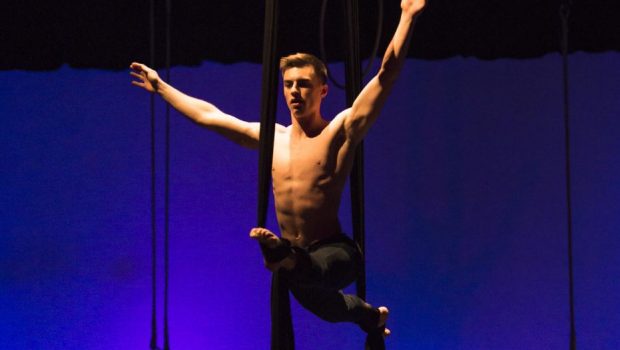 Published on September 15th, 2016 | by admin
Luke Thomas Interview (NICA, Empty Bodies)
Growing up, what drew you to the circus arts?
Well when I was younger I was always found around our house flipping about and swinging off our clothesline. I joined gymnastics when I was younger and loved it! However that path only lasted for a short period of time as I ended up going into other sports such as tennis, swimming and soccer. In year 6 (age 12), a small community circus begun in my hometown of Ulladulla and it looked like so much fun so I decided to join up. Once I begun, I knew this was a place where I could spend the rest of my life. The adrenaline and amount of fun I had whilst at Circus 35° South made it an obvious choice for me to pursue this as a career.
What made you join NICA?
I was tossing up between a Bachelor of Science or NICA and it was the thought of being able to do something that I love everyday of my life that ultimately led me to the decision of NICA. Even to this day, the idea that I eventually could be getting paid to do what I love is exciting and makes me feel so lucky.
As a student of NICA, what's the most amazing aspect about it?
There are many benefits of being with NICA, but I'd have to say the most amazing aspect of it is the opportunities it provides the students. You are given an amazing space to train in with incredible coaches from all around the world. Also every year, NICA offers each 2nd year student the chance to go on a study tour to various locations around the world. This year I was lucky enough to go to Vegas, Quebec, Montreal and New York. This allows students to discover more about the circus industry, create connections with other students, directors etc. and really provides a once in a lifetime opportunity.
Most challenging?
The most challenging aspect about NICA would have to be juggling University with work, homework and everyday life. Its super difficult to find spare time to try and organize everything in your life with the amount of time that you have. A lot of students are training/at University from 9-5, then go to work, then get home and have to cook dinner and then they get to go to sleep… and the process repeats itself.
Tell us how you became involved in Empty Bodies?
Our year (2nd year) was lucky enough to have Zebastian Hunter as our performance teacher for the year. He taught us so many useful devices to help us create acts and grow as better circus artists. He then told us he would be directing our second year show and it all started from there. We begun improvising some work with him and the creation of Empty Bodies had begun.
Could you explain some of the acts that you do in the show?
Tissu act – Tissu (aka the fabric, curtain or 'thing that hangs from the roof') is one of my specialties at NICA. It is essentially a piece of fabric that is suspended from the ceiling where you climb up and perform skills and drops. The act itself was somewhat of a love-triangle whilst exploring the differences between male and female brains/thoughts and how we think differently.
Another act, which I was in, was one we called 'tent city'. It was a new apparatus that none of us had ever worked on before and was so much fun to play and explore on. It was constructed of many ropes all tied together to create some sort of a net, which was then hung from multiple aerial points.
The table sliding act was such a powerful and emotionally rich act that explored feelings associated with death and saying goodbye to someone who wasn't ready to go. Table slide is my group act at NICA. The other groups acts we have in our year are pitching and group juggling.
I was also in the group juggle act, because my second specialty at NICA is foot juggling. This is where you balance/throw props on your feet.
Did you have any first night nerves for Empty Bodies?
Yes, I'm always the worst with nerves. A lot of the time though it is just excitement and the thrill of performing in front of an audience rather than worry or fear of failing.
What do you enjoy about performing in front of a live audience?
I enjoy the atmosphere in the space and feeling the audiences' reactions to your performances. There's always a mood in the audience, which is exciting and interesting to feel in the air.
Where do you see yourself in 10 years' time?
Ah this question is always so tricky to answer. I honestly have no idea of where I see myself in 10 years time so instead I'm going to answer with where I'd want to be in 10 years time. In 10 years time I would love to be travelling the world in any contemporary circus company really but would love to work with Cirkus Cirkör, Compagnia Finzi Pasca or any other company who does similar work. There are so many companies out there that I have not yet discovered, so I'm excited to keep finding companies where I could possibly fit in to. I believe that as long as I'm performing, I will be happy with how it is all going.
Lastly, how would you sum up Empty Bodies?
Empty Bodies has been so much fun and an incredible experience to be a part of. All of the people we worked with were phenomenal hard workers that put their heart and soul into making this show amazing. It was an interesting show to be a part of as during the creation you always left the training space thinking of some meaningful and deeper thoughts rather than just the skills that you'd worked on. All in all, I loved working on this show with everyone involved.