Comics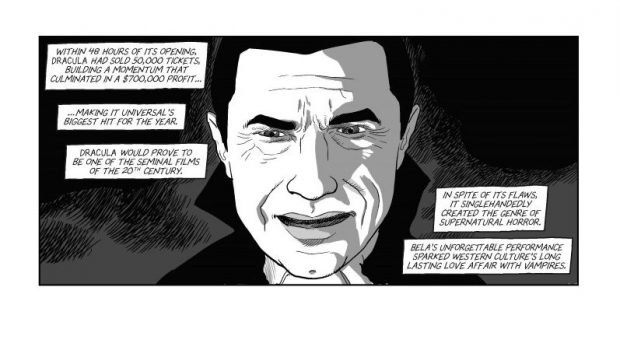 Published on October 4th, 2021 | by Tim Chuma
LUGOSI – The Rise and Fall of Hollywood's Dracula (2021) Review
Summary: Well worth reading even if you think you already know a lot about Bela Lugosi.
The life story of Bela Lugosi from his early years in Hungary as an actor who always believed in himself and lived the life he wanted to live even if he could not pay for it. It follows him to the USA and his transition into movies getting the role of Dracula after playing him on stage. There are the successful years and the eventual decline and redemption when he works with Ed Wood.
Like any of the Universal horror movie stars you would think there would be not much new to find out about Bela Lugosi as many experts have written about them by this point. I was surprised by some of the stuff in this book and I thought I knew a lot about the actor.
The format of duotone does suit it as Bela Lugosi was a black and white film actor and even when Tim Burton shot the Ed Wood movie in 1994 they did not know how to shoot him in colour.
From what I know about the movie stars of that era they all have been drawn well based on the films and other photos from the era.
It doesn't pull punches as to what happened in Bela Lugosi's life and how he treated people, some of his marriages only lasted a few days and he was never that good managing his own finances.
There are some surprises in this book as to who Bela Lugosi was friends with or had a relationship with so if you are a fan of movies from classic Hollywood during the days of the big studios I would recommend it.
Horror is quite different these days in terms of how it is presented, if you would like more of an idea of how it was put together back in the days when it was first presented and one of the original stars then I would recommend this book.
Book details:
Authors: Koren Shadmi (Story & art)
Introduction: Joe R Landsdale
Edition: Softcover Trade
Format: 160 pages – Duotone
Publisher: Humanoids
Published: Sep 28, 2021
ISBN: 9781643376615