Blu-ray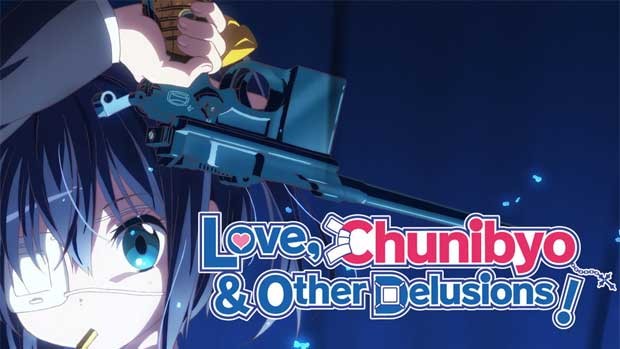 Published on July 8th, 2015 | by admin
Love, Chunibyo & Other Delusions! Collector's Edition Blu-ray Review
Summary: Love, Chunibyo & Other Delusions! Collector's Edition on Blu-ray is more than just your clichéd teenage angst anime that is quite emotional and enjoyable
When it comes to names and unique ideas, the Japanese definitely have that market covered and this latest anime series is no exception to that rule. Love, Chunibyo & Other Delusions is a prime example of this and revolves around teenagers growing up, facing love, creating their own delusions/dreams and of course Chunibyo.
So what does Chunibyo mean? Well, I'm glad you asked because Chunibyo is an "affliction" for teenagers who want to stand-out and as a result because they are trapped in their own fantasy world. It causes all sorts of issues that is best described as delusions of grandeur or Peter Pan syndrome.
Cue Yuta, a middle school student who finally addresses his inner Chunibyo affliction but as fate would have it, he attracts another sufferer of this condition by the name of Rikka who becomes infatuated with him in this amusing anime series that focuses on teenagers.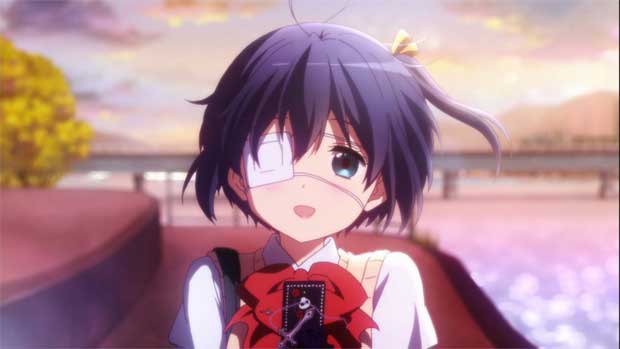 The series is also based on the Manga title by Torako and Ozomi Osaka that combines elements of teenage angst, growing up, comedy and romance to create a thoroughly enjoyable tale. Although Yuta is quite a grounded character, Rikka is his polar opposite and is quite a refreshing anime creation as she believes she has secret powers and believes she is connected to some otherworldly deity called Shingan.
As a result of her quirky behaviours and carefree attitude, she is definitely different than her classmates who try to ignore her craziness. Around Yuta and Rikka, we have other characters like the Nibutani, the perfect student to "normal" Isshiki and even the school gossip Sanae which adds to the overall story of this series.
However Rikka believes that Yuta is her soul mate and although Yuta had his own delusions at one stage in life, he hopes to break these ties because of his move to a new school but can he really get away from his secret persona?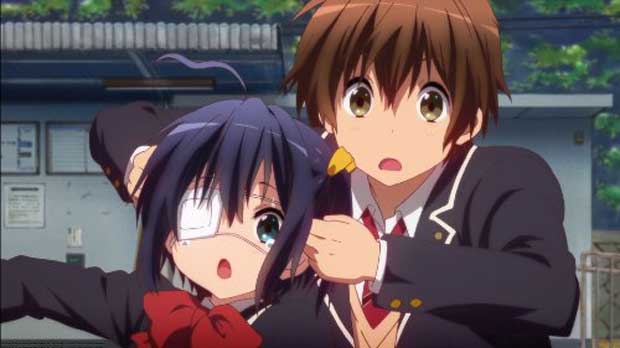 Unfortunately for him no because Rikka lives near him, attends the same school as him and has fallen head over evils for Yuta that creates some interesting dynamics and of course elements of comedic fun. Needless to say, these two lost souls do become friends and together they may eventually find the path most travelled opposed to other directions as they grow up in this topsy turvy world.
There is also an element of social commentary included in this series that includes family problems, issues at school and even an underlining issue of mental health which adds to the realism and definitely  helps the viewer connect. Overall, Love, Chunibyo & Other Delusions! is quite a quirky, cute and entertaining series that is definitely more grounded than your traditional high school anime series.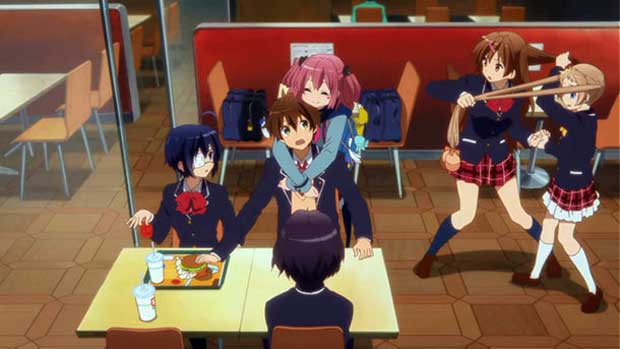 Video, Audio & Special Features
The video quality of Love, Chunibyo & Other Delusions! is quite decent on Blu-ray that boasts a 1080p widescreen presentation with sharp images and vibrant colours. There is no artifacting and the animation really stands out. Audio is also good and boasts a decent track with good levels, clear dialogue and a decent musical score. For special features we get Chuni-Shorts, Japanese Promotional Videos and Textless Songs that may not add much but at least it's something!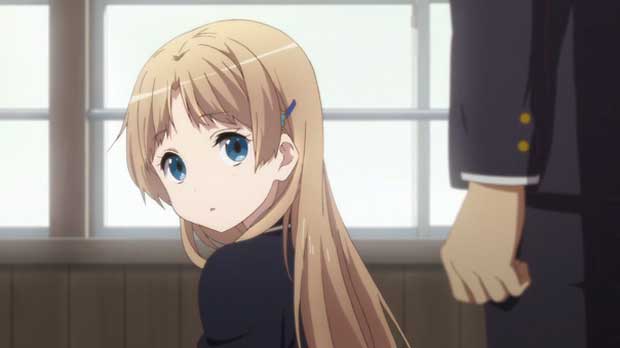 Final Thoughts?
In conclusion, Love, Chunibyo & Other Delusions! Collector's Edition on Blu-ray is an interesting snapshot into the life of teenagers as they attempt to find the adult that they will become. With some students self-absorbed in themselves, others in everyone else or some trapped in a fantasy world, watching these characters unfold and form relationships with each other is insightful and at times entertaining.
The protagonists of the series Yuta and Rikka are quite likeable as are their supporting cast which includes other classmates, family and teachers. At times, some of the themes are a little dark but overall, Love, Chunibyo & Other Delusions! is a delightful series from start to finish that really had me hooked from the get-go.
Blu-ray Details
Film Genre – TV Anime
Label – Madman Entertainment
Audio – English (Dolby Digital)/Japanese (Dolby Digital)
Subtitles – English
Running Time – 325
Aspect Ratio – 1.78:1
Region Coding – B (Blu-Ray)
TV Standard – PAL
Rating – M
Year of Release – 2012
Primary Format – Movies/TV – Blu-Ray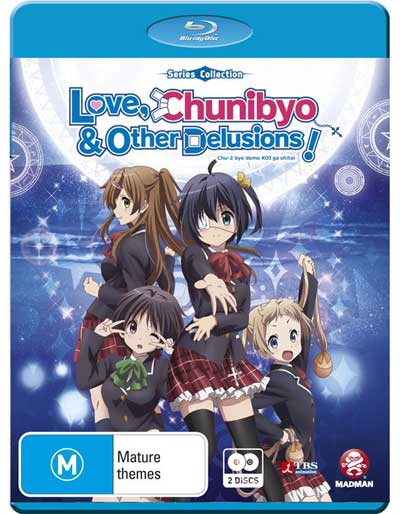 Reviewed by Tony Smith