Comics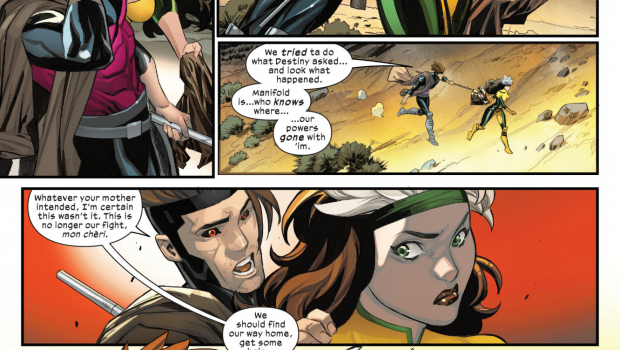 Published on April 23rd, 2023 | by Howard Smith
LOST BUT STILL KICKING IN ROGUE & GAMBIT #2 REVIEW
Two lovebirds can't seem to catch a break, not even during a resting period.
The situation goes awry in Rogue & Gambit #2 as they are now separated from Manifold and find themselves somewhere in Nevada. The story continues as Rogue and Remy try to come to terms with their mutant abilities having difficulty working when they want to. Still determined to follow Destiny's task, Rogue is steadfast in locating Manifold. Exhausted, they find a place to rest and have a little fun. An unexpected guest crashes the two's downtime with the locals, and he just so happens to be a part of the Avengers. Through this misunderstanding, the couple has put a target on their backs that is attracting unwanted attention. Between their love life and a quest to save lives, their vacation time must be put on hold until further notice. And where exactly is Manifold being held captive?
Philips (Detective Comics, Devil Within, Averee) places Rogue and Remy in a tight spot. The setback is good because it allows the couple to talk about their current mission. This gives them a chance to voice their opposing opinions about Destiny's supposed plan to prevent a calamity as well. Readers get to see a side of Remy that expresses his concern for Rogue rather than his irresistible charm, but at the same time, readers observe Rogue's tenacity. Phillips continues to write Rouge & Gambit #2 as a story that doesn't depend on over-the-top action or unnecessary reveals. Rather, a story that not only focuses on a relationship but also on how well they work together against outside forces. In fact, there is a right amount of dialogue and action equally throughout the comic book. She progresses the story with new information while at the time maintaining a level of secrecy. Additionally, the interview that Rogue has somewhere near the beginning of the comic book is an entertaining addition as an interval from the main story.
Returning as the artist for the story, Gómez (X-Treme X-Men, Power Pack, Sinister War) keeps a steady pace in artwork for the comic book. Similarly, in the first issue of Rogue & Gambit, Gomez's style doesn't falter. The action is solid, the juxtaposition isn't jarring, and the flow of the panels retains an unshaken focus on story development. Colors by Curiel (Action Comics, Avengers, Savage Tales) vividly display a colorful point of view, which keeps readers enthralled. There are more close-ups than usual, but with good reason because when newer information becomes available to characters the more their reactions are authentic and less forced. As always, Gómez's art is astounding and Curiel amazes with luminosity.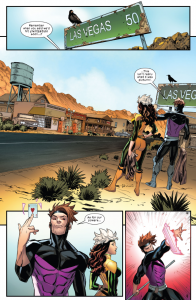 Comparatively, the lettering by VC's Ariana Maher (Catwoman, Excalibur, The Forged) continues to be a wonderful addition to the comic book. Her lettering brings forth sounds typically taken for granted. All the little buzzes, and objects breaking or being crashed into, make the comic worthwhile. The lettering blends seamlessly and adds flavor to the story itself. Correspondingly, the cover by Morris (Power Rangers, Spike, The Strain) fails to disappoint readers on a good cover. The cover foreshadows a tussle with Black Panther while Remy can be seen playing a round of pool parallel to the action. A nice touch that's perfect for a story such as this.
Rogue & Gambit #2 keeps the action and mystery going. They are a Marvel duo worth following for sure. No telling how the story will end so the best thing to do is pick up the next issue when it releases. Catching the attention of the Avengers in a bad way is not something that should be taken lightly and seeing what's next might be even more exciting. If you're curious, purchase this issue at your local comic book store or online where copies are available.
Comic Details
Writer: Stephanie Phillips
Artist: Carlos Gómez
Colors: Carlos Gómez
Letterer: David Curiel
Cover Artist: Steve Morris
Editor: Sarah Brunstad
Publisher: Marvel Entertainment