Blu-ray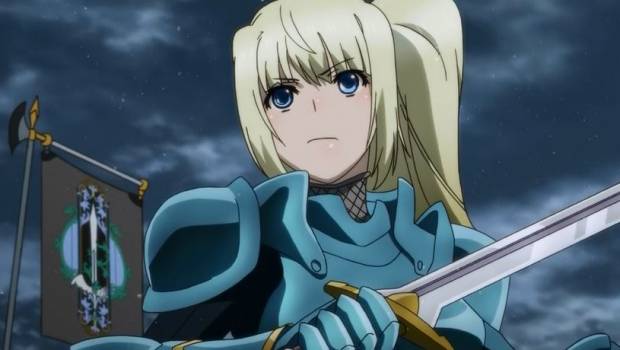 Published on May 30th, 2018 | by James Wright
Lord Marksman and Vanadis Blu-ray Review
Summary: Lord Marksman and Vanadis is a fun and interesting concept on Blu-ray
Lord Marksman and Vanadis is a hack and slash fantasy anime series that is filled with buxom ladies, powerful knights and nefarious villains with plenty of political intrigue and action. The protagonist of the series is Tigrevurmud Vorn (Tigre), one of the local Lords who is bested by a female knight called Eleonora Viltaria (Elen). Unfortunately for Vorn, he is now in servitude to Viltaria and given her sensual appearance, there are far worse masters to have when you're a prisoner. It also doesn't help that the King is ill and his son is dead which opens up the doors to those wanting to take power.
Thankfully for Vorn, he is given a certain element of freedom as the two of them develop a relationship and when the villainous Duke Felix Aaron Thenardier wants to become the new ruler of the Kingdom of Brune, it is up to this unlikely pair to liberate the world. So as Vorn and Viltaria attempt to find allies throughout Brune, Duke Felix Aaron Thenardier and his henchmen will stop at nothing to ensure that this kingdom is theirs and thus begins this great action adventure that is filled with some epic plots and some wickedly choreographed battles. The main characters are interesting, particularly Tigre who is quite the noble warrior and has many woman swooning for him and then you have Elen who is a truly kick-ass protagonist. But watching these two characters grow closer is also part of this journey that is not only sweet but serves to press the story forward.
The first episode of Lord Marksman and Vanadis can only be considered as epic as it sets up the character of Elen as her 5,000 troops take out the army of Tigre which is nothing short than Ben-Hur moment. In terms of their relationship, it is in episode 2 where Tigre requests that Elen help him in protecting his homeland which is where his character starts to grow. Needless to say, when these two warriors put their heads together, they make formidable opponents as they travel through the Kingdom of Brune.
In terms of antagonists, the Duke makes an excellent villain, particularly his henchmen that when compared to the two heroes, it's like Yin and Yang. However it's not all about human battles and as this is a fantasy anime, we also see dragons. That's right, dragons are a staple of this series and seeing Elen face one of these beasts is a true sight to behold. Given that, some of the dragon battles seem like they have been taken out of a video game and at times, it feels like a boss battle, particularly when Elen and her consorts go against a two-headed dragon and if one war maiden isn't enough, we are introduced to another one! Furthermore, there's some great political intrigue and some lengthy debates, particularly when two duelling armies are ready to fight.
Video, Audio & Special Features
The animation in this series is flawless and I really enjoyed the stylised animation and great environments created which harkens back to the medieval era. Characters are well animated, especially the female characters with just a tad too much fanservice but still amusing nonetheless. I also enjoyed the inclusion of CG during the battles that adds an element of video game into this anime epic. Audio is equally as good, especially the music and all in all, it's a well presented series on Blu-ray that really jumps out at you!
Final Thoughts?
Lord Marksman and Vanadis is a satisfying watch on Blu-ray that is filled with epic battles and characters plus a touch of fan service!