Events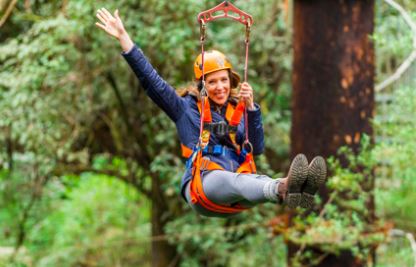 Published on January 17th, 2019 | by Admin
Long weekend adventures for the whole family at Otway Fly
Wednesday, 16 January 2019 – Otway Fly Treetop Adventures is calling on locals and holidaymakers to join in on the fun over the last weekend of the school holidays with three days of festivities from January 26 – 28.
Visitors soaking up the breathtaking birds-eye view of the rainforest on the Treetop Walk or soaring through the leafy treetops on the thrilling Zipline Tour will also be able to enjoy sausage sizzles, colouring in competitions, meet and greets with Otway Fly's koala mascot and the magical trail of fairy houses built by Men's Shed Colac.
The Otway Fly team will be behind the BBQ for daily sausage sizzles, with all proceeds going to Men's Shed Colac. Free entry to the Treetop Walk is available for members of any Australian Men's Shed and their families from January 26 – 28.
After an awe-inspiring Treetop Walk through the rainforest, kids can sit down in the Black Snail Café to colour in pictures of local wildlife such as the Black Snail, echidna, wallaby and koala to go in the draw to win daily prizes. Otway Fly's friendly koala mascot will be checking in on the kids as they let their imaginations run wild!
Lucky Zipline Tour guests might even spot a real koala as they zoom through the trees from one 'cloud station' to another.
Ten enchanting fairy homes, which have been lovingly built by Men's Shed Colac, are scattered throughout the rainforest floor for families to discover as they wander on Otway Fly's walking trails.
"The end of January is a beautiful time of year to enjoy the Otway Ranges thanks to the warm weather and lively summer atmosphere. We're calling on locals and visitors to the area to embrace the stunning rainforest surroundings at Otway Fly and enjoy our special long weekend activities," said Nathan Bridgeman, Attraction Manager at Otway Fly.
Otway Fly will take visitors' rainforest experience to new heights in the lush surrounds of the Otway Ranges this long weekend. For further information, please visit www.otwayfly.com.au.