Books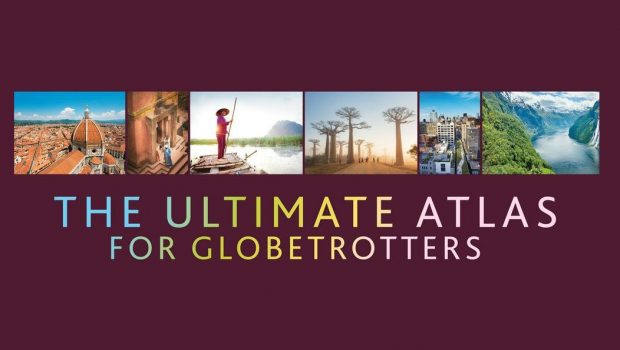 Published on December 14th, 2018 | by Tony Smith
Lonely Planet: The Travel Atlas – The Ultimate Atlas for Globetrotters Review
Summary: Lonely Planet: The Travel Atlas - The Ultimate Atlas for Globetrotters is the perfect guide for your next adventure holiday!
If you're looking to explore the world, The Travel Atlas – The Ultimate Atlas for Globetrotters by Lonely Planet might be the only book you'll need in planning your next holiday adventure. At its core, the The Travel Atlas is a collection of detailed maps from around the globe, including the best places to visits which is accompanied by some stunning photos plus activities to engage in. So whether you're visiting this destination for 2-days or 2 weeks, this compelling resource is your one stop guide.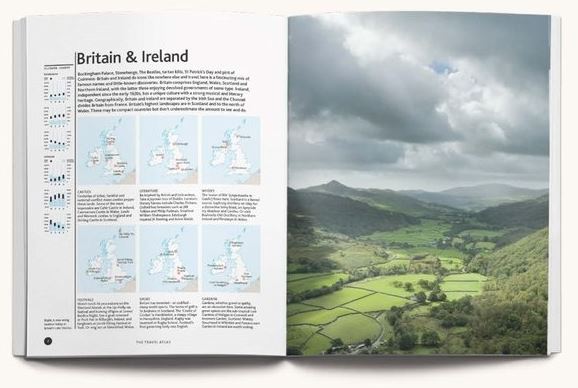 The Travel Atlas is also a beautifully presented hardcover book that as mentioned boasts some amazing photos, 205 detailed maps and information that is not only easy to read but quite engaging. The book is set-out well and finding the information of your intended adventure destination or destinations is a breeze. So while the pictures, maps and content is great for travellers, it's a book that makes for an enjoyable read as it highlights some of the best places from around the world… and makes for a great coffee table book!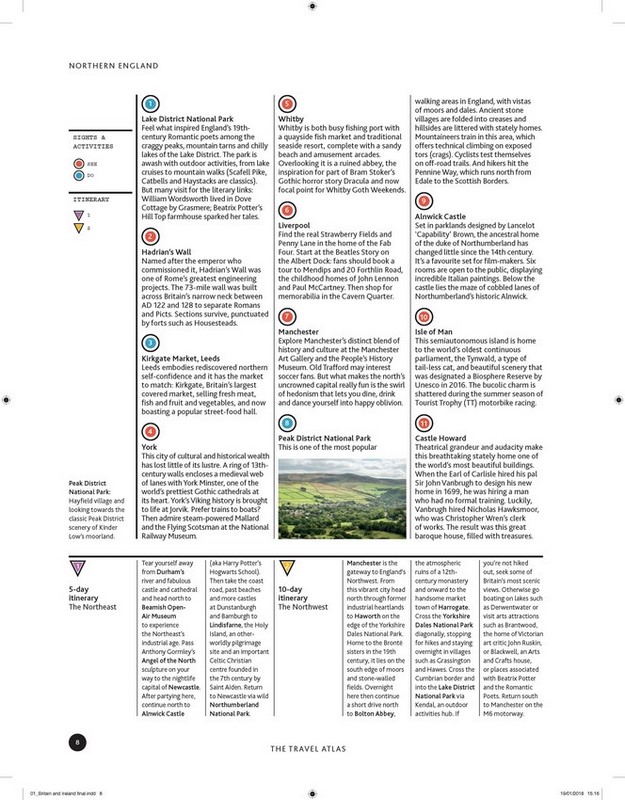 Adding to your reading experience, The Travel Atlas has a foreword by Tony Wheeler who is the co-founder of Lonely Planet who describes his fascination of maps that was sparked by a copy of Arthur Ransome's 1930's children book Swallows & Amazon and how hand-drawn maps have been replaced by perfectly scaled ones due to satellite mapping. From there, he moves onto his field research and how he drove around in a beat-up 4WD through Afghanistan to the politics of boundaries which concludes with his love of maps again which is an insightful read.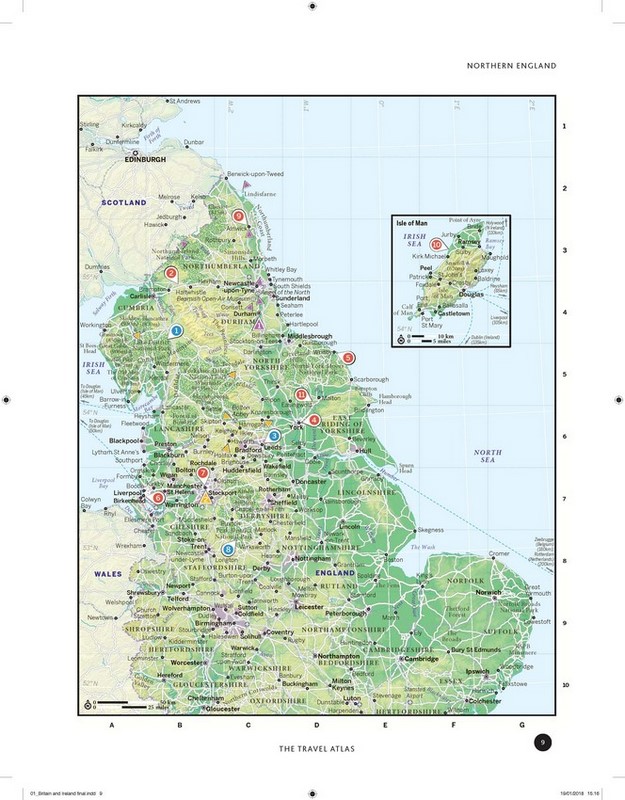 If a picture is worth a thousand worlds, how much more valuable is a map?
– Tony Wheeler, co-founder of Lonely Planet
Following the foreword is an introduction about The Travel Atlas which discuses the importance of atlases, how Google Earth is changing the way we use maps to the future of mapping. The final part of the introduction has two sections on how to use the book and how this book was made, including a geographic map of the world plus a political map (e.g. countries) which nicely concludes this section. The travel Atlas is also broken down into sections such as Southern Europe or Southern & East Africa which collates the areas together.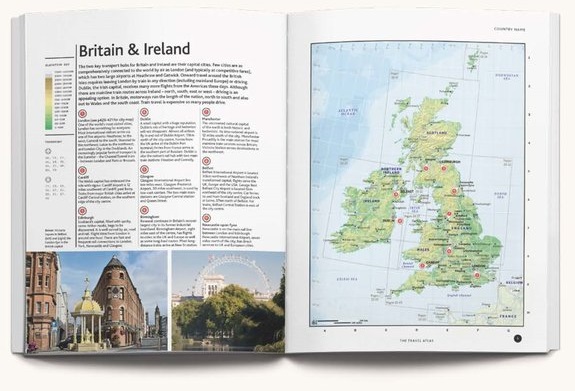 Adventure
The US has no shortage of spectacular settings for outdoor activities. Rafting the Grand Canyon in Arizona, mountain biking the slick rock in Utah; hiking 14,000ft peaks in Colorado; heli-skiing in Alaska; and surfing in Hawaii are all top wishlist activities for adventurous types.
– USA, The Travel Atlas
Each section contains a brief blurb and history about the region, including (for example) significant cities, sacred places and cuisine about what makes this country special. There's even a very useful climate chart that will definitely help plan your holiday, including an elevation key plus transport options. Adding to transport is the information on "transport hubs" which may include the number of airports or other methods of arriving at the intended destination such as a ferry or boat. However the highlight for me are the suggested itineraries such as the 10-day itinerary from Shanghai to Beijing which makes planning your holiday a breeze.
In relation to this trip, the Atlas informs the reader that this trip can be done by train with recommendations of where to visit such as Hangzhou which has amazing vistas, green hills and clean streets. It also breaks these sections into the various itineraries to give additional information to the reader such as the city of Meizhou which is populated by the Hakka people and is home to China's largest cluster of coiled dragon houses. And just to give the reader something totally different, there is even a section on Antarctica!
Shackleton's Hut
Shakelton erected this structure on his Nimrod expedition in February 1908. Fifteen men lived in the hut which is much smaller than Scott's at Cape Evans. All of Shackelton's men left alive (unlike at Scott's hut), and apparently in a hurry; when members of the Terra Nova expedition visited in 1911, they found socks left hanging to dry and a meal still on the table.
– Antarctica, The Travel Atlas
Final Thoughts?
If you're looking for a travel muse on you next worldly adventure, The Travel Atlas by the Lonely Planet is a very impressive resource that contains the right amount of information to plan your next trip and trips that is not only beautifully presented but perfectly scribed!
Recommended!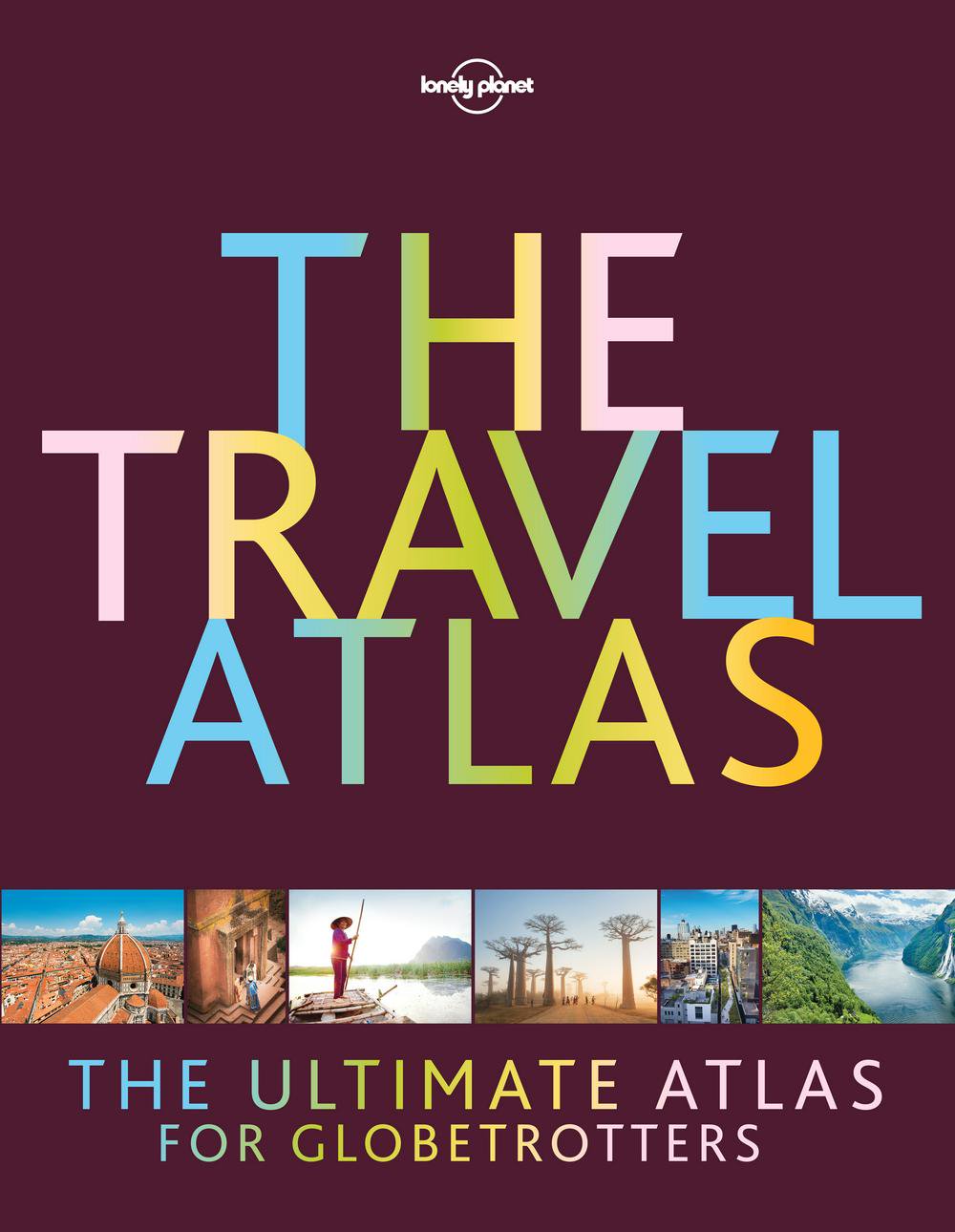 Book Details
ISBN: 9781787016965
Curator: Lonely Planet
448 pages, 0pp color, 205 maps | Dimensions: 272mm × 351mm
Next edition due: Oct 2022