Hardware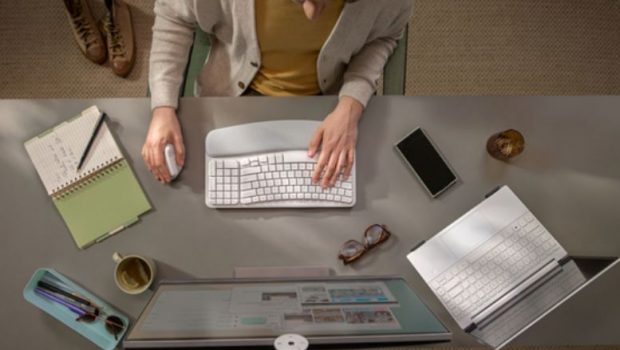 Published on October 11th, 2023 | by Adrian Gunning
Logitech Introduces Ergonomic Wave Keys to Boost Worker Comfort and Wellbeing
Today, Logitech (SIX: LOGN) (NASDAQ: LOGI) unveiled Wave Keys and Wave Keys for Business, a wireless ergonomic keyboard to address the increased need for wellbeing and comfort at the desk. Wave Keys features a signature wave design in a compact layout for comfier typing that does not require relearning how to type, as well as an integrated cushioned palm rest for day-long support. As individuals of all ages spend more time in front of their computers, ergonomic needs are on the rise with a growth rate of 4.6% over the next seven years, according to the recent published market report by RationalStat.
"We believe that everybody deserves to feel good at the end of a day of work, so we set about designing workspace essentials that are as attractive and approachable as they are ergonomic," said Art O'Gnimh, general manager of the Core Personal Workspace business at Logitech. "Wave Keys has workspace wellbeing at its heart, thanks to its science-driven design with a stamp of approval from leading ergonomists."
Wave Keys' unique wave shape places hands, wrists and forearms in a natural typing position, and the integrated cushioned palm rest gives more wrist support throughout the day. Its compact layout fits many home or office desks, with two classic colourways to complement your workspace setup – Graphite and Off-White.
Wave Keys is designed in line with Logitech's goal to create product experiences that improve people's lives. This means considering environmental and social impacts as part of every design decision. Wave Keys is certified carbon neutral, just like the rest of Logitech products, and the paper packaging comes from FSC™-certified forests and other controlled sources. The plastic parts in Wave Keys include certified post-consumer recycled plastic to give a second life to end-of-use plastic from old consumer electronics – 61% for Graphite and 46% Off-White.
This multi-OS compatible keyboard connects via Bluetooth®, or the included Logi BOLT receiver for enhanced security, to up to three devices at once, such as Mac, PC and iPad, and easily switches between them at the tap of a button. For smoother days at the desk, users can personalise their experience with the Logi Options+ App to assign productivity shortcuts, such as "Do not disturb" to remain focused in your work, and create Smart Actions that save time and keep work flowing, including a one-touch morning routine to help you easily start your day and a relax time that provides well-deserved rest throughout the day.
Wave Keys is the latest addition to Logitech's ERGO Series, alongside Lift Vertical Ergonomic Mouse and other products for workplace wellbeing, and upholds the company's human centred and science-driven approach to product design and experiences. The keyboard was carefully crafted with rounds of user testing including at Logitech's Ergo Lab and has a stamp of approval from US Ergonomics.
Ready for Business

For companies that prioritise employee wellbeing, Wave Keys for Business introduces a new ergonomic keyboard, ideal for employees who are ergo-conscious and looking for a keyboard that is comfortable with instantly familiar typing. The keyboard is equipped with Logi Bolt secure wireless technology for reliable connections, even in congested wireless environments, and is engineered to meet today's increasingly strict enterprise security standards. With Logi Bolt, IT teams can mass deploy a comfortable, easy-to-use keyboard to their entire global workforce and monitor the keyboards remotely through Logitech Sync to ensure their team's devices are healthy and up to date, with global customer support for Windows, macOS, Chrome OS, and other leading operating systems.
The Logi Options+ App is also available for mass deployment to employees for a customised user experience, including streamlining repetitive tasks with Smart Actions or configuring keyboard shortcuts.
Pricing and Availability

Wave Keys will be available in Graphite and Off-White beginning October 13, 2023 on www.logitech.com and at selected retailers for a recommended retail price of $149.95. Wave Keys for Business in Graphite will be available on www.logitech.com and through authorised resellers at $149.95 beginning November 2023.