Hardware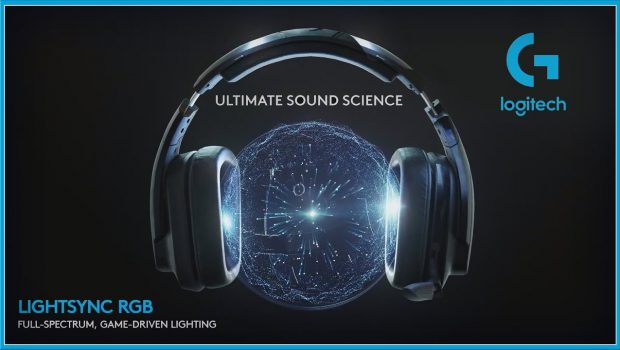 Published on May 9th, 2019 | by Tory Favro
Logitech G935 Wireless 7.1 LIGHTSYNC Gaming Headset Review
Summary: An amazing headset that is serious about giving you a next level audio experience in your games.
All I can say about this product is a solid WOW! Over the years I've had the opportunity to review numerous headsets but never one that comes to the party quite like this set does. Succeeding the G933, the G935 is nothing short of stunning. From ease of setup to compatibility with pretty much anything you want to throw at it, this is one headset that certainly delivers the goods. Is it perfect? Heck no, but by gum it is truly impressive.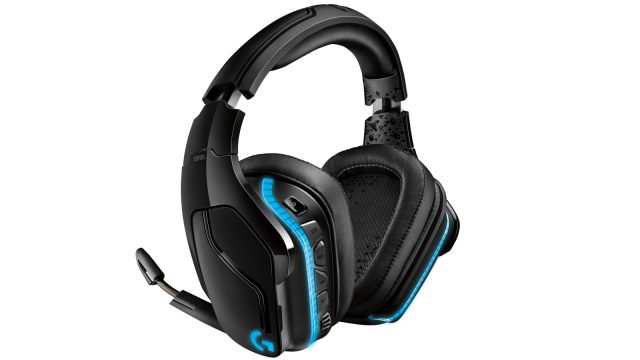 Concealed in the left headpiece is a removable panel which contains the USB dongle that you will need for wireless facilitation. Tested on both a PC and PS4, connection took place within seconds with a satisfying beep letting you know that the headset was paired and ready for action with no interaction by myself to make this happen. This might seem simple especially for our tech readers, but for gamers who just want to jump in and play with their friends or have superior sound, it is a godsend.
The unit is a tad on the heavy side for a headset unfortunately and over a longer period of time you will notice the weight. It is heavy padded and very comfortable however which really helped make up for that. All up the G935 weighs about 375gms which isn't too bad and you do get used to it after the first few times.
Included in the box is a usb charging cable and a 3.5mm male to male jack for use with controllers or consoles that don't support wireless. The box claims (and does) that it works with PC, PS4, Xbox One, Switch and devices needing 3.5. Instructions are also included but to be honest I think they are poorly constructed and show how to use the unit with just a PC. The average person might not work out that the dongle works just fine with PS4 too. A couple of extra pages would have done the trick nicely.
There are 50mm drivers in this unit and you can hear the difference. They really rock nicely. The low ends boom and the highs are not piercing which you can find with cheaper units. The speaker placement within the cups also allows for brilliant surround but also that all important central mic for talking to friends and working out tactics. I didn't find that I had to run sound from the TV and chat in the headset; the G934 handles it all clearly.
The mic that is built in works just great, my only complaint would be that it didn't seem that the range was too great at times, and some my friends said that on occasion my voice was a little higher than normal with a tad of distortion if there was a lot of traffic running through my PS4 Pro. To use the mic, you extend it on its arm and when it is muted you simply slide it back in with an indicator showing you are muted which is not obtrusive. LED lights span both ear cups which look good but are gimmicky but there is an option to turn them off which extends battery life from about 8 hours to 12 so I didn't leave them on long. They did look cool though but totally unnecessary.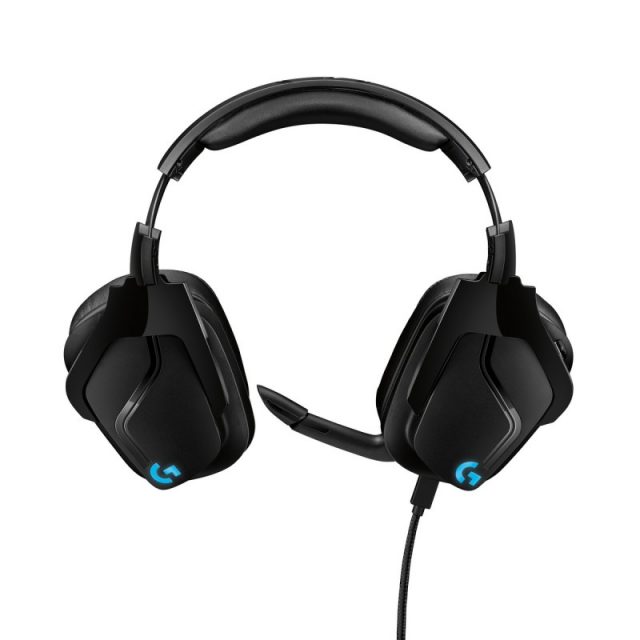 Along the left ear are a number of buttons that handle power, mute, a volume dial and programmable buttons that can be configured with the Logitech hub software. I didn't use those so much but it was easy enough to set up and use. Most of the features I could handle with the hand controller which was easier mid game.
Finally the sound on this headset is amazing. I tested it on a number of games that were your standard fair. First person shooters were brilliant with the headset pretty accurately letting me know how far away fire was, and bullets etc whizzing past me. Explosions were impressive without losing it in the low end. The main thing that stood out for me though were the last two titles I used it with; Hellblade and Dying Light. In Hellblade there are voices that constantly talk to you, imitating the main character losing her sanity. They were whispering around me in all directions which added to the feel of losing me grip. Environment noises were made to feel utterly menacing. In Dying Light, a zombie game, it is a huge open world environment near a coastal town. Seagulls flew at and behind me, fires burning were audio and changed person as I moved around them. Even the surface my character ran on had a life of it's own. Then there were the zombies. I'm pretty good at this game but the added audio element added a whole scary level to the title, with the shambling zombies lurching behind me creating a new air of menace the game had not had before.
Final Thoughts?
I love this headset. It is brilliant and I do recommend it to gamers wanting to add a whole new dimension of both stereo and surround to their titles. It was awesome.