Hardware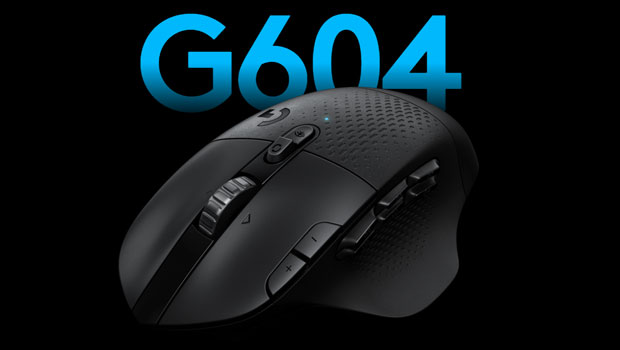 Published on October 28th, 2019 | by Adrian Gunning
Logitech G604 LIGHTSPEED Wireless Gaming Mouse Review
Summary: The Logitech G604 LIGHTSPEED Wireless Gaming boasts everything you need for an impressive.. well.. most impressive gaming experience!
Over the last 5-years technology has come in leaps and bounds and the new Logitech G640 LIGHTSPEED Wireless Gaming Mouse is no exception and offers unparalleled performance that has been designed for gamers. At its core, the G604 has been fine-tuned for MMO and MOBA players as it offers 15 programmable controls to ensure quick response in your virtual gaming worlds.
Furthermore, this mouse offers two different types of wireless connectivity that include Bluetooth and Logitech's ultra-fast 1ms LIGHTSPEED technology and as a clever technological twist, you can even run this on two separate machines. For example, you could use the G604 on your notebook via Bluetooth and on your gaming rig, it could be using the LIGHTSPEED advanced wireless technology. Clever hey?
In terms of power, the LIGHTSPEED uses one AA battery that offers up to 240-hours of wireless gaming which translates to around 34 days of use or if you game on average 4-hours a day, that works out to 60 days. So besides the excellent 16k sensor that is super accurate, the battery life is definitely a powerful selling point that was a favourite feature in our office. Needless to say, nothing is worse then charging your battery every few days with units that have an internal battery. Oh… if you use the mouse via Bluetooth only, Logitech state that the G604 will last around 5 1/2 months for everyday use.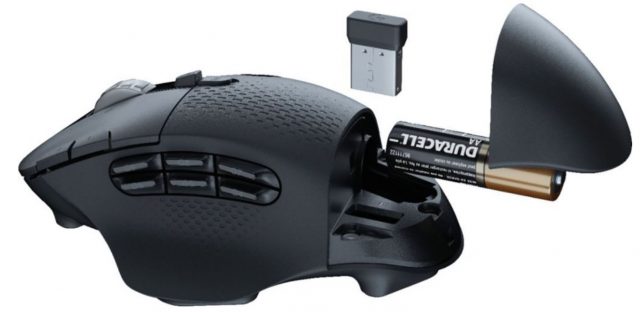 Well-packed from Logitech, the G604 feels like a well made product and measures at 130 x 80 x 45mm with a weight of just 135 grams. Button placement is excellent and the tiltable scroll wheel works well. There's a thumb rest on the left side of the mouse and as a result, the mouse has been designed for right-handers with a palm grip design. In order to use LIGHTSPEED, you do need to connect the USB Dongle which is conveniently located inside the battery compartment.
Logitech also ensure a very easy installation and while Windows 10 automatically detected the product on both our Lenovo Yoga 2-in-1 via Bluetooth, this was also the same on our custom-built gaming rig that used the LIGHTSPEED wireless. However in order to full customise your gaming experience, you do need to install the Logitech Gaming Software.
We tested a variety of games on the G604 and while it did take a few days to get familiar with button placement, we found this wireless mouse super responsive. While it supports a maximum DPI of 16,000, you can lower the sensitivity. It is also a very comfortable mouse and although it is a little on the larger size, it felt great while using this for games. Also, everyday Windows use, surfing the net and whatnot, was also a pleasant experience. A special mention should be made about the scroll wheel because you can swap between normal scrolling and free scrolling that is great for surfing the net.
Final Thoughts?
The Logitech G604 LIGHTSPEED Wireless Gaming Mouse is a great gaming mouse that has been designed for MMO and MOBA games, however it will work with everything else, including first person shooters. Add in some impressive performance, excellent wireless technology that is super fast plus one of the best power consumption in a cordless mouse and the G604 has indeed been designed for gamers with all the bells and whistles.
Key Features
15 PROGRAMMABLE CONTROLS – Master your arsenal in tactical game genres like Battle Royale, MMO and MOBA with 15 tactically positioned controls, including six thumb buttons.
DUAL CONNECTIVITY WITH LIGHTSPEED – Toggle between convenient Bluetooth® and ultra-fast 1 ms LIGHTSPEED™ advanced wireless technology.
HERO 16K SENSOR – Featuring our most advanced gaming sensor with precise 1:1 tracking and class-leading power efficiency. HERO 16K achieves 16,000 max DPI, plus zero smoothing, filtering or acceleration.
DUAL-MODE HYPERFAST SCROLL WHEEL – Switch scrolling modes at will to fly through menus, ratchet through weapon or spell selections, and apply keybinds to scroll-up and scroll-down inputs.
240 HOURS WITH ONE AA BATTERY – Game for up to 240 hours in LIGHTSPEED mode or up to 5.5 months in Bluetooth® mode on one AA battery thanks to game-changing power efficiency.
BATTERY LIFE*
LIGHTSPEED mode: up to 240 hours (non-stop gaming)
Bluetooth mode: up to 5.5 months (standard usage)
Technical Specifications
15 programmable controls
Dual-mode hyper-fast scroll wheel
LIGHTSPEED report rate: 1,000 Hz (1 ms)
Bluetooth report rate: 88-133 Hz
Sensor: HERO 16K (100-16,000 DPI)