Hardware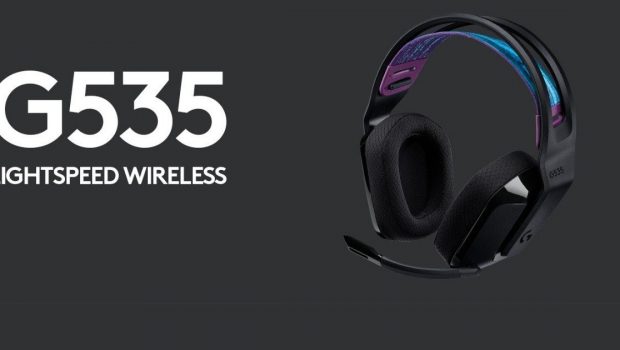 Published on July 27th, 2022 | by Adrian Gunning
Logitech G535 LIGHTSPEED Wireless Headphones Review
Designed for gamers, the Logitech G535 LIGHTSPEED Wireless Headphones adds impressive audio quality with up to 33-hours of cordless connectivity, all under a very sturdy headset chassis that includes a detachable boom microphone. The headset also works up to 12 metres away and is powered by 40mm neodymium drivers which works on both the PC and PlayStation that is Discord Certified that gets the thumbs up for gamers who use this platform.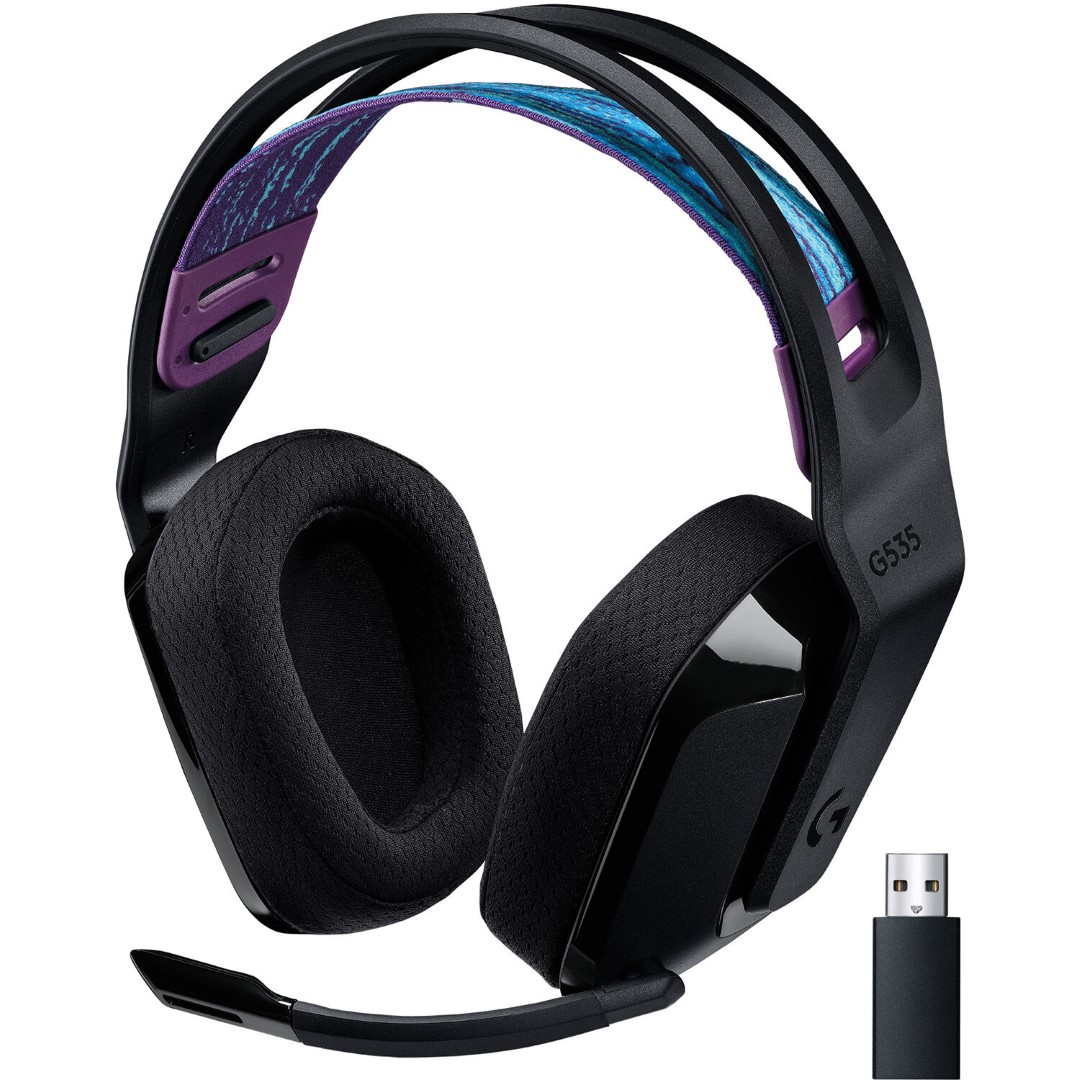 For lovers of total immersion, the Logitech G535 LIGHTSPEED Wireless Headphones will immerse you even further as it blocks out background noise courtesy of its clever design. Furthermore, Logitech allow you to tweaking several of the audio settings courtesy of their G HUB software and in terms of cost, the G535 retail for $249AUD (July 2022). The headset also comes in three colours that include black (reviewed), mint and white.
What's In The Box:
G535 gaming headset
Reversible soft headband (attached)
LIGHTSPEED USB receiver
USB-C charging cable
User documentation
Superbly packed by Logitech and once out of the box, the first thing that resonated with me was the excellent build quality. While built predominantly with plastic like all headphones on the market, nothing feels cheap in its production value but rather, it feels and looks like a high-end headphone. Sure, the aesthetics mirror other headphones from Logitech but more importantly, it is very comfortable to wear, particularly for those long gaming sessions.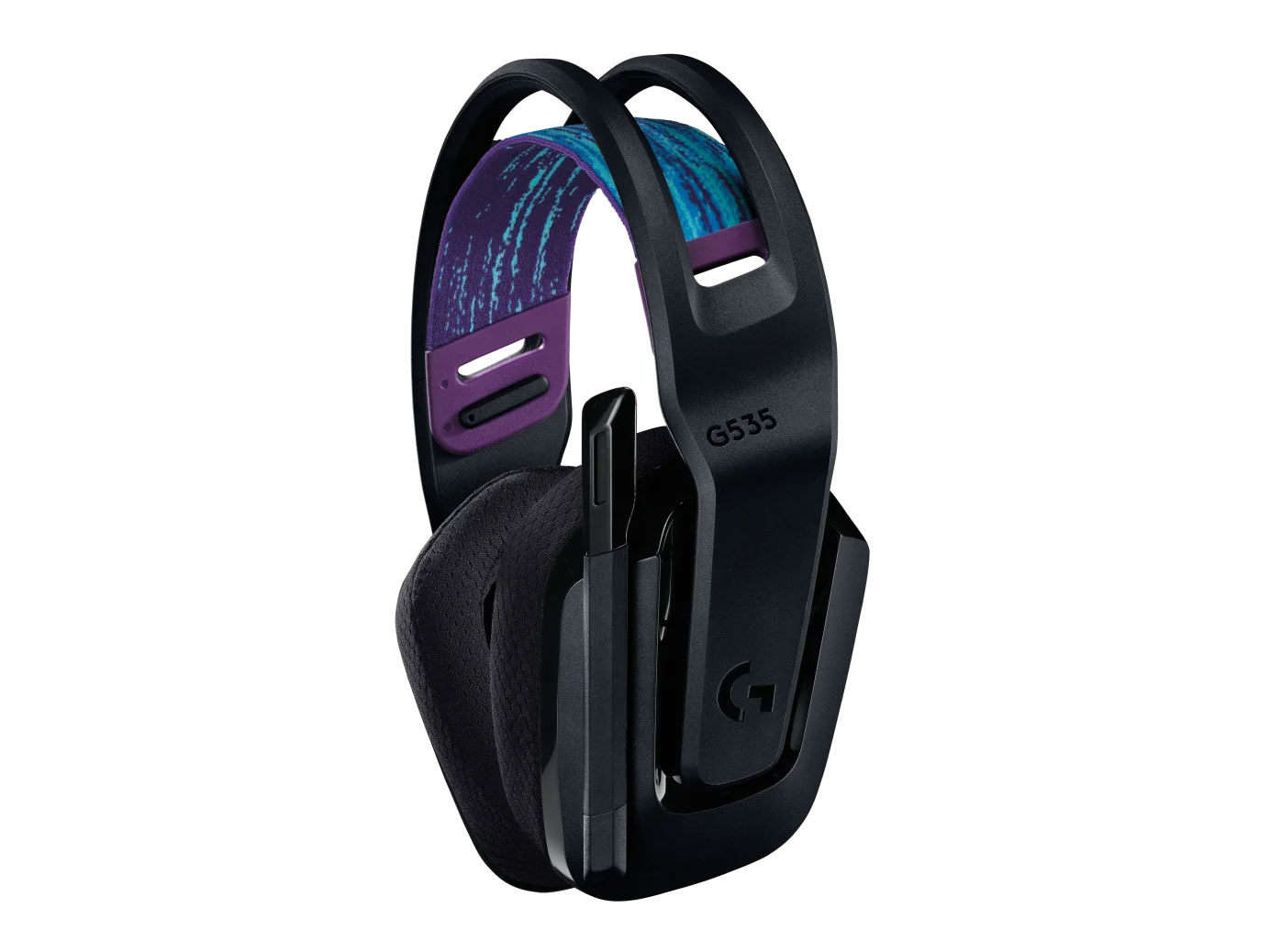 While the review headset is predominantly black, there are accents of blue and purple to give the G535 more depth with its appearance and yes, it does scream gamer. Further to its comfort, the headset is adjustable, including the earcups and given how relatively lightweight it is at 236 grams, this will ensure a longer time for gaming. Controls are well placed with an on/off button and a volume wheel. Muting the mic is done by flipping the boom up and as mentioned, this is removable.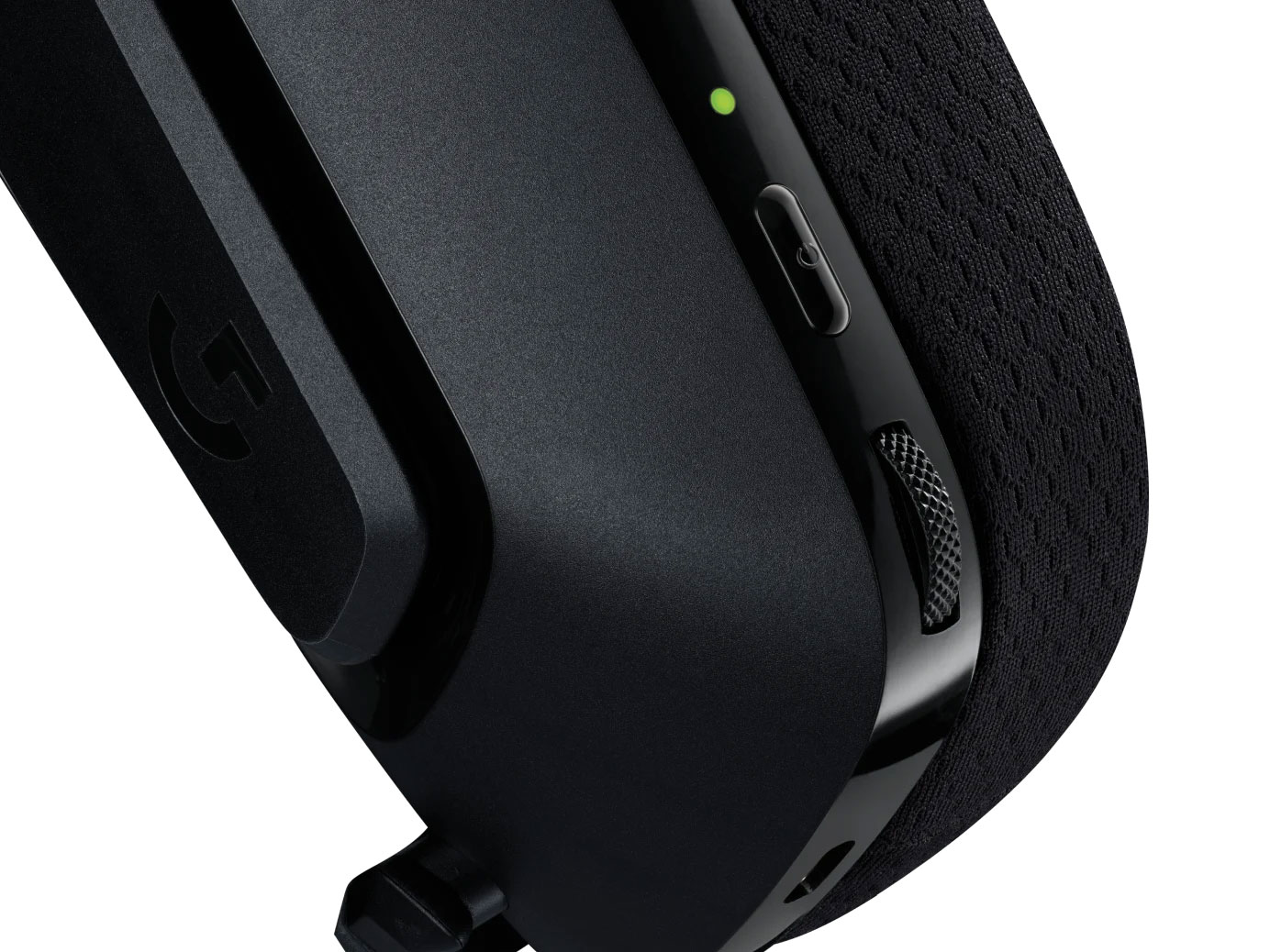 When it comes to wireless audio quality, I personally found the Logitech G535 LIGHTSPEED Wireless Headphones quite good across multiple audio ranges. As a result, it produced clear, distorted free sound with quite a bit of additional depth which is perfect for first person shooter such as Call of Duty Vanguard and Fortnite.
I also tested the G535 with Red Dead Redemption II and it made me appreciate this open-world game more, due to the nuisances of all the different sounds you could hear in this virtual environment. Forza 5 also revved through this headset, particularly the bass of the engines as I raced around the corners, trying to outpace my fellow racers. Supporting the gamer is the boom mic that captured my voice clearly, with no qualms reported from my online friends.
Streaming services such as Disney+ (Obi Wan Kenobi) and Netflix (Resident Evil) created this personal blockbuster experience with all-round quality in reference to lows, mids and highs. Audio was clear and the sound effects, musical score all complemented each other without one being more dominant than the other, unless needed. As a result, good treble and bass levels.
Charging the Logitech G535 LIGHTSPEED Wireless Headphones is via the USB-C port and takes around 1-hour to power-up the battery and yes, you can still use the headphones during this process. The headset also supports an auto-off timer if you accidentally forget to turn it off after one of your sessions which is needed for wireless headphones. The Logitech G HUB software works well and gives you considerable amount of control over the EQ, including access to various presets and even microphone levels.
Final Thoughts?
The Logitech G535 LIGHTSPEED Wireless Headphones is pure gamer in every sense of the word that is not only comfortable to wear but produces crystal clear audio for every occasion, whether it's gaming, streaming or listening to music… and more importantly, without being tied down by cords!
Tech Specs:
Weight: 236 g
Driver: 40 mm
Frequency response: 20 Hz – 20 KHz
Impedance: 36 Ohms
Sensitivity: 87.5 dB SPL/mW
Microphone (Boom):
Pick up pattern: Cardioid (unidirectional)
Frequency response (100 Hz -10 KHz)
Wireless Range: Up to 12 m
Battery Life (rechargeable): 33 hrs @ 50% volume levels