Hardware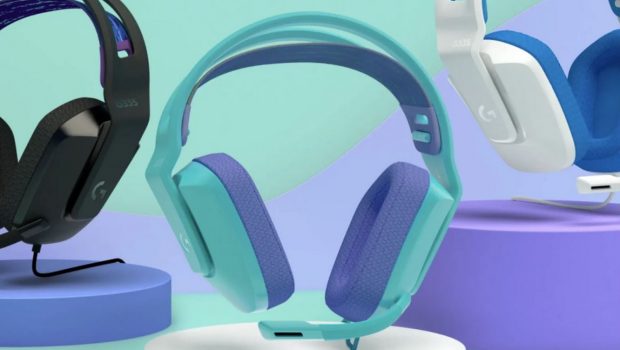 Published on July 23rd, 2021 | by Adrian Gunning
Logitech G335 Wired Gaming Headset Review
Summary: The Logitech G335 Wired Gaming is a super ultralight headset that products good audio quality for its price
The Logitech G335 headset has been designed for gamers from its ultralight build at just 240 grams, stylish design and all-round quality audio courtesy of its powerful 40mm drivers, including its 'fashionista' inspired colour choices. While the G335 is available in black, white and mint (reviewed), there are also additional colours around the headband and on the inside earcups to give it an added layer of fashionable aesthetics which will make your streaming pop. Needless to say, it definitely makes it stand apart from its competitors and looks more striking than most gamer headsets. My only slight drawback of this headset it is sturdy, it feels plastic that might be more noticeable due to how lightweight the G335 but when you're wearing, it's almost like not wearing anything at all!
.
As it is a wired headset, you do need access to a 3.5mm port that makes it compatible with a myriad of devices that include the PC, Xbox, PlayStation, Nintendo Switch and even mobile phones. It also comes with a Y-Splitter for separate mic and headphone jacks for PC users. The price of the Logitech G335 Wired Gaming Headset retails for $129AUD (July 2021) and comes well-packed from this company with everything you need to start your audio experience. Once you have connected the headset into your device (it comes with a 1.8m log cable), you're ready to play, listen or watch. Out of the box, the weight of the G335 is great and more importantly, it's very comfortable to wear and its breathable ear pads allow you to game even longer. Furthermore, there is a volume wheel on the cup that allows you easily adjust levels and to mute your microphone, you simply flip it up.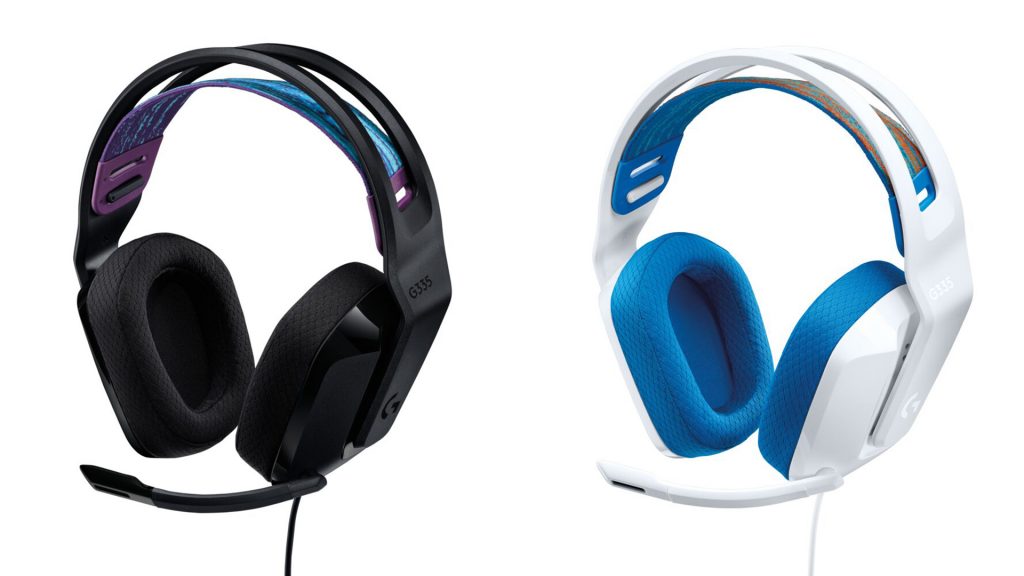 AUDIO SPECIFICATIONS
Driver: 40 mm
Frequency response: 20 Hz-20 KHz
Impedance: 36 Ohms Sensitivity: 87.5 dB SPL/mW
Microphone (Boom):
Microphone pickup pattern: Cardioid (unidirectional)
Frequency response: 100 Hz – 10 KHz
The audio quality packs a punch thanks to the 40 mm neodymium drivers which does produce good levels, particularly strong mids and generally distorted free bass, provided you don't over-saturate at the highest volume. I also tested the headset on a variety of audio devices from my PC to Nintendo Switch and PlayStation 4. Needless to say, the headset did help immerse you more into your games and whether it was Spider-man: Mile Morales, Hyrule Warriors: Age of Calamity or Fornite, the audio quality was decent and more importantly the G335 was super comfortable and I love how ultralight it is. While a stereo headset, streaming Disney+ or listening to music was a pleasant experience and great for audiophiles. In terms of the microphone, I had no issues on the PC and my friends, colleagues and enemies had no problems in hearing my voice with very little background audio picked up. The headset is also Discord-certified which means they have given the G335 it's stamp of approval for both gaming and Discord.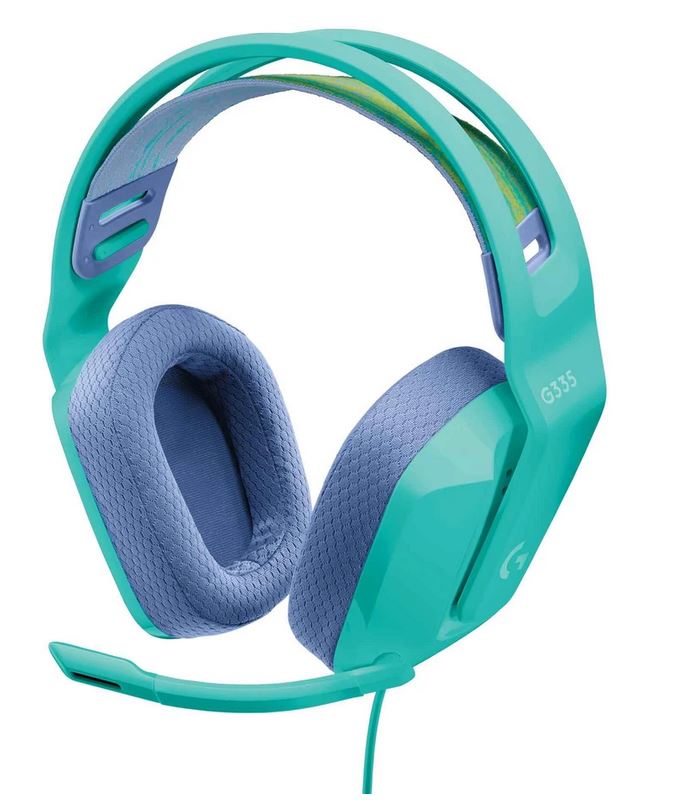 FINAL THOUGHTS
If you're looking for colour that pops an audio punch, the Logitech G335 Wired Gaming Headset definitely suits that criteria and I love the mint and lilac color combination which will definitely make this a choice for streamers. Controls are well placed and the ability to quickly mute by flipping up the mic is a godsend. Additionally the 1.8metre 3.5mm audio cable is the perfect length for both PC and console gaming. My only slight drawback is the plastic feel but Logitech wanted to make this lightweight and they have succeeded perfectly in this domain.
Recommended!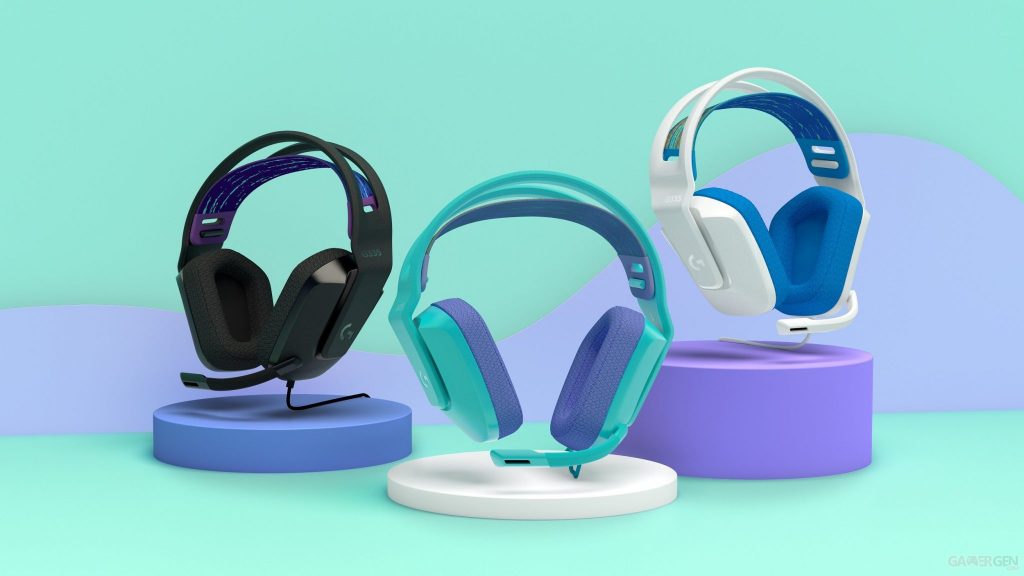 HIGHLIGHTS
PLAY YOUR WAY
Lightweight and cool. G335 is where color and comfort combine. Featuring a suspension headband design with adjustable strap so you can choose your most comfortable fit. Easy plug-and-play and built-in controls let you quickly connect and jump into the game. Just pick your favorite color to match your awesome style.
GET INTO THE COMFORT ZONE
The suspension headband design distributes weight and relieves pressure points. Soft, breathable memory ear cups and sports mesh material surround the ear and provide just the right amount of force to stay firmly in place. At only 240 grams, G335 is a smaller and lighter version of the award-winning G733 LIGHTSPEED wireless headset.
PLUG AND PLAY
Easily get into the game using a simple 3.5 mm audio jack. G335 works with Xbox®, PlayStation®, Nintendo Switch™ as well as most PCs, laptops, or mobile devices.
ADJUST TO FIT
The soft elastic headband conforms to your head and can be adjusted for the perfect fit. Slide the ear cups up and down to make them feel just right.
BUILT-IN CONTROLS
Use the volume roller on the ear cup to turn up your game or music. Flip up the mic to instantly mute and move it out of the way.
PLAY IN STYLE
G335 comes in multiple colorways, each with its own vibrant reversible headband straps and matching earpads. The soft elastic straps are reversible to give you a choice of colors and washable—so they always look fresh. When you're ready for a new look and mood, just grab a new strap or choose from a variety of cool, vibrant mic covers.
GREAT AUDIO. GUARANTEED.
With 40 mm neodymium drivers, G335 delivers crisp, clear sound that makes your game come alive. It's Discord Certified to guarantee crystal clear communication performance with amazing sound and voice clarity.
FIND THE PERFECT FIT
Two amazing headsets in our Color Collection, both with their own unique features. Choose the one that's right for you.
PHYSICAL SPECIFICATIONS
Length: 189 mm / 7.4 in
Width: 180 mm / 7.1 in
Depth: 79 mm / 3.1 in
Weight: 240 g (including cable)
PACKAGE CONTENTS
G335 Wired Gaming Headset
PC splitter for separate mic and headphone jacks (Y-splitter)
User documentation
REQUIREMENT
3.5 mm audio jack
PLATFORM COMPATIBILITY
PC, Xbox, PlayStation, Nintendo Switch and mobile devices with 3.5 mm audio jack