Hardware
Published on July 21st, 2021 | by Adrian Gunning
LOGITECH G305 LIGHTSPEED WIRELESS GAMING MOUSE REVIEW
Summary: The G305 packs a punch when it comes to a wireless mouse that makes it perfect for gaming and all your PC needs
G305 is a LIGHTSPEED wireless gaming mouse designed for serious performance with latest technology innovations at an affordable price point in a variety of vibrant colours.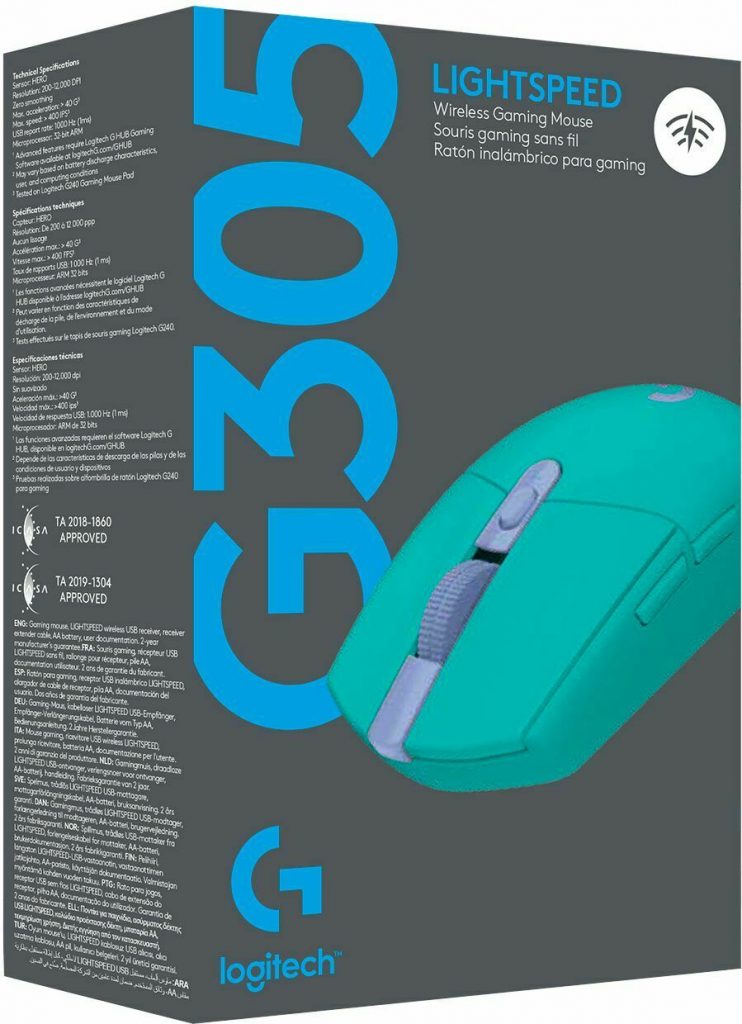 If you're looking for an affordable wireless gaming mouse, then the Logitech G305 might be the panacea for your needs and at just $99AUD (July 2021 – Even cheaper if you Google), this input device for your PC or Mac is great value for money. Another interesting element is that aesthetically, it comes in a variety of colours which literally pop and this includes mint (reviewed), black, white, lilac, blue and finally K/DA which is inspired by League of Legends. K/DA stands for kills, deaths and assists with this particular colour combo has a mixture of white and black with blue stripes. While it does look like a traditional mouse (except the K/DA), it is more streamlined and definitely has the gamer in mind when it was designed by Logitech.
Further to this, the mouse is quite fast and boasts a wireless 1 millisecond response rate, a 12,000 DPI sensor for exceptional accuracy plus six programmable buttons. Best of all, one AA battery will give you 250 hours of gaming which works out to 62.5 days if you game for 4-hours a day. Given that my gaming laptop has become my go-to machine for PC Games, I love being able to cut the cords and with the Logitech G305 Lightspeed Wireless Gaming Mouse, it allowed me to do just that. Also the USB dongle is super tiny and can be stored inside the mouse when not in use.
SPECIFICATIONS
TRACKING
Sensor: HERO™
Resolution: 200 – 12,000 DPI
Zero smoothing/acceleration/filtering
Max. acceleration: >40G5
Max. speed: >400 IPS6
RESPONSIVENESS
Wireless report rate: 1000 Hz (1ms)
Wireless technology: LIGHTSPEED Wireless
Microprocessor: 32-bit ARM
DURABILITY
Buttons (Left / Right): 10-million clicks
PTFE Feet: > 250 km range
BATTERY LIFE
250 hours
OTHER FEATURES
Onboard memory: 1 profile
Mechanical Button Tensioning System
REQUIREMENTS
Windows® 7 or later
macOS® 10.13 or later
Chrome OS™
USB port
Internet access for Logitech Gaming Software (optional)
WARRANTY INFORMATION
2-Year Limited Hardware Warranty
UNBOXING / SETUP

Well packed from Logitech, it comes with user documentation plus the aforementioned USB receiver that creates the wireless connection between your PC/MAC and best of all, it works straight out of the box. Oh, there is even a Logitech sticker if that's your kind of thing. To install the mouse, you need to pull the back top of the mouse open which houses the USB receiver and once open, you simply install the included AA battery. I plugged the receiver into my laptop, turned the mouse on and presto, a connection was established and I was in wireless mouse heaven.
However if you want to maximise the G305, you do need to install Logitech's Gaming Suite that allows you to fine-tune it and setup the programmable buttons. The mouse is also quite lightweight at just 99 grams and its dimensions are similar to most standard mice in terms of size with a measurement of 116.6mm x 62.15mm x 38.2mm. Additional it feels quite ergonomic and comfortable to use that allows it to be used by both right and left handers.
The Logitech Gaming Suit is a well-made app, however could be slightly refined but overall, it's very easy to use and navigate. It's also the place where you can remap the six programmable buttons on the mouse plus all your saved profiles. In terms of gaming, the G305 didn't miss a beat through its wireless connection and being free of a cord does give you more control of the mouse as there is no resistance from the top of the mouse. Games such as Fortnite, Call of Duty Black Ops and World of Warcraft all worked great, particularly the ability to tweak the mouse buttons for added gaming interactivity. Furthermore, it works well in all aspects of Windows, surfing the net and even photo manipulation with Adobe.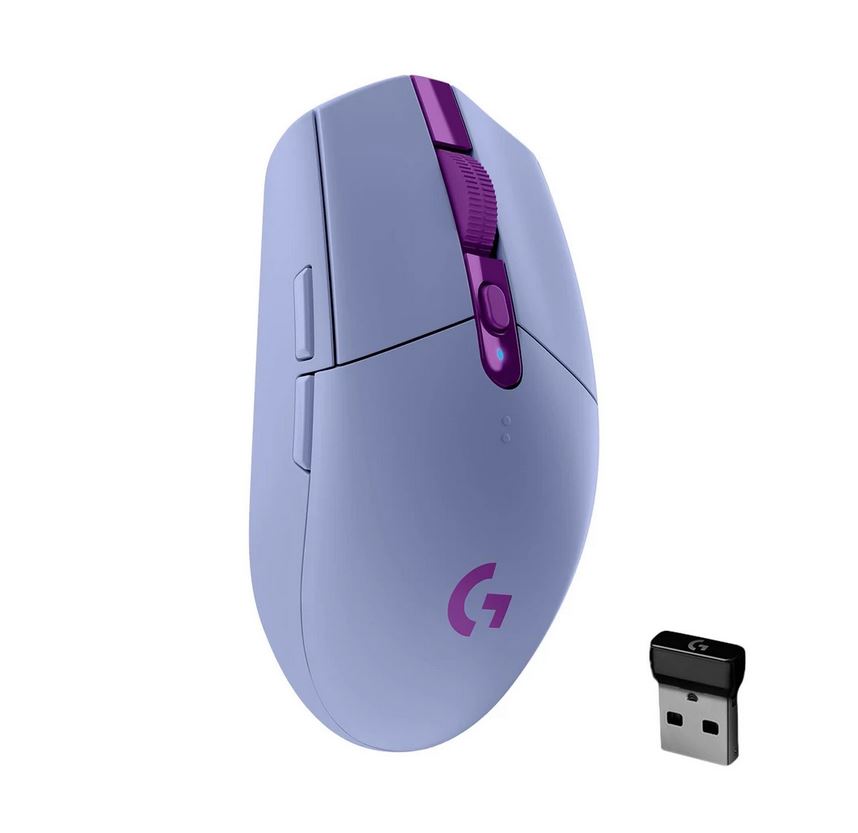 Final Thoughts?
After using this mouse for a few weeks now religiously, I cannot fault this wireless gaming mouse from this company. Buttons work well, including their placement and it is a very comfortable mouse with some very funky colours. Setup is super easy and the dual texture of its exterior does feel a little strange at first but helps you familiarise yourself with its overall design and button placement. Additional the high speed sensor is perfect for games and more importantly it is super responsive and I like to think gave me an edge in Fortnite.
LOGITECH G305 LIGHTSPEED WIRELESS GAMING MOUSE FEATURES
HERO SENSOR
HERO is a revolutionary new optical sensor designed by Logitech G to deliver class-leading performance and up to 10 times the power efficiency (compared to previous gen). HERO sensor delivers exceptionally accurate and consistent performance with zero smoothing, filtering or acceleration from 200 to 12,000 DPI. G305 can save up to 5 profiles with up to 5 DPI levels each on the onboard memory.
THE MAGIC QUADRANT
HERO is a true breakthrough innovation in sensor technology providing revolutionary performance and efficiency. It's the first of its kind to enable a new generation of high-performance and long-lasting wireless gaming mice.
10X EFFICIENCY
HERO utilizes a smart power management system to continuously adjust frame-rate processing based on mouse speeds. This allows exacting performance plus constantly managed and minimized power consumption. That equates to run-to-die battery life of 250 hours on just one AA battery.
HERO IN ACTION
HERO delivers accuracy at velocities over 400 IPS across the full DPI range—from 200-12,000—with zero smoothing, acceleration or filtering. HERO sensor gives players unsurpassed responsiveness, precision and power efficiency.
LIGHTSPEED WIRELESS
For pros, cutting the cord is vital. Cord drag produces friction and distraction that is unacceptable in professional esports. This innovative, end-to-end wireless technology overcomes the limitations of latency, connectivity and power to provide consistent, lag-free, 1 ms report rate connection—without a wire.
1 MS WIRELESS ACHIEVED
Logitech G engineers worked through a complete technology optimization from sensor to firmware, circuitry to antenna design. Our experienced team tested and refined each component, focusing on the slowest link, until nothing was slow.
ULTRA-LONG BATTERY LIFE
HERO sensor and LIGHTSPEED wireless deliver extreme efficiency to let you game for months. It delivers up to 250 hours run-to-die on just one AA battery. It can be adjusted to last up to 9 months of typical use in Endurance mode, which can be selected via Logitech Gaming Software.3 Logitech Gaming Software, as well as the indicator light on G305, will notify you when 15% of battery remains.
ULTRA-LIGHTWEIGHT
At Logitech G, a wireless gaming mouse doesn't need to be heavy. G305 is very light, coming in at only 99 grams, made possible thanks to the lightweight mechanical design and ultra-efficient battery usage.
6 PROGRAMMABLE BUTTONS
G305 primary switches, both left and right, are rated for 10 million clicks. G305 also has middle click, DPI button and two side buttons that can be programmed to your preferences using Logitech G HUB.
MECHANICAL BUTTON TENSIONING
Mechanical button tensioning with separated buttons enhances the consistency of the left and right primary mouse buttons and helps reduce the force needed to click. This results in crisp, reliable button performance you can depend on in even the most intense gaming sessions.
PLAY ANYWHERE
The durable, lightweight design with a small footprint and built-in USB nano receiver storage make G305 a great travel companion.