Hardware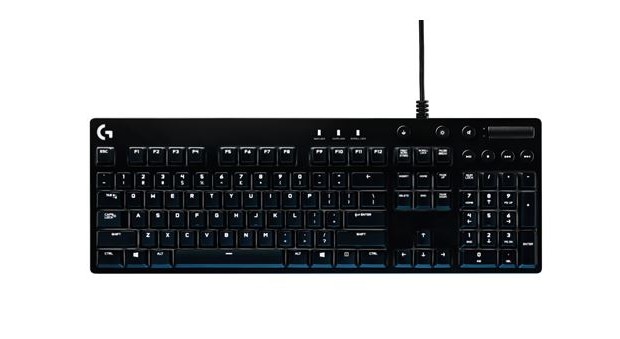 Published on March 17th, 2016 | by admin
Logitech G Unveils New Cherry Mechanical Gaming Keyboard
The Logitech G610 Orion Brown Features Cherry MX Brown Mechanical Switches, Customisable Lighting and Pure Performance-Driven Design
AUSTRALIA — March 17, 2016 — Logitech (SIX: LOGN) (NASDAQ: LOGI) today announced the expansion of its mechanical gaming keyboard lineup with the Logitech® G610 Orion Brown Backlit Mechanical Gaming Keyboard. The new keyboard features Cherry MX Brown mechanical switches, as well as customisable bright white LED key backlighting and dedicated media controls. It also integrates industry-leading technology and quality of construction in a uniquely crafted design to deliver peak performance for a pure gaming experience.
Tweet now: Logitech unveils #G610 keyboard – Cherry MX & pure performance design @LogitechG #GameWithPassion #WinWithScience http://blog.logitech.com/?p=24523
"Keyboard enthusiasts want a variety of options," said Ujesh Desai, Vice President and General Manager of Gaming at Logitech. "Our new G610 Orion Brown keyboard delivers a clean, sophisticated design along with a choice of mechanical switches."
Pure Performance-Driven Design
Every aspect of the Logitech G610 Orion Brown – from the simplest details, such as fingerprint-masking matte texture and a durable braided cable, to the most complex details, including advanced bright white LED key backlighting – is precisely engineered. The result is industry-leading technology and quality of construction in a uniquely crafted design.
Cherry MX Key Switches
The Logitech G610 Orion Brown features Cherry MX mechanical switches, which are the industry standard in mechanical keyboards. Cherry MX switches are rated over 50 million keystrokes and actuate precisely for a reliable gaming experience. Low-noise Cherry MX Brown switches have a tactile bump for feedback while you type.
Customisable LED Backlighting
Use Logitech Gaming Software (LGS) to select and personalise brightness for each key to match your style, system or environment, or set lighting to sleep when you aren't using the system. Light up keys to keep track of spells and other commands. Additionally, use LGS to synchronise lighting patterns and effects with other Logitech G gaming gear so your devices can display the same lighting pattern. Available patterns include breathing or light wave.
Easy-Access Media Controls
The Logitech G610 Orion Brown features dedicated media controls that can be used to play, pause and mute music and videos instantly, so you can control your background track without switching out of your game. Use the roller to adjust the volume, or skip to the next song with the touch of a button.
Full Customisation
Get full control of the Logitech G610 Orion Brown with LGS. Customiseyour favourite games with custom button macros on the F1-F12 keys. Control lighting on individual keys and determine which keys are turned off when you turn on Game Mode.
Pricing and Availability
The Logitech G610 Orion Brown is expected to be available in March 2016, for a suggested retail price of $209.95. For more information please visit gaming.logitech.com or our blog.