Hardware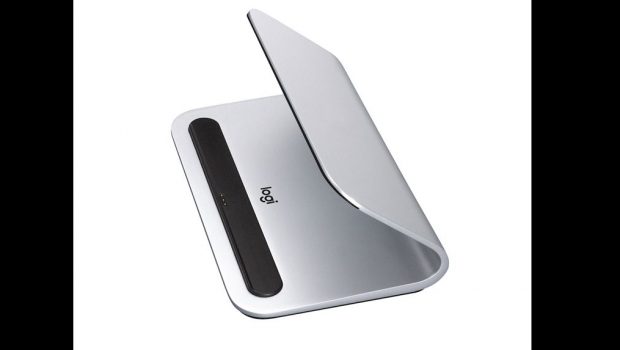 Published on April 26th, 2016 | by admin
Logi BASE: The Easiest Way to Charge and Use Your iPad Pro
First Charging Stand for iPad Pro Unlocks New Possibilities in Every Room
AUSTRALIA — April 26, 2016 — Today Logitech (SIX: LOGN) (NASDAQ: LOGI) announced the Logi BASE Charging Stand with Smart Connector™ for iPad Pro™, enabling a new way to charge your 12.9-inch or 9.7-inch iPad Pro while you use it. A first of its kind, Logi BASE gives you the perfect viewing angle for enjoying apps and entertainment in every room. You can type on the screen or access Siri® while simultaneously charging your iPad Pro through the Smart Connector.
Tweet now: Charge your iPad Pro via the Smart Connector. @Logitech Introduces the Logi BASE stand for #iPadPro. Learn more: http://blog.logitech.com/?p=24668
"Last autumn we introduced the Logi CREATE – the first third-party keyboard compatible with Apple's Smart Connector," said Michele Hermann, Vice President of Mobility at Logitech. "With the introduction of the new 9.7-inch iPad Pro, we're excited to continue to deliver innovation – beyond the keyboard – that leverages the Smart Connector and helps you make the most of your iPad Pro, in any room at home or the office."
The Logi BASE is the first device to charge your iPad Pro through the Smart Connector, and charging has never been friendlier. Magnets in the charging cradle guide your iPad Pro into place to align with the Smart Connector, with no need to search for a charging port; just drop your iPad Pro in and go.
The Logi BASE provides the perfect place for your iPad Pro in every room. With over one million apps designed specifically for iPad, and the intelligence of Siri®, you can completely rethink the way you use iPad Pro. Set your Logi BASE on the kitchen counter for the perfect viewing angle when following a recipe or using cooking apps. Or, you can call on Siri for help setting a timer, converting cups into ounces or adding items to your grocery list. To make your morning routine a breeze, place your iPad Pro and the Logi BASE on your nightstand and ask Siri about the weather or your day's upcoming schedule. And at the office, you can set your iPad Pro and Logi BASE next to your laptop or desktop for the perfect second screen, enabling new levels of creativity and productivity.
The Logi BASE belongs with your iPad Pro. From the high-grade aluminium to the premium finish and curved shape, every detail is designed to complement the iPad Pro, and makes it a pleasure to look at and use.
Availability
The Logi BASE is compatible with the 12.9-inch and 9.7-inch iPad Pro and is available today from Logitech and Apple for a suggested retail price of $149.95. For more information, please visit Logitech.com, our blog or connect with us on Facebook.