Films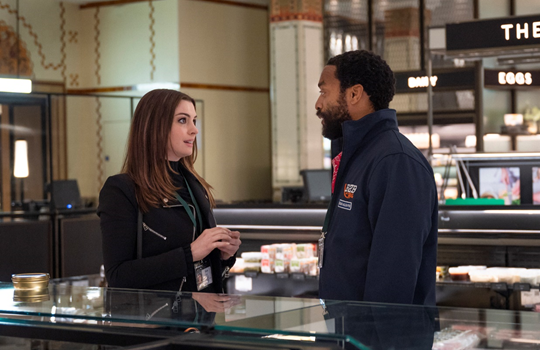 Published on March 24th, 2021 | by Damien Straker
'LOCKED DOWN' STARRING ANNE HATHAWAY AND CHIWETEL EJIOFOR TO BREAK INTO AUSTRALIAN CINEMAS MAY 6
Directed by Doug Liman
Written by Steven Knight
Produced by P.J. van Sandwijk, p.g.a Alison Winter, p.g.a Michael Lesslie
Cast Anne Hathaway, Chiwetel Ejiofor, Stephen Merchant, Mindy Kaling, Lucy Boynton, Dule Hill, Jazmyn Simon with Ben Stiller, Ben Kingsley, and Mark Gattis
Release Date: the 6th of May 2021
On May 6, 2021 in partnership with Warner Bros. Pictures International, Maslow Entertainment will release Anne Hathaway and Chiwetel Ejiofor's new heist movie from director Doug Liman, LOCKED DOWN, in cinemas across the country. This announcement coincides with the local trailer and key art launch, both now online.
Headlined by Academy Award winner Hathaway and Ejiofor, the romantic and humorous new movie also features an array of highly entertaining appearances from such stars as Sir Ben Kingsley and Stephen Merchant.
Synopsis: 
In the film, just as they decide to separate, Linda (Anne Hathaway) and Paxton (Chiwetel Ejiofor) find life has other plans when they are stuck at home in London in a mandatory lockdown. Cohabitation is proving to be a challenge, but fueled by isolation and copious amounts of wine, it will bring them closer together in the most surprising way – by hatching a plan to steal a precious diamond from luxury department store Harrods.
Directed by Doug Liman (Mr & Mrs Smith, Edge of Tomorrow, The Bourne Identity) and filmed safely during the pandemic in the UK last year, LOCKED DOWN aims to provide the fun, relatable and escapist film antidote to 2020 in cinemas around the country.
About LOCKED DOWN
Liman directed from a screenplay by Steven Knight. The film's producers were P.J. van Sandwijk, Alison Winter, Michael Lesslie; executive producers, Doug Liman, Steven Knight, Stuart Ford, Miguel A. Palos Jr., Alastair Burlingham, Richard Whelan. LOCKED DOWN stars Anne Hathaway, Chiwetel Ejiofor, Stephen Merchant, Mindy Kaling, Lucy Boynton, Mark Gatiss, Claes Bang, Dulé Hill, Jazmyn Simon, Sam Spruell, Frances Ruffelle, with Ben Stiller, and Ben Kingsley. 
HBO Max and Warner Bros. Pictures Present and AGC Studios Presentation, Storyteller Productions, in Association with Hypnotic and Nebulastar, a Doug Liman Film, LOCKED DOWN.