Films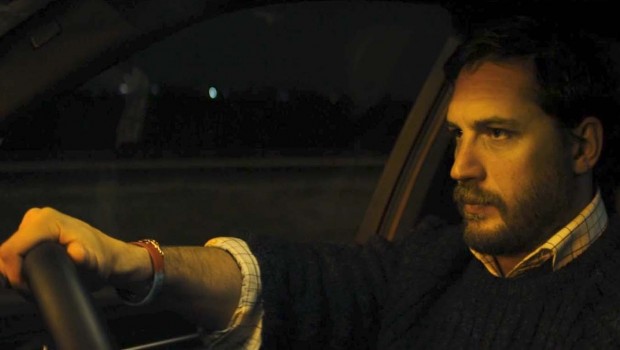 Published on August 23rd, 2014 | by Damien Straker
Locke – Film Review
Reviewed by Damien Straker on August 19th, 2014
Madman Entertainment presents a film by Steven Knight
Produced by Guy Heeley and Paul Webster
Written by Steven Knight
Starring: Tom Hardy and the voices of Andrew Scott, Ben Daniels, Ruth Wilson and Olivia Colman
Music by: Dickon Hinchliffe
Cinematography: Haris Zambarloukos
Editing by: Justine Wright
Running Time: 85 mins
Rating: MA15+
Release Date: August 28th, 2014
A number of films recently have focussed on the survival of a single character that is fighting against the environment or the elements. Gravity, Tracks, All is Lost and now Locke are examples of this subgenre. These films are a response to how cinema has lost its sense of physicality and the illusion we are watching real people in peril. Aside from Gravity, which heavily employed special effects, these survival films rediscovered physical trauma and real spaces by relying on practical filmmaking rather than computer generated images. Locke was directed by Michael Knight, the screenwriter of Dirty Pretty Things and Eastern Promises, on a budget of two million dollars. It is like All is Lost in that there is only one setting and one visible character but different because instead of near-silence it is entirely dialogue driven. The concept is deceptively simple. The whole film takes place in the BMW of Ivan Locke as he takes calls from his boss, his wife, his mistress and colleagues to explain a choice he has made. The car is a minute setting that hides the impressive craftsmanship and technical feats. The film was shot in only eight days, with the wheels of the BMW removed and the car placed on the back of a moving low-loader. Three RED digital cameras were used, they are better for shooting in dimly lit areas, and they supplied a handful of camera angles inside and around the car. We don't see any of the other actors in the film but hear their voices through Locke's car phone. The other actors were in a hotel room with phone lines to the car recording the conversations we hear in the film. A soundproof car was necessary to retain a clean audio track. The amount of coordination for such a small scale film is stunningly realised through clever, economic filmmaking.
The film's greatest asset is Knight's decision to cast Tom Hardy as Locke who is in excellent form. Hardy has fared well in physical combat roles with films like Warrior and The Dark Knight Rises. Though restricted to a car seat for almost the entire eighty-five minutes, Hardy gives a physical and emotive performance. His body language is subtle as he mostly relies on his facial expressions and his eyes. He is served well by extended takes from a medium close-up shot that provide him with time and space to inhabit his character. While previously criticised for being inaudible, his voice is articulate and precise in pronouncing his lines. Locke's dialogue dominantly reflects his unchanging mindset and his refusal to alter his life-changing decision. Hardy effectively uses a firm tone in his voice to reflect how definitive this night is for him. A character later tells him "the difference between once and never is everything" which further illustrates the ultimate power of choices. Locke's decision is to leave behind his job as a construction foreman who is meant to oversee a major transfer of concrete to a large building operation. Instead he opts to travel along the M1 from Birmingham to London to be by the side of a girl he slept with because she is having their baby. Locke is driven by a hatred for his own father who wasn't there for him as a child. His choices are personal but also a moral obligation to right his own wrongs and to correct his fuck-up as he puts it. He doesn't love this girl and on his car phone he tells her "we can't love or hate each other. It just happened". His attitude is cold because he treats his situation like it is a resolvable work problem where he can use his precision without succumbing to emotion or feelings. His surname, the references to concrete and the reoccurring images of the road are important symbols. They reflect the character's lack of free-will and his immobility to change his path after this choice.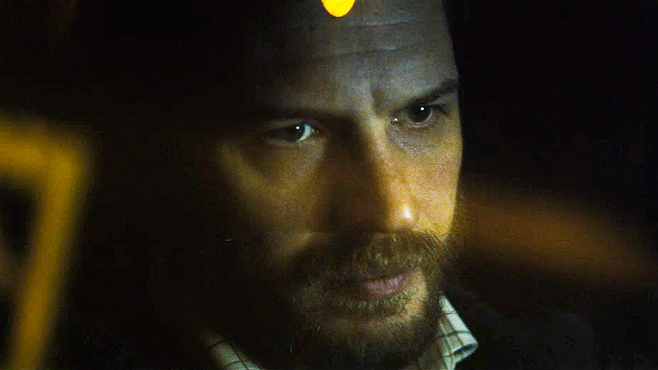 Under Knight's tightly paced script, strong characterisation and dialogue for the side characters brings vividness to the actors' voice work. There are no cutaways to these actors. They express their roles so well that we never need anything more than their voices to see them. Tense verbal and psychological conflict is built from Locke's goal of having to convince each person on the phone he is making the right decision. Each call to the car represents the disbelief Locke has to resolve. The most important call comes from his mistress Bethan (Olivia Colman) in the hospital. She calls him because she is scared and alone. The hospital staff also rings him because of complications like the umbilical cord wrapping around the baby's neck. He calls his family and his son wonders why he isn't at home but he can't bring himself to explain why. When he tells his wife Katrina (Ruth Wilson) about the baby she is so distraught and shocked we fear that she might hurt herself. Comedy is unexpected but welcome in the film. Some big laughs brighten the mood. Each time his boss Gareth (Ben Daniels) angrily calls him, his caller ID on the car screen appears as "bastard" and then he blasts him for walking away from the job. One of the best characters is Locke's colleague Donal (Sherlock's Andrew Scott) who Locke trusts to finish the transfer of concrete even though he is unsure of himself and unreliable. There are hilarious exchanges like when Locke is worried Donal is drinking or when he tells him that he has to run down the street to find someone. At its best, the film creates a chaotic rhythm of exchanges and overlapping calls where it becomes exciting to hear Locke juggling calls and personalities and has to convince people of his decisions.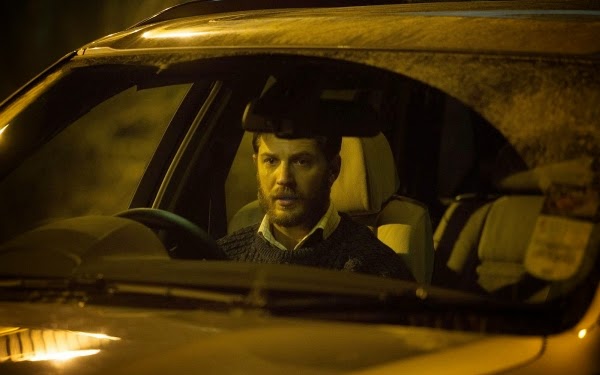 Despite its seemingly diminutive stature and modest budget, Locke is a film of ideas. It is concerned with life and birth countering destruction as a morally constrained man believes he has no other option but to risk everything he has because he has affected the existence of someone else. The film is about a lack of free-will but the filmmaking itself transcends this idea. Whereas Locke himself is rigid and predetermined, the film is imaginative and daring with its simplicity and its risks pay off with strong execution. It is well-written and professionally constructed and guided by a powerful performance by Hardy, who is starting to become one of the most promising actors of his generation.
Summary: Whereas Locke himself is rigid and predetermined, the film is imaginative and daring with its simplicity and its risks pay off with strong execution.