Uncategorized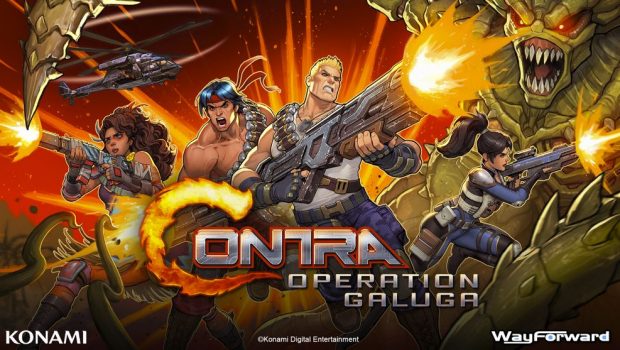 Published on September 15th, 2023 | by Admin
Lock and Reload, Contra Operation Galuga Reignites the Classica Run'N'Gun Action Series!
Konami Digital Entertainment B.V. and WayForward today announced that Contra: Operation Galuga – a new entry in the legendary Contra run-'n'-gun video game series – is on its way to PlayStation®5, PlayStation®4, Xbox Series X, Xbox One, and Nintendo Switch™. Developed by WayForward, the studio behind the acclaimed Contra 4, Contra: Operation Galuga is scheduled to launch digitally in early 2024, with a physical version for consoles also on the way.
Contra: Operation Galuga returns to the series' classic roots as a thorough reimagining of the original NES/arcade Contra game from the 1980s. Iconic weapons and environments meet new stages, new enemies and bosses, new play mechanics, an updated power-up system, and modern graphics and sound.
Fan-favourite elite Contra commandos Bill Rizer and Lance Bean are redeployed into battle against the Red Falcon terrorist group, which has turned the once-peaceful Galuga Island into an all-out warzone where the fate of mankind hangs in the balance.
Up to two players can team up for co-op combat in Story Mode, and up to four players can join forces in Arcade Mode, as they run, jump, and shoot their way through eight stages, including the jungle, the waterfall, and a hovercycle ride through an enemy base. Iconic weapons such as the spread shot, laser, and homing missiles return — now with the ability to stack two weapons of the same type for increased firepower — plus surplus weapons can be sacrificed to unleash awesome Overload abilities. The intense action will be enjoyed by Contra veterans and newcomers alike, thanks to three difficulty settings plus a variety of additional challenge options.
Key Features:
A pioneer in the run-'n'-gun genre is back, reimagined and more action-packed than ever!
Eight explosive stages! Infiltrate the jungle, ascend the waterfall, speed through an enemy base on a hovercycle, and more!
Team up! Up to two-player co-op Story Mode and four-player Arcade Mode.
Multiple playable characters with distinct abilities!
Epic, screen-filling boss battles!
New and fan-favorite weapons, now with stackable upgrades and incredible Overload abilities!
Multiple difficulty options and a wealth of extra content