Events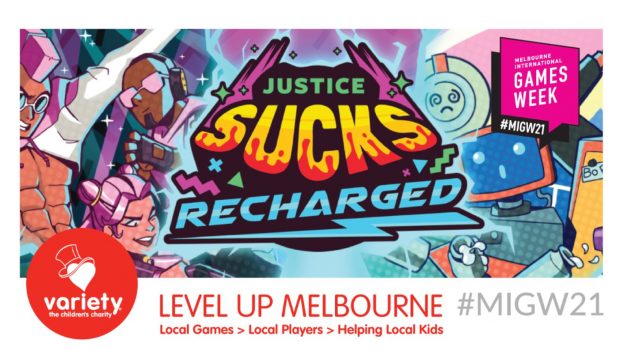 Published on September 23rd, 2021 | by Adrian Gunning
Local Game Studios Level Up for Local Kids
Level Up Melbourne celebrates the resilience, creativity and generosity of the local gaming industry and community all while changing the lives of kids in living with disadvantage, illness and disability.
As part of Melbourne International Games Week, local game studios, content creators and player communities will unite to charity stream exclusively locally made games.
Studios showcasing their games include Catchweight Studios (Conscript), Cranky Watermelon (Boomerang Fu), GOATi Entertainment (22 Racing Series), House House (Untitled Goose Game, Push Me Pull You), Massive Monster (The Adventure Pals), Modern Storyteller (The Forgotten City), Orchid of Redemption (Mage Drops), Samurai Punk (Justice Sucks: Recharged, Roombo:First Blood, Feather), SMG (Moving Out, Moving Out Paradise), The Voxtel Agents (The Gardens Between), Tin Man Games (The Warlock of Firetop Mountain, Table of Tales: The Crooked Crown, Fighting Fantasy Classics, Warhammer Underworlds: Online).
Championing the event are local content creators MopGarden, former AFL player Darren Minchington and eSports Team Gallium. MopGarden said "I'm super excited to be a part of Level Up Melbourne as part of Melbourne International Games Week! I am truly honoured as I love anything that combines my passion for gaming as well as helping out in the community."
As a charity started in the entertainment industry nearly 100 years ago, Variety is excited to be an early adopter in gaming for good in Australia and to work with innovative studios and player communities. With over $85M USD raised last year alone through charity streams on Twitch globally, it's an incredibly powerful movement to be involved in to make a real impact in the lives of others less fortunate. Proceeds from Level Up Melbourne will support kids with learning challenges taking part in the Variety SHINE intensive education program.
Registrations are now open. Sign up online to celebrate local games, charity stream and win some great prizes at levelupforkids.org/migw
Full details of the program are available here: www.gamesweek.melbourne