Games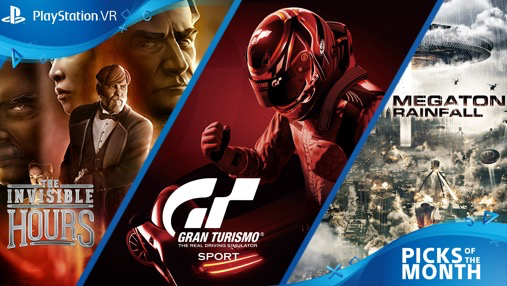 Published on December 1st, 2017 | by Admin
Live the game with these must-have PlayStation VR Picks of the Month
Sony Interactive Entertainment Australia is excited to share PlayStation VR 'Picks of the Month' – three of the best titles players need to know about this November.
From the immersive high-speed racing in Gran Turismo Sport, alien hunting with Megaton Rainfall and chilling detective thrills from The Invisible Hours, there's a virtual reality title for every type of player.
Gran Turismo Sport
From Polyphony Digital Inc. comes the latest in the Gran Turismo franchise: Gran Turismo Sport. With extraordinary graphics, Gran Turismo Sport forges a new standard for the virtual reality-racing genre. PS VR immerses you in this game like never before, in a 'behind the wheel' experience with a hyper real 360 degree view.
Every single track is playable in VR, so whether you're roaring around the race track of Nurburgring, competing 1 vs. 1 against an AI driver, or admiring the realistic interiors of over 130 different cars that are playable in VR tour, you'll appreciate the authenticity of GT Sport in a whole new way.
You can see GT Academy winner Matthew Simmons play Gran Turismo Sport with PlayStation VR here. Gran Turismo Sport is available via PlayStation Store for $79.95. 
Megaton Rainfall
From Pentadimensional Games, Megaton Rainfall is the first-person superhero game where players are faced with a global alien invasion. Be transported to a parallel universe where players can chase massive destruction devices at supersonic speeds around an Earth that's as large as the real thing and populated with semi-procedurally generated cities.
Megaton Rainfall is the ultimate VR superhero experience where gamers can feel unprecedented freedom of movement as they fly through buildings, break the sound barrier, and accelerate to extraordinary speeds.
You can see the launch trailer here. Megaton Rainfall is available via PlayStation Store for $23.95. 
The Invisible Hours
The Invisible Hours is a complex murder mystery brought to PS VR by GameTrust Games. Players can freely explore an intricate web of interwoven stories within a sprawling mansion, where a group of strangers receive a curious invitation from the enigmatic inventor, Nikola Tesla, offering each of them the chance to make amends for their darkest wrongdoings. When the last guest arrives at the isolated mansion laboratory, they find him murdered.
Disgraced Swedish detective, Gustaf Gustav, vows to find the killer amongst the other guests: a blind butler, a convicted murderer, the world's most famous actress, Tesla's former assistant, the son of a wealthy railroad magnate, and rival investor Thomas Eddison. But none of these people are what they seem. The player is invisible, with freedom to follow and observe anyone in the story – or to explore the mansion for hidden clues.
You can see the launch trailer here. The Invisible Hours is available via the PlayStation Store for $54.95.
For the latest PlayStation news, follow PlayStation Australia on Facebook, Twitter, YouTube and Instagram.
Stay tuned for December's PlayStation VR 'Picks of the Month' that will be released in the coming weeks.