News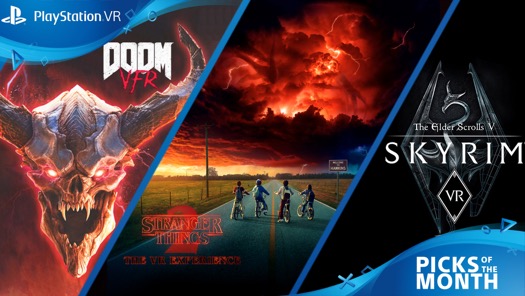 Published on December 20th, 2017 | by Admin
Live the game with these must-have PlayStation VR 'Picks of the Month'
Sony Interactive Entertainment Australia is excited to share the December PlayStation VR 'Picks of the Month' – three of the best VR titles players need to know about this month.
From the depths of hell on Mars in DOOM VFR, to dragon battling in The Elder Scrolls V: Skyrim VR and sci-fi thrills from Stranger Things: The VR Experience; this month's games will transport you to different universes and realms of reality.
If you would like to experience these PlayStation VR titles for yourself, please get in touch directly for review codes.
DOOM VFR
DOOM VFR brings the fast-paced, brutal gameplay fans of the series love – all to virtual reality. Immerse yourself in the UAC facility on Mars and the depths of hell, as your skills are put to the test through intense combat and challenging puzzle solving.
Play as a cybernetic survivor who is activated by the UAC to fight the demon invasion, maintain order, and prevent catastrophic failure at the Mars facility. Lay waste to an army of demonic foes as you explore and interact with the outlandish world of DOOM from an entirely new perspective.
You can see the launch trailer here. DOOM VFR is available via PlayStation Store for $39.95.
The Elder Scrolls V: Skyrim VR
Skyrim VR is a full-length open world VR game that reimagines the complete epic fantasy masterpiece with an unparalleled sense of scale, depth, and immersion. From battling ancient dragons to exploring rugged mountains and more, Skyrim VR brings to life a complete open world for you to experience any way you choose.
Skyrim VR includes the critically acclaimed core game and official add-ons – Dawnguard, Hearthfire, and Dragonborn. Dragons, long lost to the passages of the Elder Scrolls, have returned to Tamriel and the future of the Empire hangs in the balance. As Dragonborn, the prophesied hero born with the power of The Voice, you are the only one who can stand amongst them.
You can see the launch trailer here. The Elder Scrolls V: Skyrim VRis available via PlayStation Store for $99.95.
Stranger Things: The VR Experience
Bringing the hit Netflix show to life, Stranger Things: The VR Experience is based on the events of season one and now you can explore the thrilling sci-fi show. From the comfort of your living room discover the supernatural goings-on in Hawkins and be transported to the alternative dimension of the 'Upside Down'.
Stranger Things: The VR Experienceis available for free via PlayStation Store.
150 titles have been released for PS VR to the PlayStation Store and gamers can look forward to a strong lineup of VR titles in 2018 with Bravo Team, The Inpatient and Moss due to be released in the New Year.
For the latest PlayStation news, follow PlayStation Australia on Facebook, Twitter, YouTube and Instagram.