Films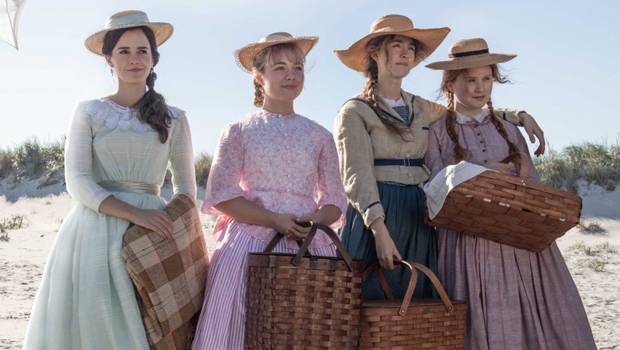 Published on December 31st, 2019 | by Damien Straker
Little Woman – Film Review
Reviewed by Damien Straker on the 31st of December 2019
Sony presents a film by Greta Gerwig
Produced by Amy Pascal, Denise Di Novi, and Robin Swicord
Screenplay by Greta Gerwig based on 'Little Women' by Louisa May Alcott
Starring Saoirse Ronan, Emma Watson, Florence Pugh, Eliza Scanlen, Laura Dern, Timothée Chalamet, Meryl Streep, Tracy Letts, Bob Odenkirk, James Norton, Louis Garrel, and Chris Cooper
Music by Alexandre Desplat
Cinematography Yorick Le Saux
Edited by Nick Houy
Rating: G
Running Time: 134 minutes
Release Date: the 26th of December 2019
Little Women distinguishes itself from the other versions of Louisa May Alcott's classic novel, including Gillian Armstrong's popular 1994 adaptation. This latest entry is directed by Greta Gerwig, the comedic actress who made an incredibly successful directorial debut with her Sacramento-set high school film Lady Bird (2017). Her auteurist imprint with this film is singular by increasing the story's comedic energy and cleverly altering the narrative's timeline. In addition to the stylistic and compositional changes, Gerwig draws excellent performances from her cast. Consequently, this is not a shot-for-shot remake but a unique interpretation of a well-known, frequently told story and a thoroughly entertaining comedy-drama.
As per Alcott's novel, Little Women is about the dynamics of the March family during the American Civil War. The father (Bob Odenkirk) is absent because he is fighting in combat, which leaves his family of four young girls at home in Massachusetts with their mother, Marmee (Laura Dern). Each girl has different ambitions and values. Jo (Saoirse Ronan) wants to be a writer and remain unmarried. The story opens with her as an adult attempting to sell her work to a New York publishing house. It is there that she meets an academic named Friedrich (Louis Garrel) who encourages her to write more personal work while she contends with her editor, Mr. Dashwood (Tracy Letts), who believes that a woman should marry in her story.
Meg (Emma Watson) has always wanted to be married but in the present is struggling with her partner over the financial costs of fabric for a dress. Amy (Florence Pugh) longs to be a painter and lives in Paris with her Aunt March (Meryl Streep). Meanwhile, Beth (Eliza Scanlen) is the quietest girl and grows ill during the story. She wants to be a pianist and forges a father-daughter bond with Mr. Laurence (Chris Cooper), whose own child died. He enjoys listening to her play in his house.
The lives of the women are complicated by the inclusion of their childhood neighbour, Theodore (Timothée Chalamet). In the present, the young man is torn by his love for both Jo and Amy. He is unable to successfully court Amy because he is a drunken layabout and she is destined to marry someone else. Aunt March is displeased with the thought of Amy marrying Theodore because she has told her she is the family's last hope for success. She refers to Jo as being a lost cause.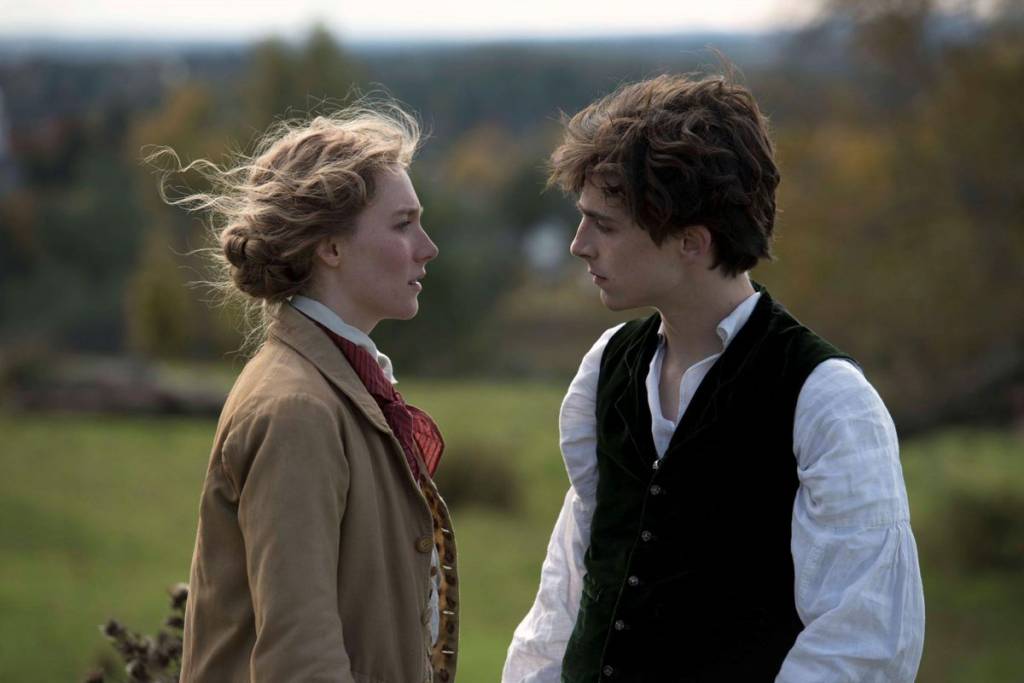 The film's most noticeable aspect is the excellent production design. It is an incredibly handsome feature where each choice, including the shot selection and Jacqueline Durran's costumes, looks and feels appropriate to the period. Whether photographing the snowbound streets of New York, a glamorous ball filled with people, or Meg lining up on a staircase with other girls, the blocking is rarely static or overly formal. Bodies are constantly in motion due to the inclusion of many extras within each scene. The crowded staging is a beautiful combination of theme and image where the high volume of people in motion evokes the longing for everyone to obtain control of their individuality in a world constantly moving forward and propelled by money.
This idea of individualism is apparent throughout Jo and Theodore's manic dance. They dance separately from everyone else to express their freedom from expectations to be proper, to study, and to marry. The characters' longings are further enhanced by the story's restructure. Some have said that the non-chronological timeline is confusing. I was rarely troubled, bar one beach scene where the timeline deliberately overlaps so that the two periods become inseparable. The restructure outlines the characters' goals as children but alternates between these values and how their lives have radically changed as adults where their expectations are met but face unforeseen challenges.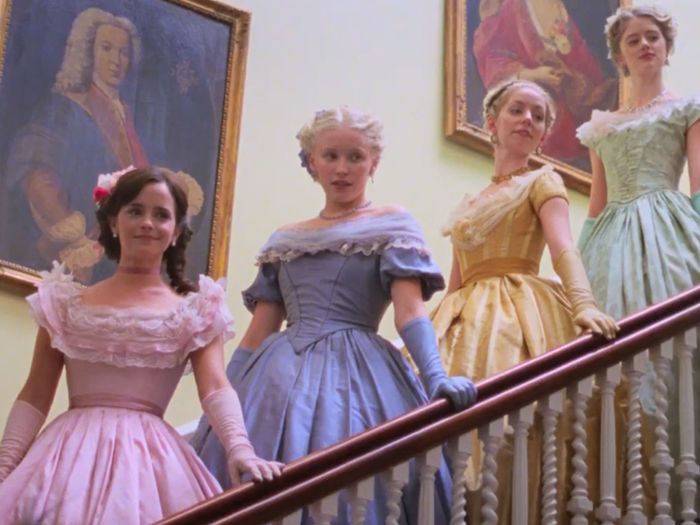 There are also subtle visual clues employed to distinguish the two timelines. One example is the use of high contrast lighting. The brighter palette infers the optimism of childhood where the characters believe their worldly expectations are predetermined. In the present, the tones are darker and shrouded in shadows to reflect life's bleak outcomes. This is not to say the film is overly grim. There are sad moments, but Little Women is revitalised by brisk comedic energy that underlines youthful restlessness and the impulsiveness to discard social expectations and explore the world as an artist.
All the girls are revealed to have artistic ambitions. Their characterisations reflect Gerwig's own creative experiences in a male dominated field and her longing for young women to discover self-expression. Consequently, she has allowed the mostly female cast to behave less formally than previous iterations and channel her own trademark comedic exuberance. It recalls the energy she displayed in Noah Baumbach's coming of age film Frances Ha (2012). It also helps that scenes resembling the 1994 version are pruned and that an epilogue now dramatises Jo's belated achievements in adulthood.
The film is buoyed by its first-rate performances. Saoirse Ronan continues growing as a comedic and dramatic actress and Jo ranks as one of her most likeable performances. Her scenes are governed by her enormous energy and self‑depreciating humour. Her feel for comedy underscores Jo's restlessness and resistance to social constrictions. She shares rich chemistry with Timothée Chalamet, which further strengthens their partnership from Lady Bird. Emma Watson offers her best work since the Harry Potter films by highlighting the strains of a marriage under deep financial pressure.
Florence Pugh is funny and charismatic and creates a different feel to Amy compared to Kirsten Dunst's young interpretation. Australian actress Eliza Scanlen (Sharp Objects, 2018) is appropriately subdued in a poignant subplot enriched by a restrained, sad, and dignified Chris Cooper performance. Meryl Streep reminds us that she is still one of cinema's most marvellous actors. Her dry wit and acidic barbs allow her to steal every scene as Aunt March who values wealth over independence. Laura Dern is subtle and quiet as the mother who wants the best for her girls as they travel in different directions. The only detraction is that sometimes the girls' fast, overlapping dialogue can make it difficult to hear what the characters are saying in the busier scenes.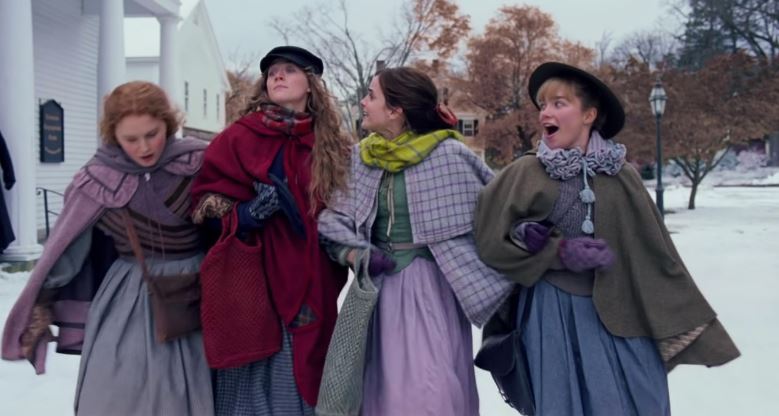 The infectious chemistry and elation between the ensemble ensure that Little Women brims with comedic vigour. It justifies Greta Gerwig's decision to increase the energy levels and relax the actors. Similarly, she succeeds in reshaping the structure of the narrative by characterising the young women as striving to be the artists of their lives and contrasting the troubling outcomes of reality against their young expectations. She is a formidable director who excels at choreographing moments of grandeur and scenic beauty and by successfully balancing complex emotions.
Summary: Little Women shows that Greta Gerwig is a formidable director who excels at choreographing moments of grandeur and scenic beauty and by successfully balancing complex emotions.