Events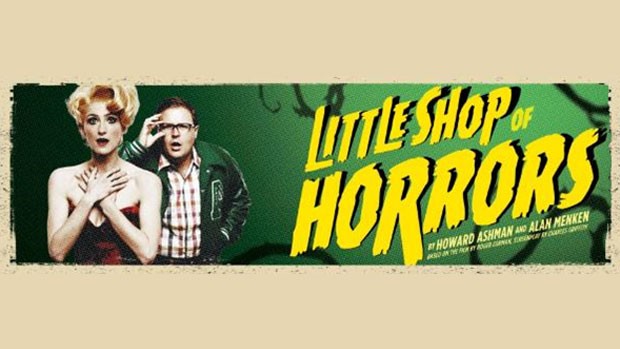 Published on May 6th, 2016 | by Andrew Bistak
Little Shop of Horrors Review (Melbourne 2016, Comedy Theatre)
Summary: Little Shop of Horrors is truly a crazy yet entertaining musical about a giant blood-thirsty plant!
"A LOVESICK HERO. A BLOODTHIRSTY PLANT. A MOUTHWATERING MUSICAL."
Howard Ashman and Alan Menken's cult musical classic, Little Shop of Horrors is currently playing at theComedy Theatre in Melbourne for a strictly limited season and is directed by Ben Schostakowski (A Tribute of All Sorts) that with the help of Brent Hill (Seymour), Esther Hannaford (Esther), Tyler Coppin (Mr Mushnik) andScott Johnson (Orin) and the excellent supporting cast (Angelique Cassimatis, Josie Lane and Chloe Zuel) create this whacky clichéd retro story about a man-eating plant from space called Audrey 2. It should also be noted thatLittle Shop of Horrors does have some parallels to the Rocky Horror Show with its cult glam, silly story and very quirky characters.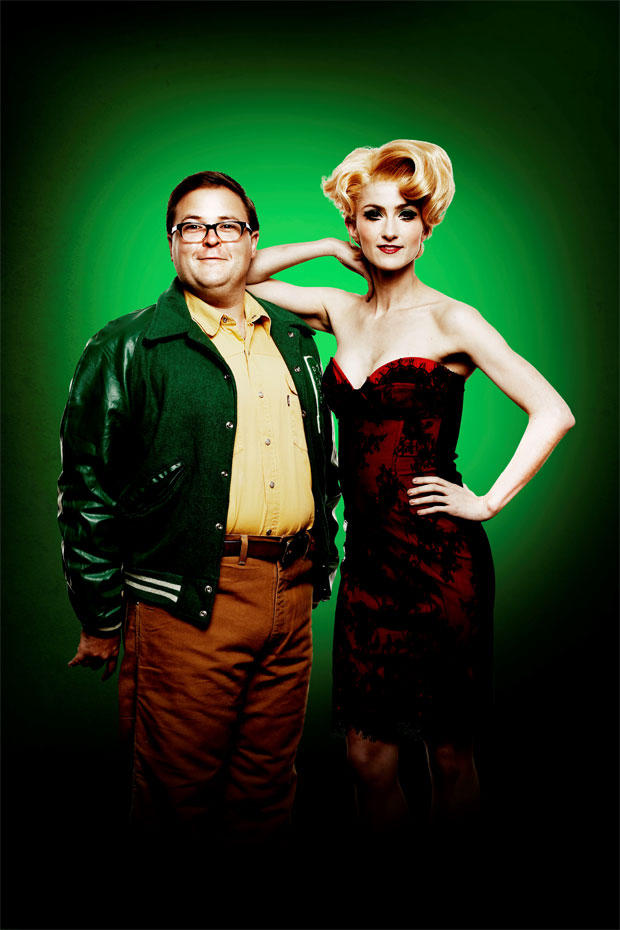 Just like the name of this musical, Little Shop of Horrors boasts a crazy story that revolves around a shy, nerdy and mild mannered flower assistant by the name of Seymour Krelborn (Hill) who works for his "adoptive" fatherMr Mushnik (Coppin) and has a huge crush on Audrey (Esther) who always picks the wrong type of men (Johnson). However, Seymour's luck is soon about to change when he discovers this plant from another planet and when he realises that this botanist's dream strives on human blood, it soon begins to grow and grow with the plant eventually taking up the entire stage at the Comedy Theatre. It's quite a sight to see and furthermore,Andrew Worboys should be commended as the Musical Director who does add a touch of finesse to the wonderful songs that grace this production.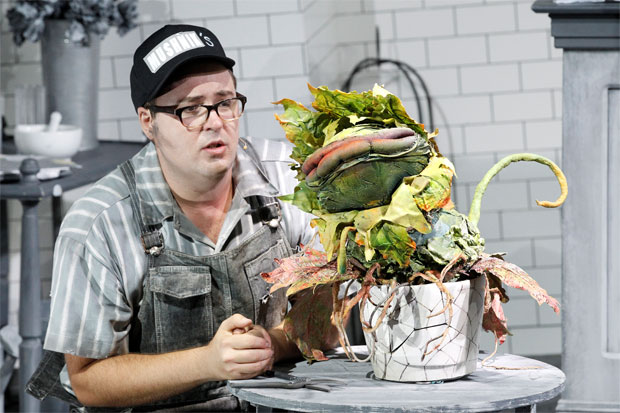 So as the story channels its inner B-Movie, the music pays homage to the 1950's and 60's with songs such as 'Suddenly Seymour' and 'Feed Me' that really had the audience bopping along and also laughing at some of the lyrics. It's that classic mix of humour and drama in the songs which really draw you into the story of Seymour who can never get a break. So as Seymour turns from zero to hero, he eventually hooks up with the beautiful Audrey but realises that his plant  'Audrey 2' has a nefarious background that threatens not only his new life but also planet Earth itself. The special effects for Audrey 2 are great and the various plant puppets of the show were created by Earth Visual & Physical Inc. who awesomely designed Audrey 2 from seedling to giant that moved with uncanny realism and even sang which was definitely a highlight of the show.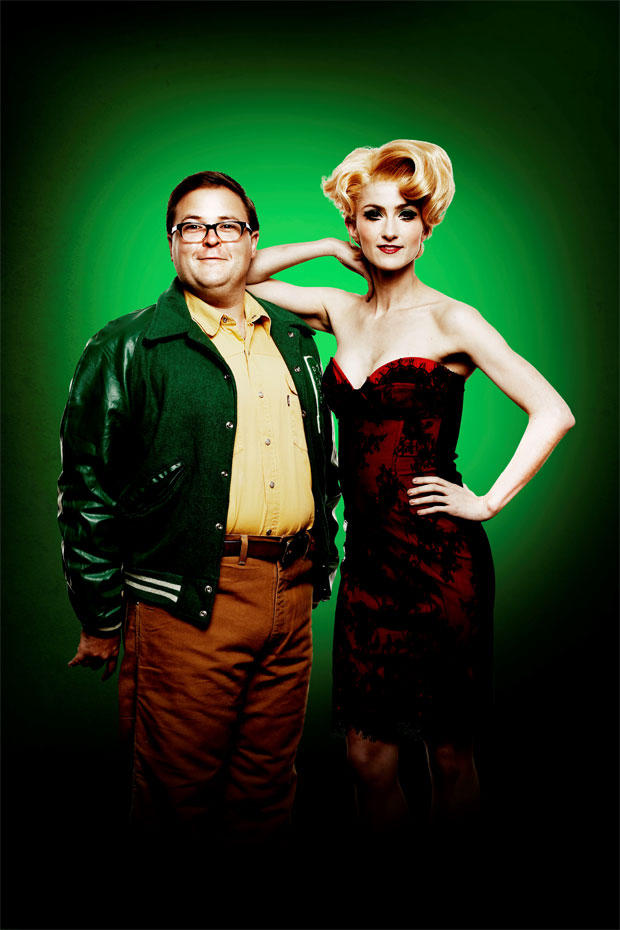 The cast behind Little Shop of Horrors perfectly fit their roles, especially Brent Hill as this geeky shy florist andEsther Hannaford as the 'airhead' blonde who definitely had the majority of laughs from the audience. Both Hill and Hannaford were pitch perfect and there on stage chemistry was great. Also, Tyler Coppin is quite cantankerous and amusing as Mr Mushnik and Scott John is quite villainous and amusing as the evil motorbike riding dentist called Orin. In terms of the character Orin, he was actually quite annoying but somehow suited the story, particularly his love of both drugs and inflicting dental pain on others. John's over the top performance was also quite memorable.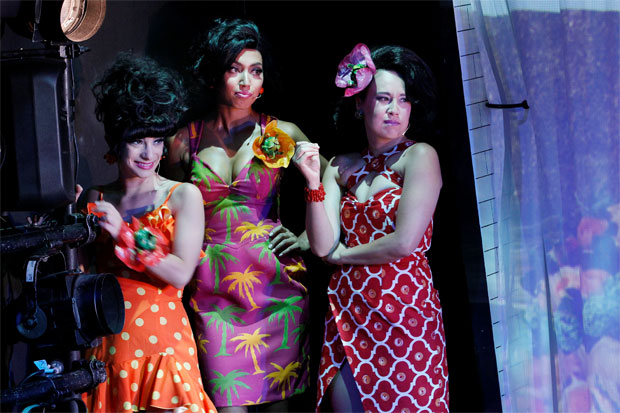 Then you have the beautiful Trio, the three 'bad girls' from skid row who are played delightfully well byAngelique Cassimatis, Josie Lane and Chloe Zuel. The Trio had some great moments in the show, not to mention some great songs and harmonies to accompany the bizarre story. However the standout Trio member was definitely Chloe Zuel who had this great on stage presence and sassy performance. In terms of music, it was quite exceptional thanks to the five piece band which really filled the Comedy Theatre with powerful tunes to accompany the lyrics of the songs.  Choreography (Andrew Hallsworth), set design (Owen Phillips), lighting (Ross Graham) and costumes (Tim Chappel) were flawlessly incorporated into Little Shop of Horrors which successfully created that B-movie atmosphere. It does seem like a low budget sci-fi horror movie but in a good way!
Final Thoughts?
Little Shop of Horrors is an amusing homage to the B-movies of yesteryear that is well cast, filled with witty lyrics, perfect music and boasts a giant planet puppet called Audrey 2 that will have you laughing and almost dancing along. Sure it's clichéd at times and a little clunky but it's also a celebration of a simpler time and that's where Little Shop of Horrors succeeds!