Films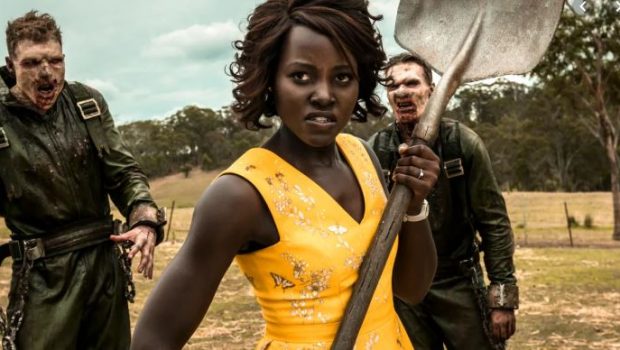 Published on December 1st, 2019 | by Curtis Mayfield
Little Monsters – Film Review
Reviewed by Curtis Mayfield M-H on the 27th of November 2019
Universal Pictures presents a film by Abe Forsythe
Written by Abe Forsythe
Produced by Jodi Matterson, Bruna Papandrea, Steve Hutensky, Keith Calder, and Jessica Calder
Starring: Lupita Nyong'o, Alexander England, Josh Gad, Kat Stewart, and Diesel La Torraca
Music by Piers Burbrook de Vere
Cinematography: Lachlan Milne
Edited by Drew Thompson and Jim May
Running Time: 94 minutes
Rating: MA15+
Release Date: the 31st of October 2019 and now available to rent on Foxtel
Little Monsters is the umpteenth movie to combine the horror and comedy genres. Yet a film about a man-child who plays death metal music and a ukulele playing school teacher falling in love among zombies somehow works. The engaging cast and simple story telling make it successful. Writer-director Abe Forsythe's ability to tell a simple but decorated story showcases the complexities of the main characters attacked by zombies on a school excursion. The unlikely and satisfying chemistry between the lead characters is too tasty to ignore.
Alexander England plays Dave, a stoner musician who has left a toxic relationship. Dave is not a sweet but likeable fuck up since he's mainly just a fuck up. It is a daring choice for a lead character. He sleeps on couch of his sister, Tess (Kat Stewart), lets his young nephew, Felix (an amazing performance from Diesel La Torraca), play overly violent shooter games (foreshadowing anyone?), and swears his head off. In any other movie this would be tragic, especially for Felix. However, Forsythe walks the line perfectly by laughing at Dave's tragedy. It's when Dave meets Felix's primary school teacher, Miss Carolyn (the always fantastic Lupita Nyong'o), that things become particularly interesting. This is even before the zombies arrive.
The match up of Nyong'o and England is dubious on paper but they work well together. A hopeless stoner's romantic pursuit of a religious schoolteacher is worthy of a movie alone. Add the undead to the mix and you have a worthy movie. In Dave's haze of lust, he volunteers to help Ms Carolyn chaperone her class to a petting zoo outside of the city. Watching Dave England's hopeless man-boy interact with the kids is pure un-PC bliss. Mistaking a child with spina bifida for being 'retarded' is as edgy as it comes in 2019. Not to mention when Dave takes on a school bully called Max by…well we'll just let you find out for yourself. When a military base down the road from the petting zoo has a zombie outbreak, the blood and guts (and major laughs) all come spilling out. If you're an animal lover approach this movie with caution. Sadly, some of the bovine creatures are the first on the menu for these undead ghouls.
Little Monsters' best element is Forsythe's choice of keeping the scares down and the laughs present. This is because the story revolves around a group of Ms Carolyn's unkillable preteen students trapped in a gift shop while the undead watch them through the windows. The zombies move at a snail's pace and without jump scares. Instead, we focus on the characters. Ms Carolyn's dedication and heart for protecting the innocence (and lives) of her students is beyond admirable. Nyong'o plays the school teacher as a total badass who's unafraid of impaling a zombie to a tree with a pitchfork. In the same breath she keeps her students happy and safe in their ignorance by singing Taylor Swift's songs as a calming device.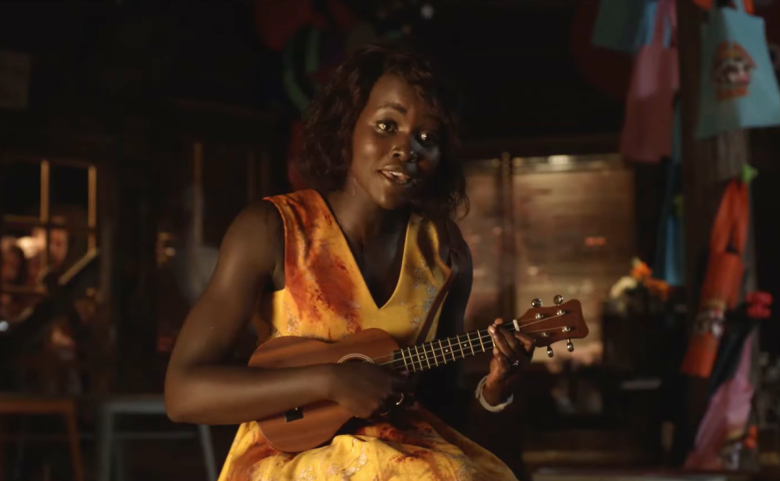 A surprising addition to the cast is comedic actor Josh Gad who plays a children's entertainer, Teddy McGiggle. Gad does well as the secretly alcoholic deviant one-man Wiggles performer but it's unsurprising that when the zombies arrive McGiggle isn't as friendly as his onscreen presence. It's been done before, but Gad's performance complements the movie's aim of creating laughs in a totally unfunny situation. Meanwhile, Dave's character arc takes the obvious twists and turns of a slacker's journey to redemption. When combined with the revelations of Ms Carolyn's own secrets, the movie is solid.
It would be interesting to know how the movie studio convinced Nyong'o to play this role. As interesting as it is she is still a romantic object for the male protagonist. Maybe a few weeks filming in Australia was a needed change for the Oscar winner after her double duties in Jordan Peele's modern horror classic Us (2019). In a year that has been bloated with zombie flicks, Little Monsters is fresh, simple, daring, boundary pushing, and, above all, funny. The Dead Don't Die, Zombie Land: Double Tap, and The Night Eats the World are all easily out-hobbled by this home grown zom-com.
Summary: In a year that has been bloated with zombie flicks, Little Monsters is fresh, simple, daring, boundary pushing, and, above all, funny.