News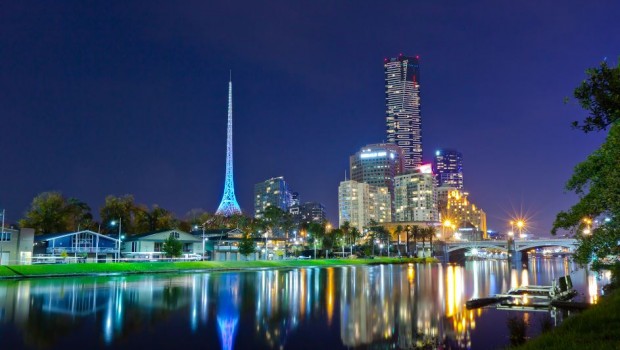 Published on January 13th, 2017 | by admin
Line-up revealed for XO State at Arts Centre Melbourne
MELBOURNE, FOR IMMEDIATE RELEASE – In the middle of the inaugural 2017 Asia TOPA festival, audiences are invited to step onto the State Theatre stage and into XO State (ex-oh state) along with the boldest and most eclectic artists, performers and musicians from across the Asian Pacific region.
Running from 22 – 26 February at Arts Centre Melbourne, XO State is an ephemeral crucible of constant change that might just change you in return.
With a lineup including – but not limited to – Filipino performance artist Eisa Jocson, Indonesian heavy metal meets punk opera duo Senyawa teaming up with some of Melbourne's choreographic dance royalty, Taipei rapper Aristophanes, Japanese psychedelic acid-punk collective Bo Ningen, South Korean post rock/folk trio Jambinai and rising stars from Port Moresby's urban music scene Rebel Musik.
Artists are given free rein to challenge our vision of contemporary Asia. From durational performances of ecstatic energy to short sharp shocks to the senses, each night of XO State will fuse together a program of collided art forms to provoke, surprise and seduce.
Curated by Chunky Move founding director Gideon Obarzanek and Asia TOPA featured artist, Eisa Jocson, XO State is from the Arts Centre Melbourne team that brought you Supersense in 2015.
No two evenings are the same at XO State, which kicks off with alternating full length works by Obarzanek and Jocson followed by a unique line up of diverse live acts and concluding with an exclusive music headliner. An afternoon long ritual performance by Supersense favourite, Parvathy Baul and collaborators (Bengal) will be presented on Saturday 25 February.
XO State mainstage performances:

ATTRACTOR (February 22 and 24)
An Asia TOPA commission performing for the first night as the mainstage headliner, Attractor sees Indonesia's tour-de-force heavy metal duo Senyawa and Melbourne's choreographic luminaries Lucy Guerin and Gideon Obarzanek join forces with two of Australia's leading dance companies, Dancenorth and Lucy Guerin Inc. to take you on a trance-noise odyssey that transcends all borders – a 'ritual for non-believers'.
MACHO DANCER (February 23, 25 and 26)
The bars and clubs of Manila are home to a unique breed of performer: the young man who dances for money. The macho dancer performs his sex through stylised and seductive motions, but what happens when a female performer steps into his boots?
Curator and performance artist Eisa Jocson has combed the complex and intriguing underground world of the Macho Dancer to create this transgressive, arresting portrait of masculinity as masquerade.
XO State mainstage music headliners:
JAMBINAI (February 22)
South Korean trio Jambinai sound less like a band and more like a force of nature, fusing the full dramatic range of post-rock dynamics to Korean folk roots to create an exhilarating, vivid and unique fusion.
Jambinai have shocked Korean audiences unused to the kind of intensity and adventurism that the trio have made their own. Their music is rousing and beautiful, rising and subsiding in epic fashion and the band represent a positive force, resisting the old ways and reinventing the future.
ARISTOPHANES (February 23)
Striking wordplay, poetry and a forward-thinking delivery have seen Taipei-based Aristophanes rise to the forefront of new Taiwan's new sounds.
From the studio with Grimes to Coachella, Laneway and SXSW, Aristophanes' distinct sound fuses hip-hop, slam poetry, jazz, soul and electronica. Her music has featured in The Fader, Rolling Stone and VICE, BBC Radio 1, KCRW, Triple J and Beats 1.
REBEL MUSIK (February 24)
For renowned Papuan producer/percussionist/activist Airileke, music is his weapon. Rebel Musik sees Airileke bring together rising stars from Port Moresby's urban music scene, traditional dancers from the highlands of Papua New Guinea and Australian and West Papuan artists from Airi's back catalogue of collaborators including members of Grrilla Step, Twin Tribe, Paluai Sook Sook, Drum Drum and Rize of the Morning Star.
Combined they present Rebel Musik – urgent, political, in-your-face musik from one of the harshest urban environments on the planet.
BO NINGEN (February 25)
Enlightenment activists from a far-east psychedelic underground, Bo Ningen are one of Japan's most impressive musical exports performing exclusively at XO State.
Renowned for their incendiary and intense style of acid-punk, the now London-based collective released their third album III earlier in the year. Bo Ningen's musical ferocity has earned them praise from the likes of tastemakers such as Pitchfork, The New York Times, NME and Noisey.
Paradise Bangkok Molam International Band (February 26)
The concept of Paradise Bangkok was born out of looking for records. Back in 2009 DJs Maft Sai and Chris Menist pooled together their collection of obscure reggae, African, jazz and Thai vinyl to put on the very first Paradise Bangkok party- a place to drink, dance and enjoy the natural musical links between sounds from across the globe.
The Paradise Bangkok Molam International Band came out of these sessions and they made their live debut in the Thai capital in 2012. Drawn from different music scenes in Bangkok, the band consists of Kammao Perdtanon on phin (Thai lute), Sawai Kaewsombat on khaen (a type of bamboo harmonica), Piyanart Jotikasthira on bass, Phusana Treeburut on drums and Maft Sai and Chris Menist on percussion.
For more information on XO State, visit www.asiatopa.com.au/xo-state
A joint initiative with the Sidney Myer Fund and led by Arts Centre Melbourne, Asia TOPA will be presented by a consortium of 14 leading Southbank precinct and city-based cultural institutions together with more than 30 Australian program partners to deliver a festival-style celebration of Asian-focused performance and culture across art forms.
The Asia TOPA program will run from January to April 2017 and includes more than 60 productions, exhibitions and events featuring more than 350 individual artists, producers and thought leaders visiting Melbourne from more than a dozen countries across the region.
A myriad of creative disciplines from visual and digital arts, design, installation, literature, architecture, contemporary dance, ballet and music will be represented, with more than 25 events, many commissioned specifically for Asia TOPA, are being presented in premiere seasons.
Arts Centre Melbourne as part of Asia TOPA presents
XO State
Arts Centre Melbourne, State Theatre
22 – 26 February 2017
Book at artscentremelbourne.com.au
Asia TOPA is a joint initiative of the Sidney Myer Fund and Arts Centre Melbourne and is supported by the Australian and Victorian Governments.
XO State is supported by the Playking Foundation and the Australia Council for the Arts, the Australian Government's arts funding and advisory body