Games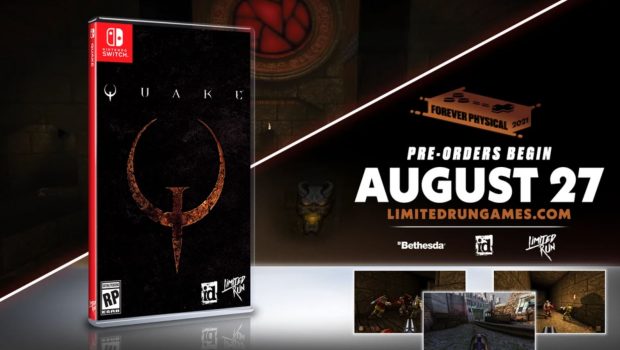 Published on August 20th, 2021 | by Admin
Limited Run Games to Load Up Pre-orders for its Quake Collector's Editions
Limited Run Games, pioneers dedicated to the preservation of classic, current, and influential games in the physical format, announced today their three physical collector editions for Quake for PlayStation®4 and Nintendo Switch platforms. In partnership with Bethesda, the companies have joined forces to commemorate the iconic FPS that celebrates its 25th anniversary this year. Just in time to help kick-off QuakeCon 2021, fans and collectors can pre-order the Quake Standard Edition for $29.99, Quake Deluxe Edition for $79.99, and the Quake Ultimate Edition for $174.99. Pre-orders begin on Aug. 27 at 10:00 a.m. EDT and end on Sep. 26. Quake fans are encouraged to sign-up for the Limited Run Games newsletter on the official website for future rare and collectible opportunities.
What's in the physical box: Each edition includes a physical disc for the game and comes packed in a custom-made box inspired by the original 1996 box art design, featuring the classic Quake logo that is now synonymous with that halcyon era of first-person shooters in the 90's.
"We believe your favorite games belong in a place of physical prominence on your gaming shelf" said Douglas Bogart, COO and Co-founder at Limited Run Games. "It's been a pleasure working with Bethesda to create these special Quake editions packages that our Limited Run Games community will be able to receive and enjoy."
Limited Run Games Quake Physical Edition Details:
Quake Standard Edition (PlayStation 4, Nintendo Switch): $29.99
● Physical Game Disc
● Color Manual
● Standard Edition Box
Quake Deluxe Edition (PlayStation 4, Nintendo Switch): $79.99
● Quake Steelbook
● 18×24' Double Sided Poster
● Metal Quake Logo Keychain
● Commemorative Metal Coin
● Deluxe Edition Box
Quake Ultimate Edition (PlayStation 4, Nintendo Switch): $174.99
● Includes everything from the Deluxe Edition
● Quake Logo Shirt
● Ring of Shadows
● Enamel Pin
● 3' Metal Shambler Figure
● Commemorative Metal Coin
● Steelbook
● 18' x 24' Reversible Poster
● Metal Keychain
● Motorized Rotating Quake Quad Damage Replica Statue
● Numbered Certificate of Authenticity
● Nail Gun Ammo Outer Box
For more details on Limited Run Games and upcoming sales for rare collectibles, sign-up for the newsletter on the official website, and follow the team on Twitter, Facebook, YouTube, Twitch, Instagram, and Discord.