Events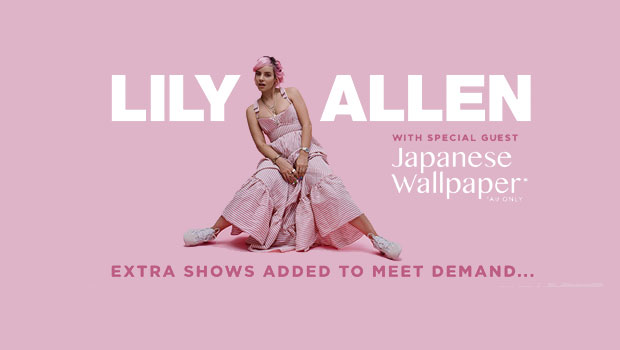 Published on November 23rd, 2018 | by Admin
Lily Allen Announces Special Guest Japanese Wallpaper For 2019 Australian Tour
The legendary Lily Allen will return to Australia and New Zealand for a huge series of shows in February 2019. Frontier Touring is psyched to be adding to the excitement with the announcement that Melbourne dream pop producer Japanese Wallpaper will be joining Lily for all of her Australian dates. Second and final shows have already been added in Sydney and Melbourne after the first shows in Sydney, Melbourne, and Brisbane quickly sold out, and Lily has also been announced as the headliner for Tassie festival Party in the Paddock.
Japanese Wallpaper (a.k.a. Gab Strum) first made a name for himself as the winner of triple j's Unearthed High competition in 2014. Maintaining a considered approach to his delicate and emotive music throughout his explosion in popularity, he released his eponymous debut EP in 2015. Featuring tracks like 'Breathe In (feat. Wafia)', 'Between Friends (feat. Jesse Davidson)', and 'Forces (feat. Airling)', it saw him thrust onto festival stages across the country and featured in the soundtrack for Zach Braff's feature film Wish I Was Here – all before he'd even finished high school.
Since then, he's started studying music composition and has been producing for numerous notable Australian acts like Mallrat, Holy Holy, Wafia, Eilish Gilligan, Bec Sandridge and Allday. All the while, he's been drip feeding new music of his own, like 2016's 'Cocoon' and new single 'Fooling Around', the latter of which signifies his return to the stage as Japanese Wallpaper, sure to stun audiences across Lily Allen's tour.
Fresh from the release of her brilliant fourth record No Shame (out now through Warner), Lily Allen will be returning to Australia for the first time in four years, and New Zealand for the first time in eight. The new album, featuring 'Lost My Mind', marks a kind of rebirth for the pop star as she returns to the DIY spirit of her first two albums.
Lily first shot to fame with her debut record Alright, Still (2006) and its smash hit single, 'Smile' which earned her Grammy, VMA, and Brit Award nominations. Her second album, It's Not Me, It's You (2011), debuted at #1 in Australia and the UK, with singles 'The Fear' and 'Fuck You' landing her the Brit Award for Best Female Solo Artist in 2010. After a brief hiatus and the founding of her own record label, she released another UK #1 album in Sheezus. 2018's No Shame reaffirms her as one of the biggest and brightest pop stars of her generation.
Lily Allen's mesmerising live show, now accentuated by the hypnotic pop of Japanese Wallpaper, is not to be missed. Grab tickets now before the rest of the shows sell out!