Uncategorized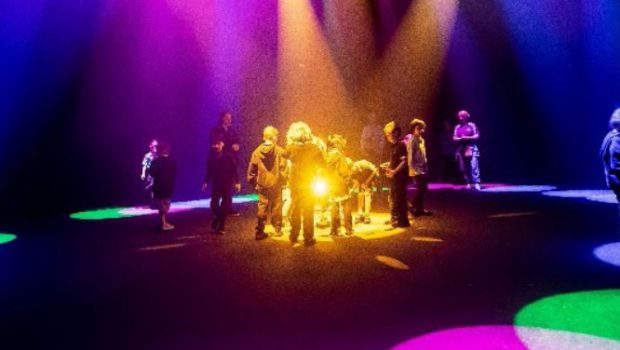 Published on June 15th, 2021 | by Admin
Light and sound wonderland, The Lighthouse, set to illuminate Arts Centre Melbourne
Esteemed children's theatre company, Patch Theatre is set to illuminate Arts Centre Melbourne's State Theatre stage from 6 – 10 and 16 and 17 July with their award-winning light and sound wonderland, The Lighthouse.
Part installation, part scientific quest, part rave; The Lighthouse is an immersive performance beckoning young people and adults to explore the endless wonders of that fundamental force of nature: light.
Through its innovative use of light, sound, perspective and reflection; the promenade performance encourages the audience to engage and experiment at every turn. As they are guided through a series of interactive and interconnected rooms, audiences embark on a journey to discover light's awe-inspiring properties. While some spaces are filled with intimate vignettes, others rooms are bursting with grand lighting marvels.
"It's been a pleasure to have co-commissioned The Lighthouse. When I first experienced the show my jaw dropped as I wandered through each beautifully crafted room – each one presents adventure, magic and discovery. I have no doubt our audiences will remember this immersive experience and realise the beauty of light for a very, very long time. I can't wait for it to light up Melbourne over the winter school holidays," said Mary Harvey, Arts Centre Melbourne Creative Producer, Families and Children.
The Lighthouse premiered at the 2020 Adelaide Festival to audience and critical acclaim, winning the 2020 Ruby Award for Best Work or Event within a Festival.
"This work is my love letter to light, it's a symphony of light," said Geoff Cobham, Patch Theatre Artistic Director, who admits to being obsessed with the medium and has made it a focus of his practice for 40 years.
Patch Theatre has been making professional theatre for children and their families since 1972. They have produced 110 unique theatre works and performed to over 1.85 million children around the world, delighting them with their inspirational, design-rich theatre experiences. They have won two Helpmann Awards for Best Presentation for Children, a Victor Award (International Performing Arts for Youth Showcase award), two Ruby Awards (South Australian arts awards) as well as touring and innovation awards.
This project has been assisted by the Australian Government's Major Festivals Initiative, managed by the Australia Council, its arts funding and advisory body, in association with the Confederation of Australian International Arts Festivals Inc., commissioned by Adelaide Festival, Arts Centre Melbourne, Out of the Box Festival and Perth Festival.
Arts Centre Melbourne presents The Lighthouse State Theatre stage | 6 – 10 July, 16 & 17 July 2021 Time: 9.30am – 6pm | New session every 20 mins Session Duration: 60 mins For more information visit artscentremelbourne.com.au