Hardware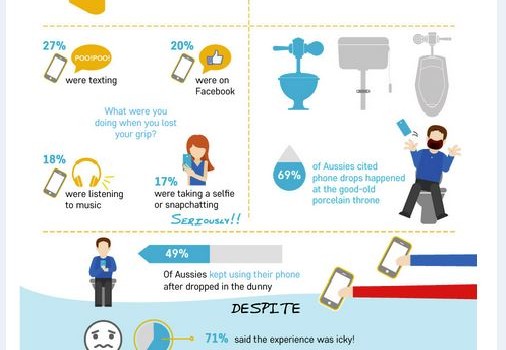 Published on September 24th, 2015 | by admin
LifeProof online survey exposes Australian dunny doozies
LifeProof online survey exposes Australian dunny doozies
Toilets are the leading cause of water damage to mobile phones accounting for 41% of all splashdowns and guess what… it gets gross
Sydney, Australia – 24 September 2015 – LifeProof, the award-winning maker of all-protective waterproof cases for smartphones and tablets, today unveiled the results of its latest local survey into what goes on behind closed doors in 'Throne Rooms' across Australia.
And there are some brilliant dunny doozies revealed in this quirky online survey! Toilets account for 41% of all water damage to mobile phones in Australia, making a splashdown the leading cause of such phone damage in this poll. Even more revealing – and possibly revolting – nearly half of the respondents kept using their phone after dropping it in the loo despite over 70% confirming it was indeed a 'gross' experience.
LifeProof cases for smartphones and tablets are waterproof, dirtproof, snowproof and dropproof, and following this poll they may need to add a fifth proof – toiletproof.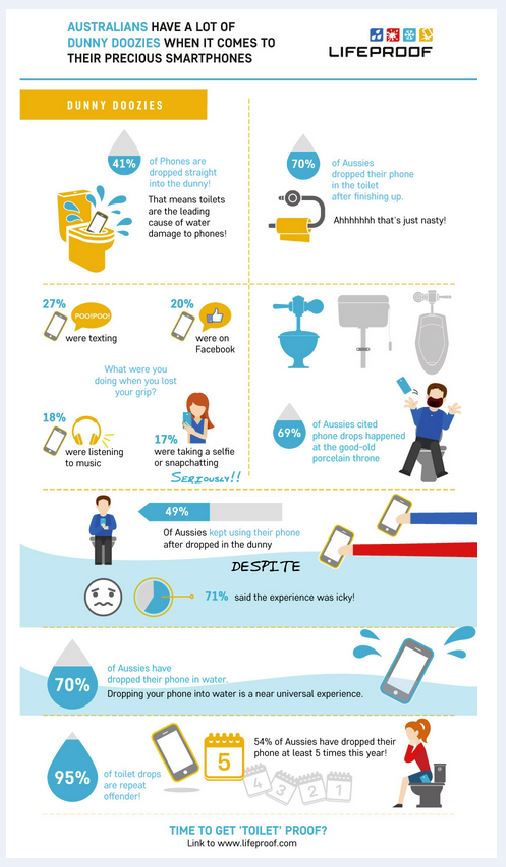 Want more dirt? See more findings below:
Splashdown!
A whopping 70% of Australians drop their phones in water. The largest cause? Toilets account for 41% of all water damage.
You may be trying to tell yourself "that's not so bad. It's not like there was anything in the bowl".
Well, truth is 70% of Aussies dropped their phone in the loo after they 'finished up', 'done the dirty', 'did number one or two' or any other colloquial phrase you may use for 'thunder from down under'.
Multitask much? Saying "you're busy" could mean more than you think?
Of respondents, 27% were texting, 20% were on Facebook, 18% were listening to music and 17% were taking a selfie or snapchatting when they lost their grip on their precious smartphone.
Good news!
Aussies might be dropping their phones in toilets left, right and centre, but at least their smartphones aren't bumping up against 'trough lollies' – 69% of toilet drops are in a good, old porcelain throne not a common urinal!
Perhaps it's time to get LifeProof?
For further details from the survey please see the infographic along with key results below.
More fun results from the LifeProof survey – Aussie respondents reveal;
** 70% have dropped their phone in water
** 41% are dropped straight into the dunny!
** 70% dropped their phone in the loo after they 'finished up'
** 71% said the experience was gross
** 49% kept using phone after it dropped in the dunny
** 27% were texting when they dropped the phone
** 20% were on Facebook when they dropped the phone
** 18% were listening to music when they dropped the phone
** 17% were taking a selfie or snapchatting when they dropped the phone
** 69% of toilet smartphone drops are into a porcelain throne
** 55% dropped their phone at least 5 times this year
** 60% who dropped their phone in the toilet are men
** 68% who dropped their phone 3 or more times this year are men