Hardware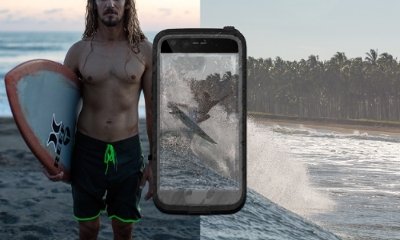 Published on April 21st, 2016 | by admin
LifeProof collaborates with LG for waterproof protection
LifeProof collaborates with LG for waterproof protection
– Let the adventure begin for the LG G5 –
SYDNEY, Australia – 21 April 2016 – The LG G5® smartphone can go even further from day one with LifeProof FRĒ. LifeProof, the industry-leading waterproof case, announces its first case for an LG device, available online now.
FRĒ is designed with award-winning four-proof protection to guard the LG G5 from water, dirt, snow and drops. LifeProof developed FRĒ as part of the "Made for LG" program, ensuring that every detail was considered when crafting the case in collaboration with LG, just in time for the G5 when it hits Australian and New Zealand shelves this month.
"Working collaboratively with LG as part of the 'Made for LG' program has made it easier for us to develop a case that meets our rigorous testing standards and deliver it in time for our customers to protect their phones as soon as they buy them," said Bonnie Soon, LifeProof General Manager for APAC.
The LG G5 features a sleek, metal body, a Slide-out Battery and a Modular Type design, rear fingerprint scanner, and a dual rear camera with a standard and 135-degree wide-angle lens – the widest available in any smartphone. LifeProof FRĒ guards the LG G5 from frigid water, coarse sand, sticky mud and hard hits with legendary protection. FRĒ is outfitted to keep the LG G5 safe in up to 2 metres of water for an hour, and meets military standards for shock and impact protection, including drops up to 2 metres.
The slim waterproof LG G5 case blocks out scratches with a built-in screen protector to keep the 3D Arc Glass that makes up the phone's 5.3-inch, Always on™ Display vibrant. FRĒ is outfitted with an anti-reflective optical-glass lens cover and a Sound Enhancement System for crystal clear photos and crisp audio.
FRĒ for the LG G5 is available now for AUD$99.95 / NZD$109.95. To learn more, visit lifeproof.com.