Blu-ray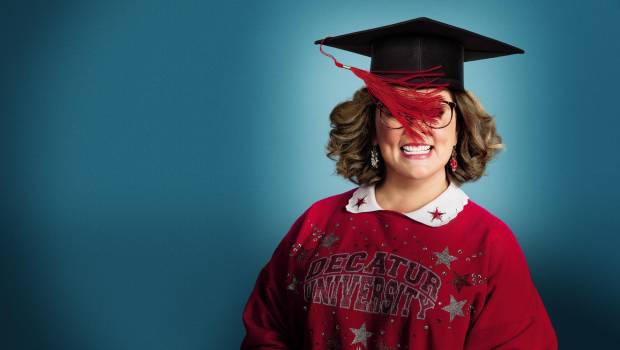 Published on September 14th, 2018 | by Curtis Mayfield
Life of the Party Blu-ray Review
Summary: For fans of McCarthy and Falcone's previous efforts, Life of the Party will hold up but if you're more of a Spy or Bridesmaids follower this movie won't make it passed the finish line for you
"Somebody's mom just enrolled in college" is not only an actual line from Life of the Party but it's also the most succinct summary of this coming-of-age snoozer of a comedy. Now don't get things confused, this is still a somewhat funny movie from comedy wife and husband team Melissa McCarthy and Ben Falcone. The two have created several average movies in the past (Tammy, The Boss) so at this point these mild-hits seem to be a passion project more than anything else. This movie unfortunately doesn't live up to the duo's comedic chemistry displayed in 2010's Bridesmaids (for which McCarthy was nominated for an Oscar). Check the Paul Feig directed scene with McCarthy as a curious passenger on a plane and Falcone as her unsuspecting aisle buddy.
Life of the Party has McCarthy playing Deanna, a sweet suburban mum who gave up her pursuit of an archaeology degree to raise a family. Her daughter Maddie (Molly Gordon) is off to her final year of college while Deanna's curt husband has just left her for another woman (Modern Family's Julie Bowen). At this point you can see how the plot will unfold from a mile away. Yes Deanna realises her dream of finishing her education and cramping her daughter's independence and so decides to enrol in the same university. Like anyone out there that knows what it's like to share a classroom with an overbearing mature aged student, this film is no different. It tries to assert itself as a groundbreaking and alternative version to all the college movie experiences we've seen in the past, and to some degree it achieves this, but for the most part it's just another loud, shallow comedy that probably doesn't need to be here.
Now before this review gets too mean let's point out that the cast of this movie is one of the best you could expect for a comedy. McCarthy has proven her comedic genius through previous roles as either a foul-mouthed cop that would sooner beat you with a phonebook than read you your rights (The Heat) or a mild-mannered intelligence agent who transforms into a badass field agent who uses the term "thunder c#nt" (Spy). But this go around her talents are wasted on a cliché coming-of-age college movie that could have been so much better. With additional cast mates Maya Rudolph, Chris Parnell, Jimmy O. Yang, Gillian Jacobs and Matt Walsh it would seem like the comedy gods have aligned the stars for this movie to produce one laughing fit after the other. Instead we get above average scenes that will probably make you breathe slightly heavier out of your nose after a joke.
The best and funniest scenes are the ones that don't move the plot along with McCarthy and co displaying their talents when improvising and riffing off each other. SNL's Heidi Gardener steals her scenes as the depressed gothic roommate who is as scary as she is funny. It's too bad that the rest of this movie couldn't delve into this Curb Your Enthusiasm style of playful comedy. Though this movie should be praised for it's alternative storytelling of a genre that usually shows off young men doing bad things as a rite of passage, Deanne's journey through college still provides a million and one clichés. There's the rival classmates, accidental weed intake, parties, frats, tests to pass etc. Though things do get interesting when gender norms are flipped on its head and Deanna has a fling with a college kid half her age.
As for the Blu-ray special features there's not much to be said since deleted scenes and other extras just add the to pile of this less than stellar movie made by more than capable people. With saying all of this, Life of the Party does provide an easy viewing experience if you're just trying to switch your brain off for 90 minutes. The movie does have its moments – particularly a scene where McCarthy and Rudolph share an equal hate for somebody they're having dinner with. For fans of McCarthy and Falcone's previous efforts, Life of the Party will hold up but if you're more of a Spy or Bridesmaids follower this movie won't make it passed the finish line for you.
Blu-ray details
Director – Ben Falcone
Actors – Melissa McCarthy, Chris Parnell, Maya Rudolph & Gillian Jacobs
Film Genre – Comedy
Label – RoadShow
Audio – English DTS-HD 5.1
Subtitles – English, German, Greek, Icelandic
Running Time – 95 minutes
Rating – M
Year of Release – 2018
Primary Format – Movies/TV – Blu-Ray