Games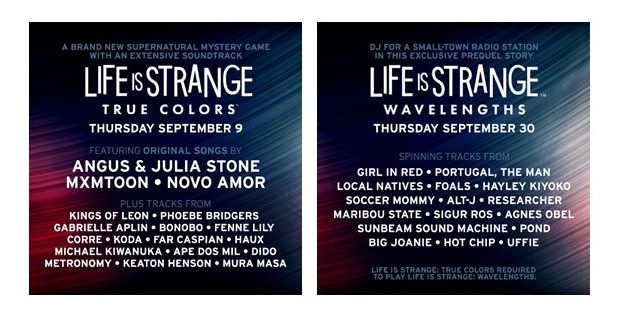 Published on September 9th, 2021 | by Adrian Gunning
Life is Strange: True Colors – Full Tracklist Revealed
Ahead of the September 10, 2021 launch of Life is Strange: True Colors, SQUARE ENIX® have today announced the full licensed music tracklist for the game and its DLC, Life is Strange: True Colors – Wavelengths, including songs from Phoebe Bridgers, Michael Kiwanuka, Girl in Red, and more.
Listen here: https://open.spotify.com/playlist/2djjt4Rfdzp7gm2XA4wxya
The thrilling, supernatural story of Life is Strange: True Colors is underpinned by a premium roster of licensed music and original tracks from Angus & Julia Stone, mxmtoon, and Novo Amor.
"Music has always been a core part of Life is Strange. The emotions and feelings that music can elicit are such an incredible tool in a game that is all about exploring empathy," states Jon Zimmerman, Narrative Director at Deck Nine Games. "For Life is Strange: True Colors, we wanted players to experience the peaks and valleys of Alex's journey visually, emotionally, and auditorily. We are delighted to be able to feature such a diverse roster of truly inspiring musical talent."
When her brother dies in a suspicious accident, Alex Chen must embrace her volatile psychic power of Empathy to uncover the secrets that keep the truth at bay. Alex's journey, power and future are all fully under the player's control.
"With music being so important to Life is Strange, as music supervisors for the franchise we've continually tried to raise the bar," says Ben Sumner, music supervisor at Feel For Music, "Life is Strange: True Colors is the most ambitious project to date with more licensed tracks than ever and exclusive new music from 3 major artists. A lot of passion has gone into making it all happen over the last few years, so it's great to finally be able share it with everyone." 
Players can pre-order Life is Strange: True Colors now. Full details on each version of the game can be found at lifeisstrange.com.