Games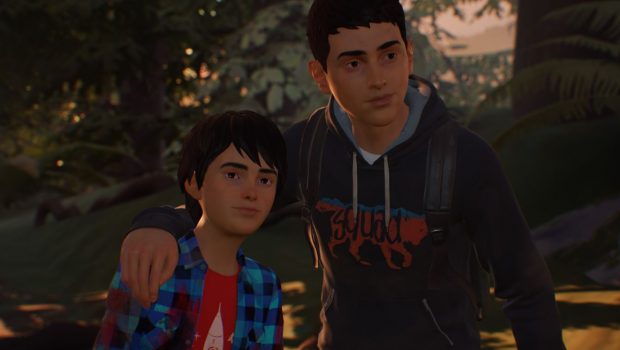 Published on May 10th, 2019 | by Admin
LIFE IS STRANGE 2 EPISODE 3 IS AVAILABLE NOW
The Third Episode in the All-New Five-Episode Season is Entitled 'Wastelands'
SYDNEY, 10th May 2019 – SQUARE ENIX® is pleased to announce that Life is Strange™ 2 Episode 3: "Wastelands", the next entry in the critically-acclaimed and award-winning franchise, is available now.
The third episode in the all-new five-episode season of Life is Strange 2 from Square Enix External Studios and Michel Koch and Raoul Barbet's Life is Strange team at DONTNOD Entertainment, is out now on XBOX ONE®, the all-in-one games and entertainment system from Microsoft, PlayStation®4 computer entertainment system and Windows PC.
Watch the Life is Strange 2 Episode 3: "Wastelands" Launch Trailer here: https://youtu.be/9h7P6mDmaI0
In Episode 3: "Wastelands", the long journey from Seattle to Mexico continues a few months after their dramatic escape from Beaver Creek, as Sean and Daniel Diaz arrive in the Redwood Forests of California.
The brothers experience life on the fringes of society as they reunite with Cassidy and Finn, befriend a close-knit community of drifters and runaways, and begin working on an illegal farm in an attempt to scrape together enough money to continue their journey.
New friendships, relationships, and mentors influence Sean and Daniel, encouraging them to learn more about themselves and each other. Their resolve is tested once again, as friction arises between them. Uncertain about their once united purpose, will their strong bond survive?
"The coming-of-age story in Life is Strange 2 hits a crucial point in "Wastelands." The key themes in this episode are community, relationships, and finding your own identity. Sean gets to hang out with a group of friends again and be a teenager, while Daniel finds new people to look up to," Said Michel Koch & Raoul Barbet, Co-Creative Directors of Life is Strange 2. "The brothers will spend more time apart and really learn a lot about themselves and who they are as individuals. They have been on an intense journey, and this episode represents a moment for them to experience some sense of normality and focus on themselves, although within the context of an alternative community and lifestyle."
"Episode 3 is a climactic moment in the Life is Strange 2 season. The exciting twists and turns take the story up another notch, and Sean & Daniel will never be the same again," said Jon Brooke, Co-Head of Studio at Square Enix External Studios. "We are proud of this episode and really excited to see the reactions of players after experiencing Episode 3!"
Tune in here to find the latest updates from the Life is Strange 2 developer blog: http://lifeisstrange-blog.tumblr.com/