Games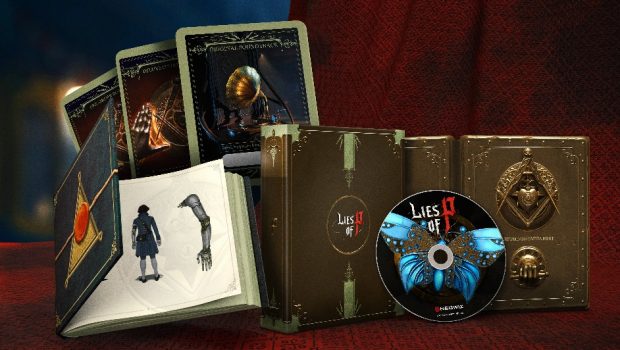 Published on June 9th, 2023 | by Adrian Gunning
Lies of P Available 19th September, Deluxe Edition Announced
Fireshine Games, in partnership with NEOWIZ, is delighted to announce a physical Deluxe Edition of the much anticipated souls-like Lies of P, available 19th September 2023 on the PlayStation®5 (PS5) system.
Available to pre-order now, the Lies of P Deluxe Edition includes a physical copy of the game presented in an exclusive tome-inspired collector's box, a limited edition SteelBook®, a hardback artbook and bonus digital items, including the original soundtrack and "The Great Venigni's Set" outfit and unique mask to be worn to the festival.
A physical standard editin will also be available on 19th September. Fans who pre-order either the physical standard edition or physical Deluxe Edition will also receive the "Mischievous Puppet's Set", featuring a bonus in-game outfit.
Available to download today, an exciting new demo gives players early access to the first two chapters of Lies of P, including challenging boss encounters, introductions to key characters, and unique areas to explore. The demo features hours of gameplay and allows players to freely explore the game's primary hub area – the Hotel Krat. The demo offers an introductory look at Lies of P, but only scratches the surface of the game's full content fans can look forward to at launch.
Game Features:
A Dark Fairytale, Retold – The timeless tale of Pinocchio has been reimagined with dark and striking visuals. Play as P, a puppet who must fight his way through the fallen city of Krat on his unrelenting journey to find Geppetto and finally become human.
Captivating Visuals – Inspired by the Belle Époque Era in late 19th Century/early 20th Century Europe, the city of Krat is the epitome of a collapsed city bereft of prosperity, filled with beauty and horror in equal measure.
Interactive Quests and Multiple Endings – Experience interconnected procedural quests that play out depending on how you lie and affect how the story ends.
Precise Gameplay – Face many unique combat encounters using a focused, rewarding melee Souls-like combat system and master P's arsenal of weapons and abilities to overcome the toughest challenges.
Weapon Assembly System – Combine weapons in a multitude of ways to create something new altogether. Research to find the best combinations and make something truly special.
"P-Organ" Skill System – Playing as a living puppet has its perks. Change parts of P's body to acquire new skills and gain an edge in battle. Not all of the enhancements are for fighting though, and some can provide other unique and useful features to help P on his journey.
About Lies of P
Inspired by the familiar story of Pinocchio, Lies of P is an action Souls-like game set in the dark, Belle Époque-inspired city of Krat. Once a beautiful city, Krat has become a living nightmare as deadly puppets run amok and a plague sweeps the land. Play as P, a puppet who must fight his way through the city on his unrelenting journey to find Geppetto and finally become human. Lies of P presents an elegant world filled with tension, deep combat and character customization systems, and a gripping story with interesting narrative choices where the more lies told, the more human P becomes. Just remember: in a world filled with lies, no one can be trusted…
Lies of P releases on 19th September 2023 and is available to pre-order now. Fans interested in learning more can follow the game on Twitter, Facebook, and Steam, or join the community on the official Discord server.