Hardware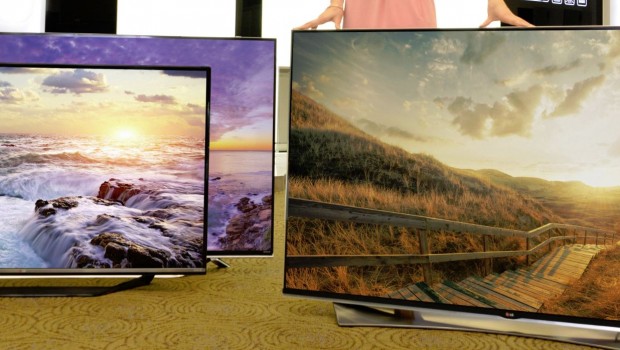 Published on December 30th, 2014 | by admin
LG'S 2015 4K ULTRA HD TV LINEUP OFFERS CRISP COLOURS, IMPROVED DESIGN, MORE FEATURES
LG Introduces 4K ULTRA HD TV's at CES 2015  
SYDNEY, Dec. 30, 2014 — LG Electronics (LG) will be globally unveiling its expanded lineup of 4K ULTRA HD TVs, with new designs, more features and picture quality enhancements, at the 2015 International CES® in Las Vegas from January 6-9. This will be the first opportunity for audiences to get a first-hand look at LG's full collection of 4K ULTRA HD TVs for the 2015 model year.
Named by the Consumer Electronics Association as the "4K Ultra HD Partner for the 2015 International CES," LG will be demonstrating the superb colour reproduction of its ColourPrime series, which produces powerful realism and depth either with Wide Colour LED or Quantum Dot technologies.
LG's 4K ULTRA HD TV's with Wide Colour LED technology, making its debut at CES 2015, utilise different phosphor-based LEDs to display amazing colour depth and lifelike images. LG will also be unveiling for the first time ever its 4K ULTRA HD TV's with Quantum Dot technology, which offers colour accuracy  and increased colour gamut.
LG's 4K ULTRA HD TV's deliver exceptional 4K Ultra HD (3840 x 2160) resolution with In-Plane Switching (IPS) panels. These displays have amazing colour vibrancy and do so while allowing for wide viewing angles. LG's True Black Control local dimming technology refines the contrast and creates dark, deep blacks. Also new for 2015 is LG's Natural Colour feature, which reduces colour reproduction errors while the Contrast Optimiser increases colour contrast and brightness.
Superb picture quality aside, LG's new ULTRA Slim concept, which has been integrated into the highly praised CINEMA SCREEN design, is an important factor in the TV's immersive capabilities. The beautiful, slim bezel and clean, seamless appearance creates a compelling package where even the back of the TV has been designed to add a modern touch to virtually any interior décor.
Five of LG's 4K ULTRA HD TV models come equipped with an impressive multi-channel ULTRA Surround System, developed in partnership with audio expert Harman/Kardon. Deep, rich and powerful sound  will contribute to a high level of  viewer immersion. The thoughtfully-designed forward-firing speakers are compact but effective. New also for 2015, the high-end UF9500 series features an integrated Auditorium Stand designed to reflect and centralise sound.
LG's newly upgraded proprietary Smart TV platform, webOS 2.0, is even more user-friendly than its predecessor, letting users explore the system's full potential in intuitive ways. Booting time has been reduced by up to 60 percent and connectivity to external devices is simpler. What's more, users can customise their own menus on the Launcher Bar for a more personalised experience.
LG has also integrated its sophisticated Ultra HD Upscaler algorithm into its 4K ULTRA HD TV lineup for smooth rendering of SD, HD and Full HD content, moving it closer to  4K Ultra HD quality images. What's more, the built-in 4K High Efficiency Video Codec (HEVC) Decoder supports both 30p and 60p 4K Ultra HD content from external devices and ensures that LG TV's will be compatible with future 4K Ultra HD streaming services and Blu-ray players .
"LG 4K ULTRA HD TV's are designed to offer a truly exceptional viewing experience," said In-kyu Lee, senior vice president and head of the TV and monitor division at the LG Electronics Home Entertainment Company. "The breathtaking picture quality is underpinned by our ColourPrime series for a truly superb home entertainment experience."
Visitors to LG's booth at CES 2015 (Las Vegas Convention Center, Central Hall #8204) from will have the opportunity to see LG's stunning 4K ULTRA HD TVs with their very own eyes.
Pricing and availability of the featured products are yet to be determined for Australia.