Hardware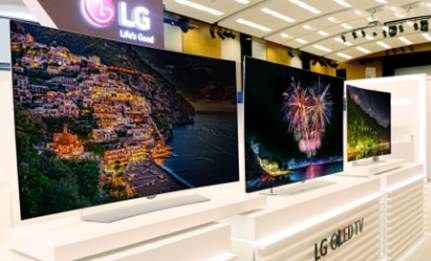 Published on August 31st, 2015 | by admin
LG TO EXPAND GLOBAL OLED TV OFFERINGS IN 2015
Expanded LG Lineup to Feature World's First HDR Capable 4K OLED TV at IFA 2015
Sydney, Aug. 31, 2015 — LG Electronics (LG) has globally announced that it will unveil new OLED TVs next week at IFA 2015 in Berlin. Among these will be a 65- and 55-inch 4K High Dynamic Range (HDR) OLED TV (models 65/55EF9500 and 55EG9200) and a curved OLED TV (model 55EG9100). Displayed EF9500 units will feature flat 4K OLED displays, while the 55EG9200 and 55EG9100 models will measure an incredibly slim 4.8mm at its thinnest point. With an expanded 2015 OLED TV lineup — which includes nine models offering a diverse range of resolutions and frame types — LG is keen to demonstrate its commitment to making OLED's amazing viewing experience available to more consumers.
LG OLED display technology offers perfect black and amazingly vivid colours. This is what makes OLED technology such a great match for HDR content, because only OLED panels can deliver perfect black to make the bright colours of HDR look even more impressive. OLED TVs are able to render the required HDR light range at lower peak brightness, resulting in an exceptional viewing experience. What's more, HDR-capable LG OLED TVs allow consumers to view HDR content from both streaming content partners as well as external sources.
Improvements in LG's newest sets don't stop there; even the design has been upgraded. It's hard to believe that a TV could be this thin — at their slimmest point, both the EG9200 and EG9100 are thinner than some smartphones on the market today. The shimmering transparent stand enhances the viewing experience by reducing visual clutter around the screen. With both curved and flat options, there's an OLED TV suitable for all types of rooms and environments.
All LG 4K OLED TVs feature webOS 2.0, the latest iteration of the LG proprietary smart TV platform. With its enhanced user interface in 2015, webOS 2.0 makes navigating LG smart TVs simpler and easier. webOS 2.0 also reduces boot time and allows users to personalise the Launch Bar menus, making it easy for them to access their favourite content. Additionally, LG 4K OLED TVs feature sound developed in partnership with audio leader Harman/Kardon to ensure that the impressive 4K OLED TV visuals have stunning sound quality to match.
"Anyone who sees our newest TVs at this year's IFA will walk away without a shred of doubt that HDR and OLED complement each other very well," said Lee In-kyu, senior vice president and head of the TV and monitor division at the LG Home Entertainment Company. "Our expanded 4K OLED TV lineup will demonstrate to consumers that OLED is here to stay and that LG is committed to leading the next generation TV market."
The new LG 4K OLED TVs will be available starting at the end of August in Germany, Korea, the US and UK, with the rollout to continue over the next several months in select markets. Visitors to IFA 2015 are encouraged to stop by the LG booth in Hall 18 of Messe Berlin from September 4-9 to see the newest OLED TV models for themselves.
Pricing and availability for the Australian market have yet to be determined.