Hardware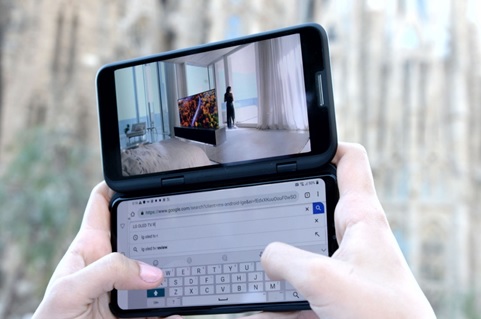 Published on July 3rd, 2019 | by Admin
LG online competition offers Australians chance to win one of 50 V50 Dual Screen 5G Smartphones
LG Electronics Australia (LG) is offering Australian consumers the chance to win 1 of 50 LG V50 ThinQ™ 5G* Smartphones through an online a competition. For a chance to win, entrants are being asked, in 25 words or less; "How would you multi-screen on a dual-screen phone?"^
The latest innovation from LG, the V50 ThinQ™ 5G Smartphone encapsulates the very best in Smartphone design and performance – with a Dual Screen. As the company's first 5G device and a new category of Smartphone to arrive in Australia, the Dual Screen takes user immersion and convenience to new heights.
Designed to resemble a cover case that opens, the Dual Screen gives users a second 6.2-inch OLED display, offering almost double the viewing, gaming and multitasking experience. The Dual Screen display and the LG V50 ThinQ™ 5G can be used independently for a multitude of usage scenarios such as, watching YouTube on one screen while simultaneously Tweeting or writing your work emails on the other.
Angus Jones, General Manager Marketing at LG Electronics Australia, had this to say:
"The LG V50 ThinQ™ 5G is an exciting Smartphone design and has introduced a whole new category of smartphones for us at LG. The device is crafted to cater to the way consumers interact with their apps and one another, not unlike how they might multi screen at home whilst watching TV."
"The V50 competition gives us an opportunity at LG to find out how Australian consumers would best use the Dual Screen during their daily lives – while rewarding 50 people at the same time! Whether it's keeping up with a new series whilst having a conversation over text with a friend or a convenient way to take the office on-the-go, LG is offering Australian consumers a streamlined approach to multi-tasking."
To enter and for the terms and conditions, visit : https://www.lg.com/au/mobile-phones/v50-thinq-5g/v50-dual-screen-competition.