Events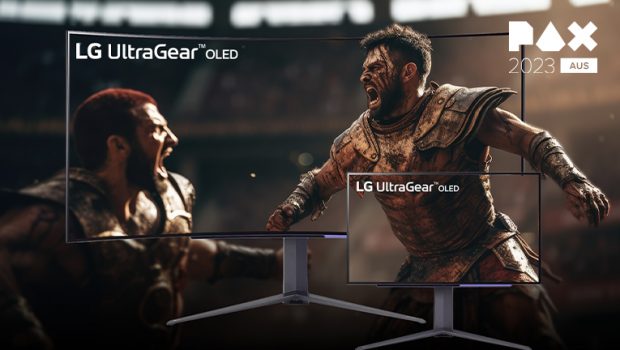 Published on October 4th, 2023 | by Admin
LG ELECTRONICS BRINGS NEXT-GEN GAMING TO PAX 2023 
LG Electronics Australia (LG) is demonstrating its broad line up of innovative gaming monitors and the OLED Flex TV at PAX 2023 from 6-8 October, giving Australian gamers the chance to experience first-hand their cutting-edge technology across both PC and console gaming options.
To celebrate the 10th anniversary of Australia's biggest gaming festival, LG is inviting attendees to interact with its latest UltraGear™ OLED gaming monitors and OLED Flex TV through a range of sim racing, first-person shooting, and role-playing games, including the first ever PC gaming debut of the highly anticipated game, Starfield, in partnership with Bethesda Game Studios.
Catering to the growing popularity of gaming in Australia, where an estimated 91 per cent of households own a gaming device1, the company will showcase its innovative OLED displays which deliver faster visuals and more immersive gameplay.
"LG is committed to driving the next-generation of technology that caters to the future needs of the gaming industry and enhances immersive experiences for Australia's growing community of gamers", said Brad Reed, Head of B2B Marketing (Solutions for Business) at LG Electronics Australia.
"Gamers attending PAX 2023 will be among the first to experience the latest technology, immersive visual capabilities and responsive specs of the UltraGear™ OLED gaming monitors and OLED Flex range, powered by over a decade of OLED leadership,"
Available in 27-inch and 45-inch sizes, the LG UltraGear™ monitors aim to provide an immersive gaming experience suitable for gamers of all levels, enhancing the world of PC gaming. Sporting a rapid response time of less than 0.03ms Gray-to-Gray (GTG) and covering 98.5 per cent of the DCI-P3 colour gamut2, the LG UltraGear™ monitor line-up delivers life-like visuals and high-speed gaming experiences. Equipped with the company's first OLED panel to support a Variable Refresh Rate of 240Hz, the newest 45-inch monitor (45GR95QE) also offers an 800R curvature that extends the player's field of view and puts them at the heart of the action.
Meanwhile, featuring a game-changing customisable curved screen, the LG OLED Flex delivers exceptional picture quality made possible by backlight-free, self-lit OLED evo technology. Designed for avid console gamers, the OLED Flex supports Dolby Vision gaming at 4K 120Hz, HDMI 2.1 features, G-SYNC® and AMD FreeSync™, for seamless audio-visual synchronisation so users can indulge in an immersive and life-like gaming experience.
The LG UltraGear™ 45-inch curved (45GR95QE), 27-inch (27GR95QE) OLED gaming monitors and OLED Flex (42LX3Q) displayed at PAX are available for purchase in store at leading retailers and online at LG.com.au.
Visitors to PAX 2023 can view the latest LG gaming innovations at the LG booth and take advantage of the special event promotional discounts on select monitors via the LG online store.
For more information, please visit: https://www.lg.com/au/it-monitors