Hardware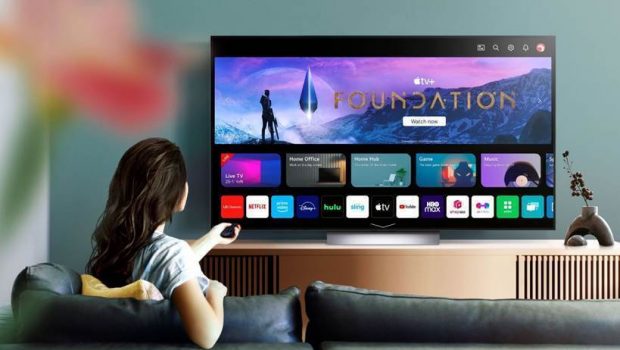 Published on March 1st, 2023 | by Adrian Gunning
LG Begins Global Rollout of 2023 TV Lineup
LG Electronics (LG) announces the global rollout of its 2023 TV lineup, featuring the company's premium OLED TVs. Boasting the company's latest technologies and designed around its new vision – Sync to You, Open to All – the new LG TVs deliver immersive viewing and user experiences that can be customised to match individual needs and preferences. The 2023 LG TV lineup ushers in a new era of television, transforming the TV into a convenient home hub that continuously supports and enriches everyday life.
Headlining this year's lineup, the company's latest OLED TVs elevate the viewing experience. The new models offer premium self-lit picture quality, powerful image processing technologies, and an upgraded webOS platform providing smart features, and access to an ever-increasing library of lifestyle services.
LG introduced the world to the first-ever large screen OLED TV a decade ago, and since then, the company has continued to lead the premium TV market. Its OLED TVs keep evolving to deliver greater value to consumers. Renowned for picture quality, LG OLED TVs produce vibrant, accurate colours with deep blacks and an infinite contrast ratio for lifelike images.
In addition to creating immersive viewing experiences, LG self-lit technology has enabled the company to create unique TV form factors, including the rollable LG SIGNATURE OLED R, and the bendable LG OLED Flex. New TVs joining the 2023 range include, the LG SIGNATURE OLED M, a 97-inch OLED TV with Zero Connect technology enabling wireless transmission of video and audio, and OLED T a transparent OLED TV that redefines spatial integration and the user experience.1
The LG 2023 OLED lineup features upgraded Z3, G3 and C3 OLED evo series TVs. Thanks to the precision and performance of LG OLED evo technology and the new α9 AI Processor Gen6, the new models provide improved brightness and colour accuracy along with clarity and detail.
The latest Alpha series processor utilises the company's AI-assisted Deep Learning technology to deliver high-quality picture and sound. AI Picture Pro now offers improved upscaling for clearer images, and also includes OLED Dynamic Tone Mapping Pro, which helps reveal hidden details and brings greater depth to every frame. OLED Dynamic Tone Mapping Pro 'splits' the picture into 20,000 blocks, analysing each in real-time to detect the darkest and brightest areas and deliver precision HDR optimisation, increasing viewers' sense of immersion. Additionally, AI Picture Pro features HDR Expression Enhancer, a picture processing technology that detects and refines important on-screen objects (such as people's faces) in each scene; giving a more life-like quality with enhanced sharpness and three-dimensionality by applying tone mapping based on deep learning. In addition to fine-tuning image reproduction, the α9 AI Processor Gen6 powers LG AI Sound Pro, which provides virtual 9.1.2 surround sound from the TVs' built-in speakers to help sweep viewers up in whatever they are watching.
Another upgrade applied to this year's OLED evo G3 series is the LG Brightness Booster Max technology, which incorporates brand-new light control architecture and light-boosting algorithms to increase brightness by up to 70 percent.2 Brightness is mapped and controlled on a pixel-by-pixel basis, resulting in sharper, more realistic images. The application of Super Anti-Reflective technology3 reduces visual distractions, such as light glare and reflections, so that users can focus all their attention on what is on screen, even in a brightly lit environment.
The 2023 LG G3 OLED evo models also boast a design upgrade with the introduction of the seamless One Wall Design.4 Leaving minimal visible gap when wall mounted, this year's models bring style and effortless elegance to the living room or wherever users choose to install it. Furthermore, the latest LG OLED TVs are easy to move or mount on the wall due to the use of a composite fibre material5 that reduces each unit's overall weight. For installation flexibility, the LG 2023 OLED evo C3 series models come with the Swivel Stand,6 which lets users turn the screen to match the angle of their viewing position.
New for this year, the OLED Care Program helps users to keep their LG OLED TVs performing at their best. The OLED Care Program includes the Memory Optimiser, a feature that improves device performance and provides Screen/Sound Self-diagnosis. It also gives users access to functions that help care for the TV OLED panel, such as Pixel Cleaning, Screen Move, Adjust Logo Brightness, and Care Recommendations. OLED Care can be accessed at any time using the shortcut key button on the remote control.
LG has differentiated the company's latest TVs with a refreshed, more personalised, user experience in 2023. Featuring the latest version of webOS, this year's models introduce All New Home: a redesigned user interface (UI) that offers convenience with customisation options. The new Quick Cards – grouped into convenient categories such as Home Office, Gaming, Music, and Sports – present users with a fast, simple way to access the content and services they use the most.
The Home Office Card on LG TVs bring together several productivity apps and services that are ideal for those working from home. For instance, users can transform their LG TV into a workstation by setting up cloud-based virtualisation solutions, including Windows 365, which delivers Cloud PCs—a complete and secure Windows experience hosted in the Microsoft Cloud and accessible on any device. The Home Office Card also offers useful apps for accessing and organising users' schedule, and voice- and video-call apps that make it easy to communicate with colleagues and clients. Users can pair an optional Bluetooth keyboard and mouse to enjoy the full work-from-home experience on LG TVs.
The Music Card on the All New Home provides quick access to a variety of major music streaming services, while Sports Card serves real-time updates and alerts to help users keep up to date with their favourite sports leagues, players, and teams. For a tailored sports fan experience on LG TV, customisable notifications bring users the information they want in real-time; letting them know when the big game is about to start, providing them with real-time scoring updates, and delivering the final result as soon as time is called. After saving their personalised preferences, users can enjoy receiving sports alerts on LG TV by logging into their user profile.
Designed for everyone, the new webOS makes it easy for anyone using the TV to enjoy personalised recommendations, which are determined based on viewing history and viewing habits. Helping deliver a deeply personalised user experience on LG OLED TV is AI Concierge. In addition to presenting each user with a curated list of content choices based on their past usage and search inquiries, AI Concierge provides a selection of keywords for browsing trending content. It also suggests useful settings, options and modes (including the Family care setting, Eye Comfort mode, Multi-View mode, clock setting, Bluetooth speaker connection, and mute sound) for customising the viewing and user experience.
It is also compatible with the new smart home standard, Matter, giving users the ability to control and monitor a wide range of smart home devices from a growing list of global manufacturers, using only their LG TV.
As premium home cinema solutions, LG OLED TVs continue to support the image-and audio-enhancing capabilities of Dolby Vision and Dolby Atmos. What's more, this year's LG TVs offer seamless integration with the latest LG sound bars, supplying multi-channel surround sound with IMAX Enhanced Sound quality powered by DTS:X. LG TV and LG Sound Bar also combine to offer WOW Orchestra7, which utilises every audio channel across both products to create stronger, more immersive sound, and the convenient WOWCAST,8 which makes it possible to connect the two devices wirelessly.
Furthermore, the LG 2023 OLED TV models support several features enabled by HDMI 2.1a, the most recent update to the HDMI specification. The LG OLED TVS are also the first television to be certified by the HDMI organisation for the recently announced Quick Media Switching Variable Refresh Rate (QMS-VRR). QMS-VRR can eliminate the momentary 'black screen' that sometimes occurs when switching between content played from different source devices connected to the TV via HDMI.9
For avid gamers, the LG self-lit OLED TVs come with an ultra-fast 0.1 millisecond response time, low input lag and up to four HDMI 2.1 48Gbps bandwidth ports. LG OLED TVs are also equipped with the Game Optimiser; allowing users to quickly select and switch between game-genre display presets, including the new, customisable 'User' preset, and many other gaming-specific features. Settings for G-SYNC® Compatible, FreeSync™ Premium and HDMI-VRR with HGiG are easily accessible from the Game Optimiser as well. Additionally, LG OLED TVs feature the Game Dashboard, an overlay menu that provides a range of useful controls and information on display settings and performance that users can quickly access while they play.
Beyond OLED TVs, LG has added new QNED TVs to its diverse 2023 lineup. The premium LCD TVs leverage the company's very own Quantum Dot NanoCell Colour technology to produce rich, accurate and extremely lifelike colours that help create immersive viewing experiences. Equipped with QNED Million Grey Scale Block Dimming technology10, the latest QNED Mini LED TVs are capable of delivering contrast and black levels that come close to those of OLED. This year's Mini LED TVs improve contrast expression by 64 times compared to their predecessors, to achieve one million, dynamic gradations. Moreover, the company's 2023 QNED TVs have a design that is both slimmer than that of their predecessors and matches the new LG soundbar range.
Helping to curb resource consumption, LG OLED TVs require fewer materials to produce than conventional LED TVs as its self-lit pixels mean there is no need for a backlighting unit. 2023 LG OLED TVs and QNED TVs employ components made from recycled plastics and are shipped in packaging made from recyclable materials and feature single-colour printing. Additionally, the packaging of the TV remote control is made from biomaterial that decomposes when placed in the ground.
Easier on viewers' eyes thanks to low blue light performance, the displays used in the 2023 OLED TVs are certified Eyesafe® by TÜV Rheinland. The Eye Comfort mode on LG 2023 TVs adjusts the intensity of blue light produced by each pixel to minimise colour distortion and create a warmer colour temperature, resulting in better, more natural colours. The new OLED displays have also earned Flicker-Free Display and Discomfort Glare Free certifications from UL Solutions.
Committed to making technology more inclusive, LG has implemented various features that make its latest TVs easier to use for people with a disability. A long press on the LG Magic Remote's mute button brings up the accessibility menu, where users can find Learn TV Remote, which teaches them the remote control's features. Improving accessibility for the hearing impaired, Sign Language Zoom allows users to adjust the size of the area where the sign language interpreter is shown on screen. LG TVs can also play sound through the built-in speakers and a Bluetooth device, such as a hearing aid, simultaneously. Users with hearing difficulties can connect their hearing aid to the TV via Bluetooth, or by connecting a transmitter to one of the TVs' HDMI ports and adjust the volume with their hearing aids' controls.
The 2023 LG TV lineup will be launching worldwide this month, with availability in Australia in the coming months