Hardware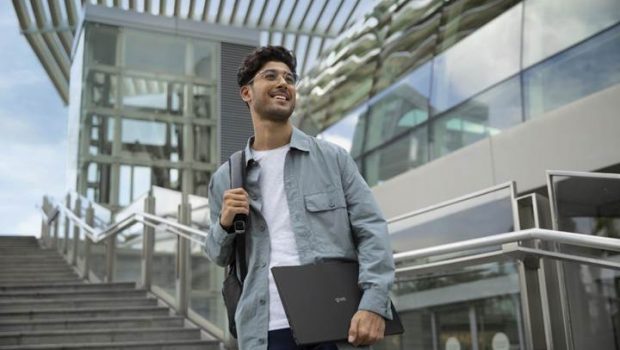 Published on August 16th, 2022 | by Adrian Gunning
LG AUSTRALIA TAKES MULTITASKING TO NEW LEVELS WITH ALL-NEW 2-IN-1 LG GRAM
LG Electronics Australia (LG) has announced the local release of the company's new 2-in-1 LG gram premium laptops. Hot on the heels of the refreshed 2022 LG gram models, the company has announced two 16-inch 2-in-1 models to Australian consumers, adopting innovative technology and the latest hardware to deliver improved productivity to users.
Delivering compact, ultra-lightweight designs that do not sacrifice performance, the multitasking powerhouse laptops offer users the ability to use the LG gram 2-in-1 in various modes, including laptop, tablet, tent, stand and flat modes. Powered by Wacom Active 2.0, the 2-in-1 models enable users to write, draw or doodle using the LG Stylus Pen, with a variety of features including Wacom Notes for easy note taking, Bamboo Paper that turns the laptop into a paper pad and LG Pen Settings for fluid motions to create custom work.
"The new LG gram 2-in-1 laptops are designed for users who are on-the-go and often find themselves multitasking. We have maximised usability and convenience through the ability to use it in laptop mode or transform into a tablet, depending on the users' needs," said Brad Reed, Head of B2B Marketing (Solutions for Business) at LG Electronics Australia.
"Maintaining everything Australians know and love about the LG gram laptop range, including Windows 11, an Intel Core Processor and an ultra-thin lightweight design, our new 2-in-1 LG gram ensures users have an enjoyable yet productive experience, no matter their line of work."
More Power, More Possibility
The 2022 2-in-1 lineup features two new 16-inch models, powered by a 12th Gen Intel® Core™ processor and certified to meet high Intel® Evo™ standards. The 2-in-1 LG gram laptops feature the latest industry-leading processor. The processor features a design based on hybrid architecture with four high-performance cores and eight high power-efficiency cores. And with Intel® Evo™ Platform certification, the 2-in-1 LG gram laptops deliver long battery life.
The laptops also feature upgraded Wi-Fi 6E with faster speeds for seamless internet usage and Thunderbolt™ 4 ports. Faster, stronger performance boosts every gram experience, from creation and work efficiency to gaming and streaming. Furthermore, the laptops feature new LPDDR5 memory, which is up to 22 percent faster than LPDDR4X.1 The 2-in-1 LG gram laptops are also equipped with dual NVMe Gen4 SSD slots for 100 percent faster speed than Gen3, allowing users to get more done, faster.2
More on screen with clear and colourful vision
The 2-in-1 LG gram can be used in five different modes to fit various working styles and positions. It can be used in laptop mode when working, stand mode when video conferencing, tent mode when watching movies, flat mode when sharing content with others, and tablet mode when drawing or note-taking.
Featuring a WQXGA high-resolution screen, users will experience outstanding clarity with wide viewing angles, while the DCI-P3 99 percent (typ.) wide colour gamut bring visual content to life.3 Additionally, with a 16:10 aspect ratio and a WQXGA (2,560 x 1,600) resolution IPS panel, users will enjoy more screen real estate and outstanding clarity with wide viewing angles. Ideal for detailed work, this means more information on each page with less scrolling.
Smart functions deliver intuitive control and private working
Elevating the user experience, the new 2-in-1 LG gram laptops feature LG Glance by Mirametrix®, an innovative software solution that enhances security and convenience. Automatically locking the screen if the user steps away from the laptop, the Privacy Protection feature alerts the user and blurs the content on screen if it detects someone is in the laptop camera's field of view.4
When connected to an external PC screen, the 2-in-1 LG gram laptops support intuitive screen control, whereby it tracks the users face and gaze to move windows from screen to screen. The Snap Window feature efficiently transfers active content to the screen the user is working on, while Smart Pointer tracks the users gaze and moves the mouse pointer accordingly.
When video conferencing, the new LG laptops include built-in features to ensure virtual presentations run smoothly. Virtual presenter keeps audiences engaged by displaying the user alongside the presentation via the high-definition webcam with noise cancelling and facial recognition login. Auto Mute and Mute Warning mutes and unmutes the users based on the screen distance and notifies the user if they are talking while muted. Finally, the Virtual Camera blurs or replaces the background, adjusts portrait framing via auto-centering and corrects the brightness.
Furthermore, LG has built in assistance and wellbeing alerts to the new 2-in-1 LG gram models. These include Smart Player that pauses media in the user's absence, Posture Warning that detects and alerts the user on bad posture, and 20-20-20, which alerts users to look 20 feet away for 20 seconds after 20 minutes of continuous working.
Innovative technology and sleek design for multipurpose usability
Offering the versatility for users to switch between laptop and tablet mode in seconds, the new 2-in-1 LG gram models come with pre-installed drawing and notetaking applications optimised for the LG Stylus Pen (Wacom AES 2.0). With the combination of smoothly integrated stylus support and the LG AI-based user interface, the latest LG gram convertibles offer improved work efficiency with a responsive and enjoyable writing and sketching experience.
With the new LG Pen Settings app, users can maximise pen usability and convenience through the pen function that can be set as desired with each of the three buttons (top pen button, top barrel button and bottom barrel button). While the top button can be set for each press type (single/double/long press), therefore allowing customisation for ultimate comfort.
Finally, the slim, trim and lightweight design of the new 2-in-1 LG gram models make it ideal for those consistently on the move.
The 2022 LG gram 2 in 1 models will be available from JB HiFi and online from LG at LG.com/au from August 2022.
Specifications:
 

LG gram 2-in-1 16

(16TQ90Q-G.AA55A)

LG gram 2-in-1 16

(16TQ90Q – G.AA78A)

Display

Size

16-inch
16-inch
Aspect Ratio
16:10
16:10
RRP
$2,899
$3,399
Stockist

JB HiFi & LG.com/au

JB HiFi & LG.com/au

Screen

Resolution

WUXGA (1,920 x 1,200)
WQXGA (2,560 x 1,600)
Weight
1,480g

1,480g

Size
356.6 x 248.3 x 16.9 (mm)
356.6 x 248.3 x 16.9 (mm)
Brightness (Typ.)

300 nits

CPU
12th Gen. Intel® Core™ Processor (Alder Lake)
GPU
Intel® Iris Xe Graphics (i5) / Intel® UHD Graphics (i3)
Intel® Iris Xe Graphics (i7) / Intel® UHD Graphics (i3)
Battery

80Wh

80Wh

Memory
8 / 16 / 32GB LPDDR5

(Dual Channel, 5200MHz)

Storage
Dual Slots SSD (NVMe™ Gen.4)
Camera
Full HD Webcam with IR Sensor
I/O Port*
HP-Out (4Pole Headset, US type),

USB3.2 Gen2x1 (x1),

USB 4 Gen3x2 Type C (x2, with Power Delivery,

Display Port, Thunderbolt 4)

Speakers
Stereo Speaker (1.5Wx2), HD Audio with DTS X Ultra, AI Noise Cancelling
Accessory
LG Stylus Pen (Wacom AES 2.0 & WGP)
Software
LG Glance by Mirametrix®, PCmover Professional, Wacom Notes, Wacom Bamboo Paper
* The names of the USB has been changed from USB 3.0 (or USB 3.1 Gen 1), USB 3.1 (or USB 3.1 Gen 2) to USB 3.2 Gen 1×1, USB 3.2 Gen 2×1.