Hardware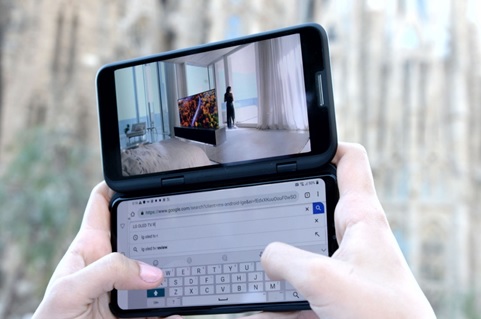 Published on June 4th, 2019 | by Admin
LG Announces Australian Australian Launch of first Dual Screen 5G Smartphone
LG Australia has today announced Australian availability of the highly anticipated V50 ThinQ™ 5G Smartphone, launching exclusively with Telstra. Capturing the imaginations of consumers all over the world during Mobile World Congress earlier in 2019, the LG V50 ThinQ™ 5G Smartphone encapsulates the very best in Smartphone design and performance – with Dual Screen.
The LG V50 ThinQ™ 5G is the company's first 5G* device and a new category of Smartphone to arrive in Australia. The Dual Screen will take user immersion and convenience to new heights. The Dual Screen is a totally separate in-box accessory that clicks into the V50 ThinQ Smartphone. Designed to resemble a cover case that opens, the Dual Screen gives users a second 6.2-inch OLED display, offering almost double the viewing, gaming and multitasking experience. The Dual Screen display and the LG V50 ThinQ™ 5G can be used independently for a multitude of usage scenarios such as, watching YouTube on one screen while simultaneously Tweeting or writing your work emails on the other. The options are increasing all of the time!
"The LG V50 ThinQ™ 5G is an exciting Smartphone design, crafted to change the way consumers interact with their apps and one another. From gamers live-streaming their friends and using social media to business users reading documents while video-conferencing, the Dual Screen option offers a streamlined approach to multi-tasking," said Angus Jones, General Manager Marketing, LG Australia.
"After months of rigorous testing in partnership with Telstra, we are pleased to offer Australian consumers the first Dual Screen 5G Smartphone that offers the reliable communication needed to experience high-quality content at 5G speeds, which is progressively being rolled out in more and more locations," he added.
"5G is expected to completely transform the mobile landscape and we will continue to lead and bring this technology to Australians first," said Paul Milford, Networks Principal, Mobile Innovation Rollout, Telstra.
"We are pleased to partner with LG to bring their leading 5G Smartphone to our customers first and are working tirelessly to roll out the technology to grow coverage to more cities, regional centres and high traffic areas," he added.
Multi-tasking freedom
With the in-box Dual Screen option attached, an icon appears on the display of the LG V50 ThinQ™ 5G which can be tapped to power on the second display or switch effortlessly between the two screens. A multi-window feature divides each screen in two, making it possible to display and use multiple applications at the same time. In select games, the Dual Screen can be used as a dedicated controller, resolving the age-old problem of thumbs getting in the way of the action. The Dual Screen can be positioned in two convenient angles – 104 and 180 degrees – and because it runs off the phone's battery, there's no need to charge it separately.
Performance in your palm
The company's first 5G device is powered by the newest Qualcomm® Snapdragon™ 855 Mobile Platform with the Snapdragon X50 5G modem and LG optimised software, to deliver the advanced processing power required for 5G. The phone is also equipped with a 4,000mAh battery, 18 per cent larger than its predecessor. The new Vapor Chamber heat-dissipation system helps keep internal temperatures low and supports sustained app processing performance, even when multitasking.
Immersive display
The company's first 5G handset allows users to experience high-quality content at 5G speeds. The 6.4-inch QHD+ OLED FullVision Display with 19.5:9 aspect ratio offers a heightened sense of immersion, whether users are viewing a video or playing a game.
Camera features for the content creation generation
With five cameras, the LG V50 ThinQ 5G Smartphone includes optical features that enable users to take extraordinary pictures and videos. Looking beyond still images, LG implemented Video Depth Control in both the front and rear cameras to help ensure that moving subjects remain in-focus. What's more, with Cine Video users can choose from a number of filters when recording to add cinematic flair to their videos. Point Zoom enables users to zoom in and out on a specific point without having to change position.
Audio-visual enhancements
LG has gone all out to boost the audio performance of LG V50 ThinQ™ 5G Smartphone. Enhanced by audio upgrades that produce stereo performance, with or without headphones. Creating a realistic soundscape with superb clarity and depth, the Smartphone also supports Qualcomm® aptX™ and aptXHDaudio technology for premium Bluetooth audio quality and low latency, ideal for immersive listening experiences over headphones or earbuds.
The popular Boombox Speaker feature from the LG G7 ThinQ™ makes a return in the LG V50 ThinQ™ 5G. The internal space of the LG V50 ThinQ™ acts as a resonance chamber to deliver incredible bass for a smartphone, giving it powerful "boombox" sound without the need for external speakers. When placed on a solid surface or box, the smartphone utilises its resonance chamber as a woofer to amplify the bass effect even more.
Have your voice heard
Highly sensitive microphones allow Google Assistant to recognise voice commands from up to five meters away, so no need to shout when speaking to friends or family in loud speaker mode.
Modern design
Inheriting the V series' thin, stylish design, the LG V50 ThinQ™ 5G is only 8.3 millimetres in thickness and weighs 183 grams. To maintain its sleek profile with uninterrupted lines, the rear lens housing on the new V smartphone are completely flush with the back of the phone. All this is achieved without sacrificing the durability of the LG V50 ThinQ™ 5G.
The LG ThinQ™ V50 5G Smartphone with Dual Screen accessory is available through Telstra from 11 June 2019 for RRP $1,728.00 outright.
The LG ThinQ™ V50 5G Smartphone with Dual Screen accessory will be available on a range of Telstra plans.