Hardware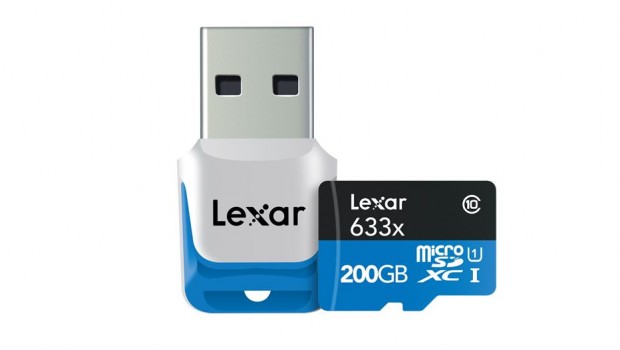 Published on March 30th, 2016 | by admin
Lexar Launches 200GB High-Speed 633x microSDXC UHS-I Card in ANZ
SYDNEY, 30 March 2016 – Lexar has launched the new 200GB Lexar® High-Performance microSDXC™ UHS-I memory card. Designed for sports camcorders, tablets, and smartphones, the UHS-I, U1 microSDXC card has read transfer speeds up to 95MB per second (633x)* and can capture up to 17 hours of 4K and Full HD video; 33,000 photos; or 28,000 songs.**
Highlights:
Delivers read transfer speeds up to 95MB per second 633x *
Enables users to capture more than 17 hours of HD video; 33,000 photos; or 28,000 songs **
Includes a USB 3.0 reader for high-speed card-to-computer transfer
"Professional and everyday photographers are now more passionate about shooting high-quality video, on everything from digital SLRs to sports and aerial cameras," said Micron Consumer Products Group Marketing Manager APAC Mathew Luu. "With the Lexar 200GB microSDXC UHS-I card, photographers can continue to capture and store large amounts of content on the go, without having to worry about running out of space."
The 200GB Lexar High-Performance 633x microSDXC UHS-I card comes with a USB 3.0 reader, which allows for high-speed file transfer of photos and videos from the card to a PC or Mac®. The reader is also backwards compatible with USB 2.0 ports and comes with a one-year limited warranty.
The 200GB Lexar High-Performance 633x microSDXC UHS-I card comes with a limited lifetime warranty and includes a lifetime copy of Image Rescue® software. Additionally, all Lexar product designs undergo extensive testing in the Lexar Quality Labs to validate performance, quality, compatibility, and reliability with more than 1,100 digital devices.
The new card is currently available for purchase with an MSRP of AUD $194.95 and NZ$209.95 from Kogan (www.kogan.com), Ramcity (https://www.ramcity.com.au), PB Technologies (www.pbtech.co.nz) and all good Lexar retailers across Australia and New Zealand.