Games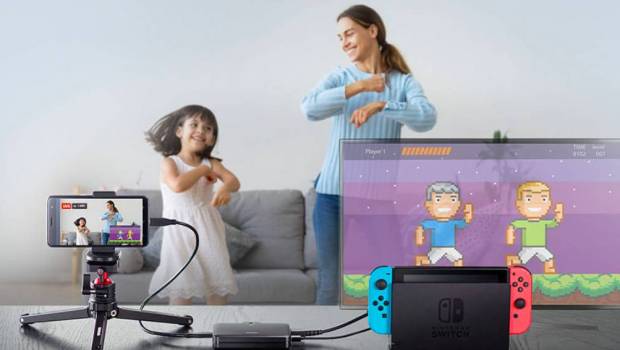 Published on November 18th, 2020 | by Adrian Gunning
Level up your Live Stream with CAMLIVE+
Live streamers need to up their game if they are going to survive in the generation of live streaming entertainment. Live streaming is taking over our everyday media consumption, as viewers move away from traditional television, to watching their favourite personalities do their thing online. A report by the Interactive Advertising Bureau shows that nearly 44% of adults watch less live TV as a result of live streaming. While this means that live streamers are receiving more attention, it also means that they need to up their game in terms of content creation, in order to stand out from the crowd. Whether they are gamers who stream on Twitch, travel vloggers, educators who do beauty, cooking or DIY tutorials, or journalists who report live events, the competition is fierce.
Aten's newly released CAMLIVE+ (UC3021) is one example of how content creators can elevate their streams, to produce high quality entertainment, that can compete with traditional mainstream TV, as well as with other streamers. This portable 4K HDMI to USB-C video capture device with Power Pass Through is designed for mobile and gaming streaming, and allows users to create an easy to use multimedia centre that works easily on the go. High quality content is the first step to engaging audiences, who no longer have to settle for mainstream television, but would rather seek out niche content that they enjoy. To stay relevant, streamers need to create content that is as good as television in terms of quality, meaning that content creators need to invest in some great equipment to be able to produce – especially if they are streaming live.
Tim Hill, Managing Director at Aten ANZ explains: "Much of the content we consume online now is shot out of the studio. It's shot on the go or at home, and a lot of the time it's self shot. Not everyone has the privilege of having a professional camera person and sound person on hand to check the lighting and sound levels as a live stream is shot. Our new CAMLIVE+ allows a self-shooter to be able to feed good quality audio, good quality video footage, and be able to overlay additional footage onto the screen, all in one go. It essentially allows users to create a high-functional, easy to use, multimedia production centre".
The CAMLIVE+ works by capturing video footage off the user's professional camera or gaming console, and feeds it to an Android smartphone, laptop, or PC for live streaming in 1080P@60Hz format. With its lightweight design and hot shoe adapter, CAMLIVE+ can be mounted on the top of the camera or on any mounting system, and even allows for the installation of a microphone and LED light to elevate production quality. The device also acts as a portable 60W power supply, so that your phone or laptop can be charged while streaming, alleviating the pressure of losing battery during a stream. The entire setup is neat, clean, and unbelievably professional. Better yet, it works across all live streaming and popular third-party video-editing software platforms – Open Broadcaster Software (OBS), CameraFi, Xsplit, Twitch, YouTube, Facebook, to name a few.
In addition to professional live streaming of vlogs and games, every day users can also use it for live streaming party games in the living room with friends and family. It's a device that keeps on giving!
For more information be sure to visit the CAMLIVE+ UC3021 product page on Aten's website.
Pricing: RRP $256 inc.GST
Available: Now at retailers and distributor Synnex AU
Stockists: CPL, Mwave, Scorptec, Harris Technology, JW Computers