Games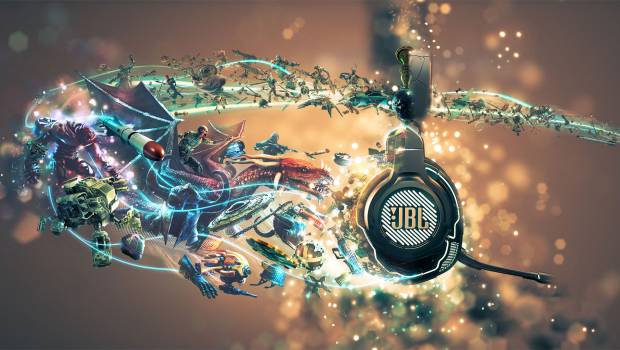 Published on October 2nd, 2020 | by Alex Novus
Level Up This Christmas With The JBL Quantum Range
Christmas is right around the corner. Thankfully JBL Quantum is here to help ease the stress of Christmas shopping. The JBL Quantum Range has everything for the whole family, catering to all gamers from the novice to the expert.
BL Quantum 50 – For The Mobile Gamer
The JBL Quantum 50 are the perfect earbuds for all of your mobile gaming needs and at only $49 they won't break the bank.
These ultra-soft earbuds are designed to maximise your multiplayer experience. With 8.6mm drivers that are powered by the JBL QuantumSOUND Signature, you'll hear enemies and squad members like never before.
The inline voice-focused microphone gives a superior microphone pickup. Meanwhile you can stay in the game with the full-featured inline controller with separated volume slider and microphone mute. It also comes with a multi-function button to manage calls and music, making it one of the most affordable and intuitive earphones on the market.
It's sleek, rugged design featuring Twistlocktm technology offers comfort and stability.
Compatible across all mobile devices and all platforms, the JBL Quantum 50 earbuds allow you to play your way, anywhere, anyhow.
Available exclusively at JB Hi-Fi for $49.
JBL Quantum 100 – For The Entry Level Gamer
The JBL Quantum 100 headset is ideal for those looking to enter into the world of gaming.
Equipped with the JBL QuantumSOUND Signature that puts you in the centre of the action, creating a fully immersive and interactive experience. Plus you can play even longer thanks to the comfortable memory foam cushions.
This versatile headset has a voice focused detachable boom mic that allows you to take your gaming or music experience with you without the hassle or bulk.
The JBL Quantum 100 is compatible via 3.5mm jack with PC, Playstation™, XBox™, Nintendo Switch™, Mobile, Mac and VR.
Available exclusively at JB Hi-Fi for $59.
JBL Quantum 200 – For The Gamer Who Wants More
Hear the movement of your enemies and notice the smallest details with the JBL Quantum 200. Complete with a voice focused, echo-cancelling boom mic which flips up and down to ensure you survive and thrive in the game.
The JBL Quantum 200 headset is designed for complete capability with surround sound built into Windows 10 PCs and XBox™ ONE consoles.
The 50mm Dynamic Drivers and memory foam comfort designed for durability and comfort during the lengthiest game sessions.
Feel like you're in the centre of battle with the JBL QuantumSOUND signature with fully immersive surround sound that allows you get lost in the experience.
The JBL Quantum 200 is compatible via 3.5mm jack with PC, Playstation™, XBox™, Nintendo Switch™, Mobile, Mac and VR.
Available exclusively at JB Hi-Fi for $89.
JBL Quantum 300 – For The Casual Gamer
Want something that takes the game sound to another level? LEVEL UP with the JBL Quantum 300, featuring JBL QuantumSURROUND and memory foam comfort.
Know where every sound is coming from with a headset that creates a realistic soundscape featuring accurate audio positioning, allowing you to play and dominate your surroundings.
Featuring a unique JBLQuantumEngine, you can create your own personal profiles and preferred surround setting with adjustable EQ.
Keep focused, driven and determined for victory with the comfortable device that lets you play longer, the JBL Quantum 300.
Compatible via 3.5mm jack and USB converter cable (where applicable) with PC, Playstation™, XBox™, Nintendo Switch™, Mobile, Mac and VR.
Available exclusively at JB Hi-Fi for $129.
JBL Quantum 400 – For The Value Centric Gamer
Featuring compatibility, QuantumSURROUND and Quantum Sound Signature, the JBL Quantum 400 lets you step out from behind the audio shadow and release into the gaming world.
Featuring memory-foam comfort, voice directional flip up microphone that automatically mutes when required, as well as a game chat dial to let you communicate with your party with ease; you can be sure to have the competitive advantage with the JBL Quantum 400.
With user-friendly JBL QuantumEngine and TeamSpeak capabilities, this headset lets you play for hours on end without getting heavy or uncomfortable. Anticipate every user or enemy move, get engaged and perform better with JBL Quantum 400.
Available exclusively at JB Hi-Fi for $159.
JBL Quantum 600 – For The Immersive Gamer
Take the next step in your gaming journey with the JBL Quantum 600, perfectly designed to completely immerse the player and improve performance. Sit back and beat the competition in style with the JBL Quantum 600, giving you a fully wire-free experience.
Get the competitive edge with an accurate surround-sound experience, replicating a more realistic spatial environment. The headset features a lengthy 14 hour battery life and a Discord certified flip up directional boom mic.
Control the game in comfort and style with the cord-free JBL Quantum 600 headset.
Not only does the JBL Quantum 600 feel good, it also gives you the perfect balance of gaming and chat with a game-chat balance dial and leather-wrapped memory foam drivers.
The patented JBL QuantumSURROUND and DTS options are available for you to create your perfect gaming environment, and you can make it even more special by having your very own fully customisable exterior with adjustable RGB lighting.
Available exclusively at JB Hi-Fi for $229.
JBL Quantum 800 – For The Serious Gamer
Win more games, more often!
Featuring amazing audio-precision specifically designed for gamers, the JBL Quantum 800 has active noise cancelling and certified Hi-Res certified JBL QuantumSOUND Signature so you'll be winning more often.
The Discord and TeamSpeak certified headset and microphone deliver clear multiplayer interaction where the player can really show the game who's boss!
The leather wrapped memory foam headset and fully customisable RGB lighting will give you swagger and style while defeating all of the bosses and the ability to game harder, for longer.
Level up today on any gaming platform you desire with the JBL Quantum 800.
Available exclusively at JB Hi-Fi for $349.
JBL Quantum ONE – for those wanting a pro-gamer experience
The game changer has arrived!
Want to be the best of the best? Show your true gaming potential with the JBL Quantum One.
The professional edge has never been closer to your fingertips than with head-tracking enhanced JBL QuantumSPHERE 360, creating the most cutting-edge audio experience for the highest level of virtual realism.
The JBL QuantumSPHERE360 is a professional level 3D-audio audio-positioning on your PC, featuring custom calibration of JBL's algorithm with an integrated head-tracking sensor. This gaming-first headset experience provides gamers a next-gen accuracy audio positioning and a fixed, independent soundscape improving and honing in on your day-to-day instincts giving you the edge to game more intelligently.
The JBL Quantum ONE headset features a next-generation ergonomic design, active noise-cancelling tuned for gaming and detachable voice focused boom microphone with noise suppression. Control EVERY aspect of your audio gaming experience including the lighting, audio, microphone and immersion within the headset. Win more often and with dominance with this top of the line headset.
Featuring Discord certified game audio-chat balance dial, this is the pinnacle of gaming with absolute cutting edge audio to give you the most realistic and immersive sound experience.
The JBL QuantumENGINE provides the opportunity to manage and personalise your JBL Quantum ONE gaming headset from a user-friendly dashboard using a single-use calibration microphone. This gives users the ability to create separate user profiles, modify microphone settings and create a proper headset balance and activate RGB settings to create your optimal user experience. Alternatively, there are 6 presets available to create the most optimal 360 degree surround sound only from your PC.
The JBL Quantum ONE headset is optimised for PC usage via USB (The JBL QuantumSphere360 is only available via PC), and is fully compatible via 3.5mm audio jack for PC, Playstation™, XBox™, Nintendo Switch™, Mobile, Mac and VR.
Available exclusively at JB Hi-Fi for $499.
JBL Quantum Duo – A gift to supercharge your gaming experience
The JBL Quantum Duo are a beautifully designed gaming speaker that will give you the best in desktop (and portable) gaming experience. No matter what you do, these speakers are perfect for all gaming scenarios.
Go deeper into action and stay immersed with pitch perfect sound and unique, customisable lighting experiences. Whether it's hearing a gun-shot from afar, walking through lush and wild jungles, or listening to the sounds of a car engine, no matter how you game, the JBL Quantum Duo speakers are perfect for your set up.
See the beat with JBL proprietary gaming surround sound and Dolby Digital combining in a distinctive, fashionable display.  Never miss incoming fire with exposed tweeters and exposed drivers for sound purity, featuring a unique design to let you game for longer.
Make sure your space not only sounds amazing, but also looks the part. With plug-and-play design and intuitive controls, the JBL Quantum Duo speakers enable you to personalise your set up in your style. Compatible with any gaming system, the JBL Quantum Duo will bring your game to life like no other.
Available exclusively at JB Hi-Fi for $249.